The Oscars are long gone now, and I'm a bit late talking about it, however, seeing everyone on the red carpet gave me a craving to dress up. Usually by now, there are lots of weddings lined up in the year or other occasions that call for a fancy dress, but as of right now - nada. Since I have nothing to look forward to just yet, I thought I'd post about one of my favorite evening outfits to date.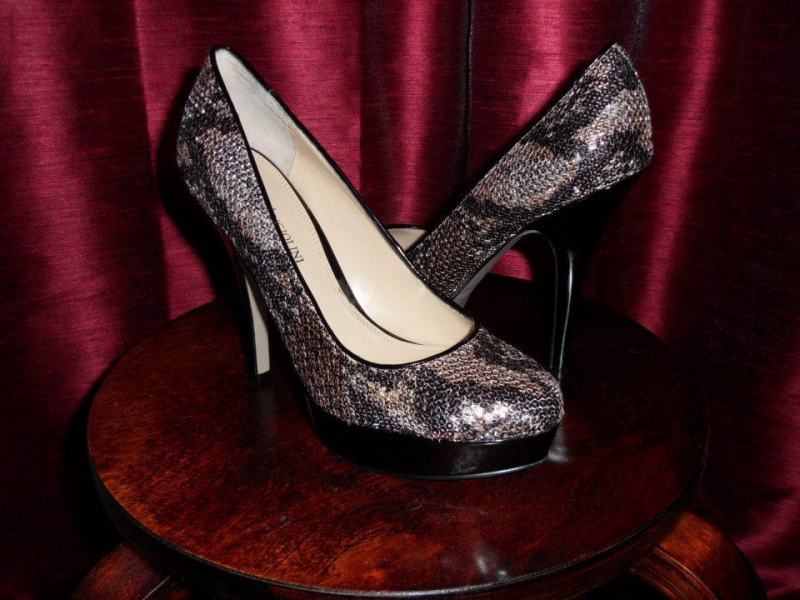 I tend to buy cocktail dresses if I see one I love that is on sale -- even if at that moment I have nothing to wear it for. Chances are, something will come up, and rather than scramble at the last minute trying to find something new, it's nice to already have base options in my closet room. That's what happened with this BCBG dress. It was on ridiculous sale, and my friend told me I needed to try it on. I remember her telling me she couldn't let me not buy the dress. I had to agree. I loved it, and it fit me perfectly.
It's so simple and easy, but there's just something so fairy-tale-princess-like about the chiffon pleats in the skirt. Simply put, it made me feel pretty.
The shoes are Enzo Angiolini. They are one of those pairs that my shoe BFF at Nordstrom knew I would like. You can't really tell from the photo, but it's a leather snakeskin printed shoe covered with clear sequins. Sequins AND snakeskin? Don't mind if I do! What a perfect complement to such a neutral colored dress.
The event was an awards dinner for work. We were at the Gaylord National Resort and Convention Center just outside of Washington, DC. I created my offset chignon updo that I posted about here. And, dressing up calls for fake lashes to help glam up my face.
I would absolutely love to wear this dress again. Do you have any special occasion dresses that are itching to be worn again?
BCBG Dress
Dillard's necklace
Borrowed clutch
Enzo Angiolini pumps