I know you all have just been sitting on the edge of your seats dying to hear about my vacation, yes? OK, well fake it a little at least, for me? The resort we went to is about an hour south of Cancun. We fly direct into Cancun (direct flight = awesome) and then take a shuttle to the resort - Barcelo Maya Palace. This resort is made up of 5 smaller hotels - Beach, Caribe, Tropical, Colonial, and Palace. This marks our 4th time there. The first time we stayed at the Beach, and the other 3 times we've been at the Palace. We ended up meeting my brother and his girlfriend along with two of their friends, so there was 6 of us total.
Soooo, the downside first. It rained incessantly. Torrential downpours 3-5 times a day. Drizzle in between. And when it was not precipitating at all, it was cloudy. There was never a time that I saw blue clear skies. Yes, yes, it's the rainy season, I realize that, but I've been to Mexico 6 times now, all during this same time of the year, and it has never ever been this way. When we landed and I saw rain, I immediately brushed it off because rain comes and goes there literally in a matter of minutes. Not this time though. The most sun we ended up getting was the last day - there were 2 and a half hours of sun so I managed to come home with a tan, but I didn't leave feeling as beach rejuvenated as I usually do. I firmly agree with the Vitamin D deficiency theory. I was dying to see the sun again.
All that aside, there were definitely lots of highs which I shall summarize for you now!
1. I loved our group! It was perfect! We had never met their friends before, but they turned out to be a riot and a lot of fun to hang out with. The four of them ended up only staying 4 nights vs. our 7, so it was sad to see them leave!
2. We met tons of great people! Even though it was cloudy and rainy, we still managed to fit in some pool time. I mean, we were getting wet anyway, and there wasn't any lightening, so may as well enjoy the swim up bars! And I love the camaraderie that happens when alcohol is involved. Our small group of 6 ended up growing to include people from Iowa, Jersey, Italy, Russia. I lost track after awhile to be quite honest.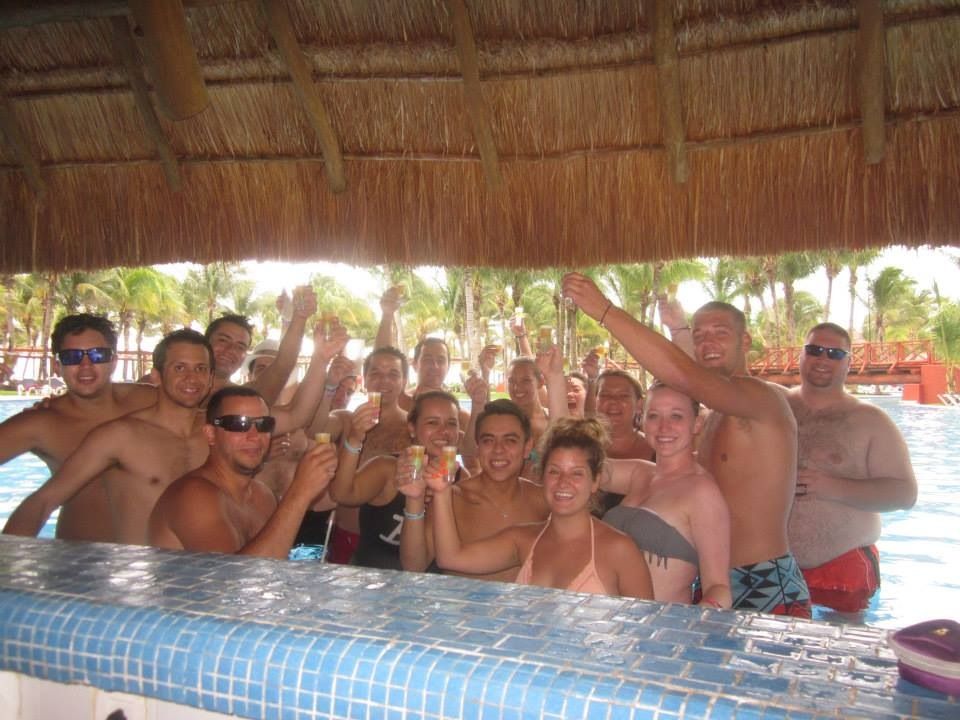 3. Spa time! While we were there we managed to get a 50 minute massage, and then I went back on our last day for a mani/pedi. I've never had a mani/pedi done at the same time. It was quite.... weird, but good? Definitely good, but I think I prefer keeping them separate. Regardless, my nails are a pretty shade of red.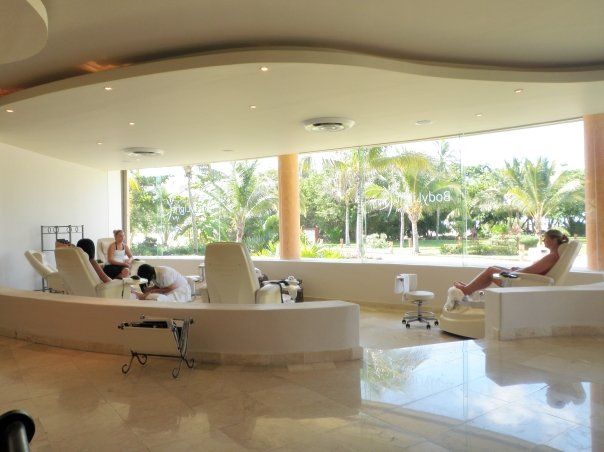 4. Excursions! We ended up doing an excursion involving zip lining, snorkeling, and ATVs. Thankfully, the weather held out for the majority of our day. The sky opened up on us while we were on the ATVs, but when you're driving through potholes of muddy water and getting quite dirty, the rain was refreshing. The husband had an incident on the zipline - he actually stopped about 9/10ths of the way to the end. One of the workers had to zip line out to him and pull him in. I would have freaked, but he just acted chill, as if he weren't hanging 20 feet above the jungle.
5. I saved the best for last. MY BABY BROTHER IS ENGAGED!!!!! Eeeeeee I'm so excited!!! I knew all along he was planning to propose on this trip - it's half the reason why I wanted to book in the first place. He ended up doing it the first night we were there, and I'm just so happy and honored and excited that I got to be there and snag some pics of the moment!
And that's about it! The week went by way too fast! I wish I had the rest of the week off, but alas, it was back to work immediately after. Starting my countdown until my next day off. And for the first time ever, I did not end up turning my work email on until I physically sat at my desk and logged on from my computer. I'm milked this vacation for all it was worth!!!