I'm writing this on a Sunday night from my hotel room. You see, my work week started this morning when I stepped foot on my 10am flight. I'm excited, though, because it's a big women's leadership conference, and tonight's general session was already inspiring! However, as always, I agonized over what to pack. My coworker went last year and she said that for the most part it was "business casual" though many people loosely interpreted that. For me, that just meant I needed to pull out my pencil skirts, which is an easy task. The hard part is finding walking-friendly shoes that go with pencil skirts and limiting 4 days worth of outfits to a carry on. This first outfit is my Sunday morning travel outfit. No one was seeing me so I could be as casual as I wanted to be! This kicks are going to double as my workout shoes as I brought two outfits to workout in also.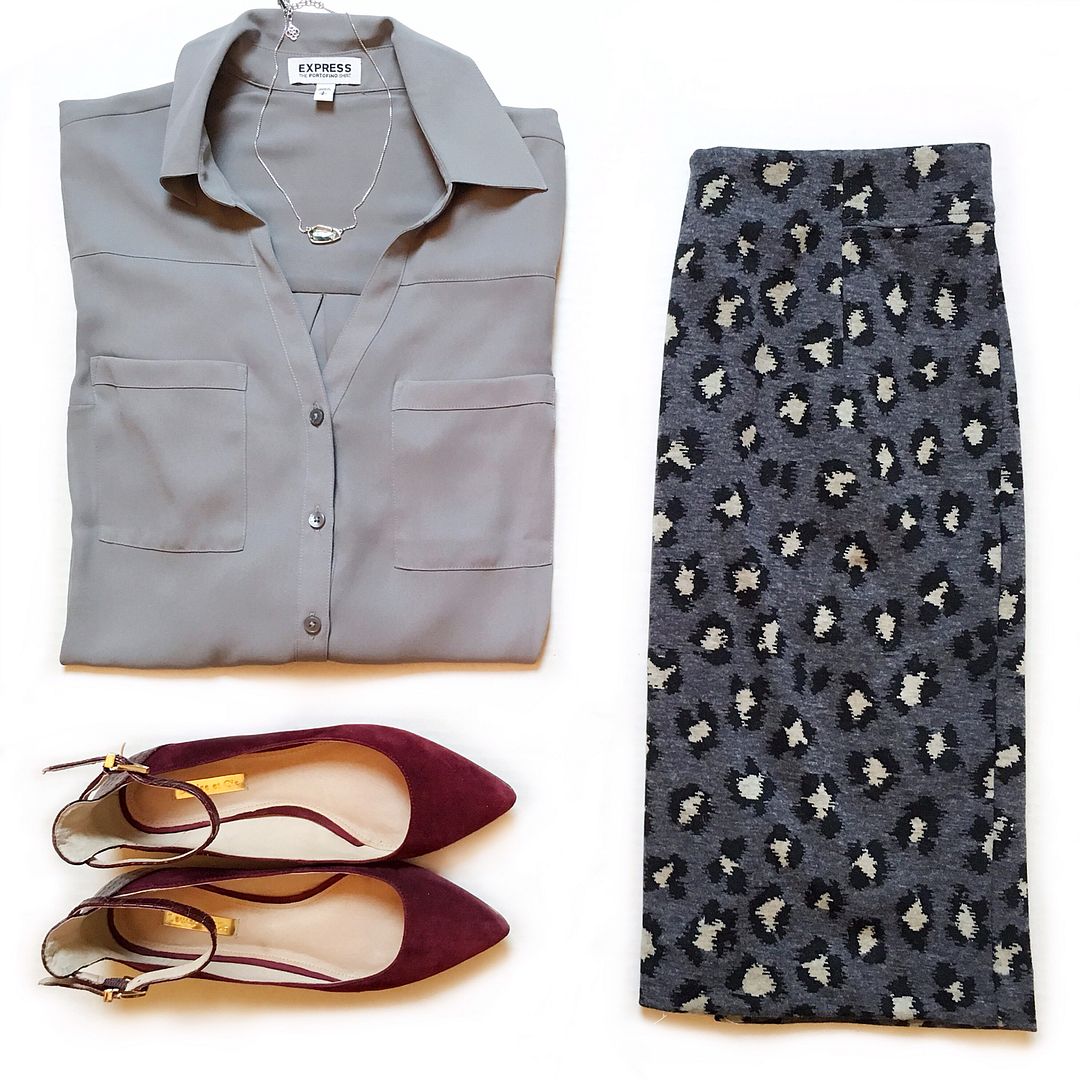 This skirt is the perfect pencil skirt because it's a printed knit material, and knit means better movement and no wrinkles. I knew it was going with me. Portofinos are the perfect top for business casual type situations, and they tuck nice and neatly into a good pencil skirt. Since I have a billion colors, it was pretty easy to pull these outfits together.
A little secret about this skirt. I bought it last summer and absolutely LOVE the print. But, I had not worn it before this trip except for on the blog. I could zip it, but I basically could not breathe. Thanks to working out, the skirt fits quite comfortably now! woo!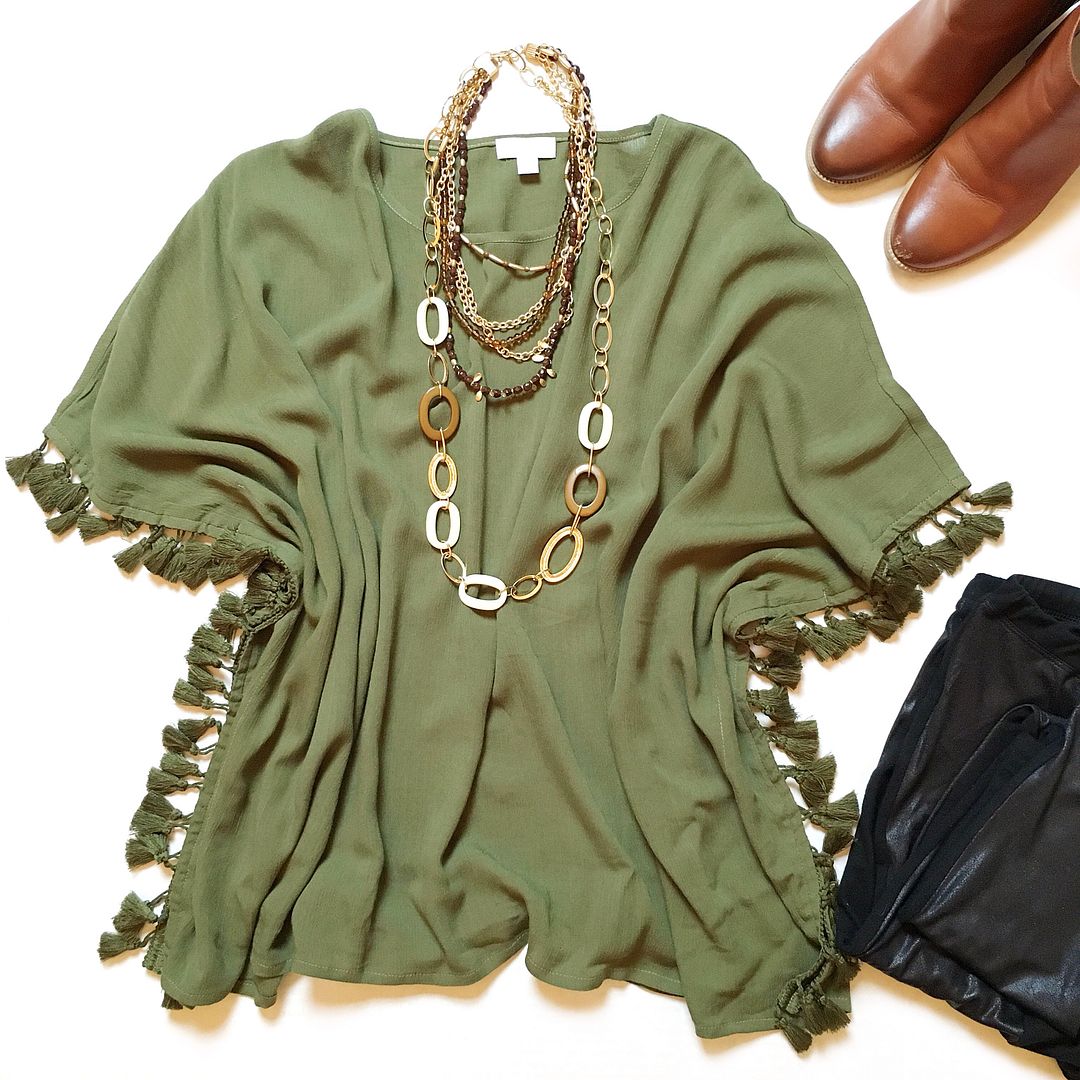 Top: Charming Charlie (c/o) | Necklaces:
Charming Charlie (c/o)

(here and here) | Leggings: Express | Booties:
Hin

ge
On Tuesday night, there is a "casual" dinner event, and dancing is supposed to be involved. I went ahead and packed this fun, lightweight poncho and some leggings for the occasion. I also decided on these booties because they give me a little lift, but are still really walkable. I just hate meeting new people unless I am in heels. Flats were inevitable for this trip because it is just way too much walking for me to survive in heels. I already walked about 6,000 steps just tonight and that was just to one general session and to dinner! The rest of the week, I have 5+ sessions to attend all around the convention center, plus 3 meals to walk to! There's no way I can do that in heels, as much as I LOVE my heels. So, I figured I would whip out these heeled booties for at least this one dinner where I expect to do the bulk of my networking and meeting new people anyway.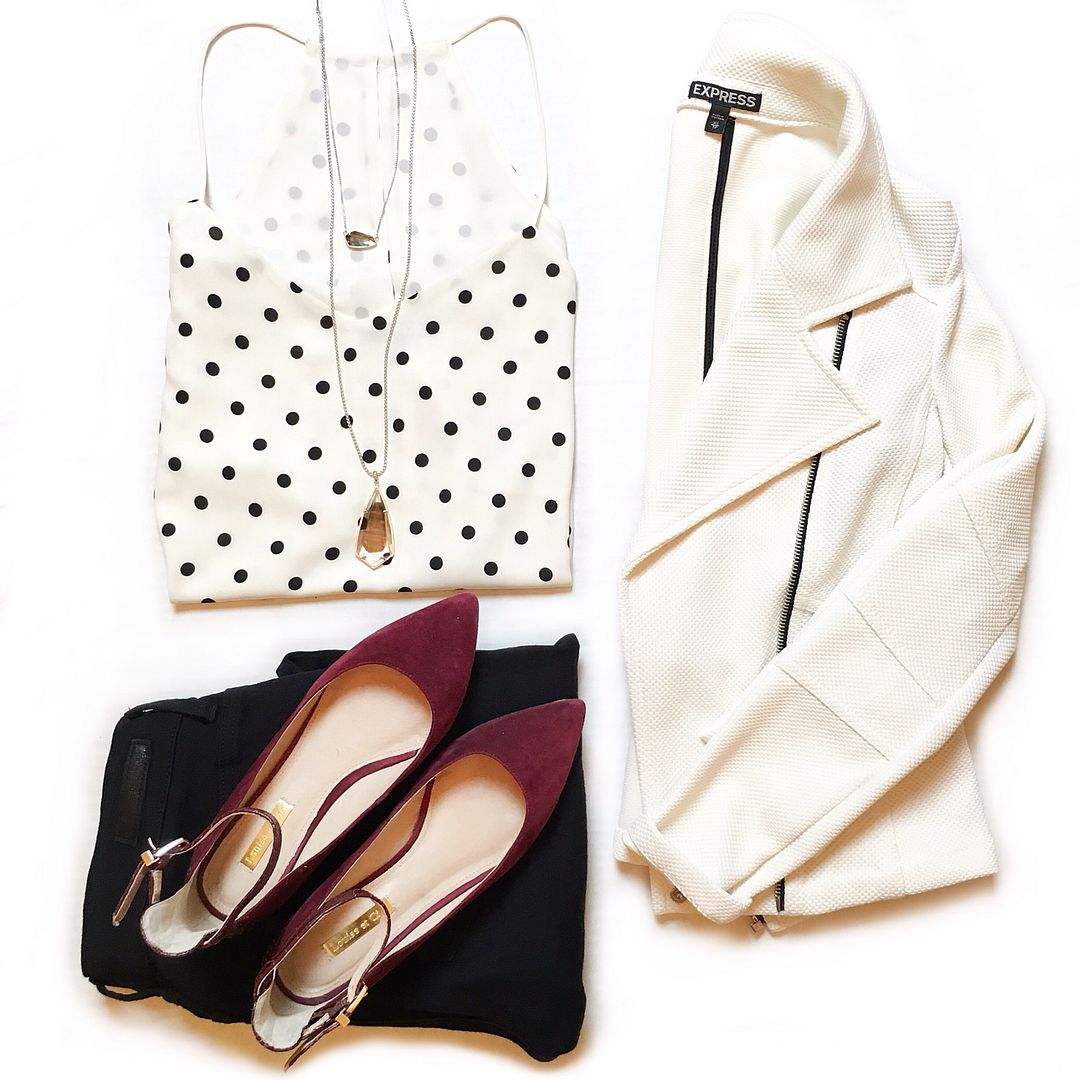 Jacket: Express | Cami: Express (shop current colors and prints here) | Necklaces: Kendra Scott (here (c/o) and here) | Bottoms: Express |
Flats:
Louise et Cie (option here, cheaper option here)
And last but not least is this outfit. It's honestly a bit warm for a jacket here in Dallas, but the last day only goes until lunch and then I am back on a plane to St. Louis. I figured I would need the extra layers for travel, and figured I could survive half a day in the jacket even if it is pushing 80 degrees!
My whole intent was to post these flat lays and then take photos of me actually wearing these outfits throughout the week so I could share the selfies with you for my Friday roundup. Well, wouldn't you know, this dumb hotel room doesn't even have a full length mirror!!! I had to make a half-height-mirror full body by standing on top of a chest. So, uh yeah. The selfies won't be pretty, but I will get you try-on pics one way or another!!
Have a great week! Thanks for linking up!

SHOP THE POST: