Hello from Boulder!!! Since last weekend was crazy busy, I wasn't able to get my Friday post written ahead of time, but I knew I would have some down time in Boulder anyway, so alas, here I am, writing you from my cozy little Airbnb cottage! It's only day one, and it's already been exciting and rewarding! More on this trip later! For now, let's enjoy another week of random outfit selfies of what I've been wearing lately!
Chambray and olive skinnies outfit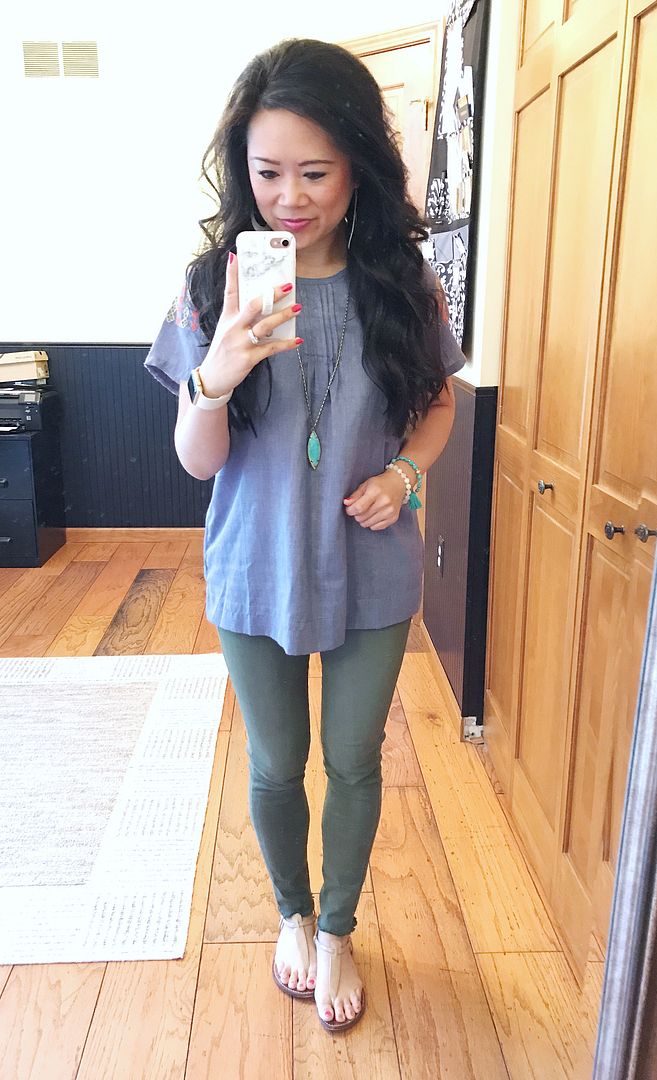 Sooooo, this top is about two years old but this is the first time I wore it. Insert monkey-covering-its-face-emoji here. It wasn't intentional. My closet room can be a black hole of nothingness sometimes and I forget that I have things! It's bad, I know. But, I shopped my closet this morning, found it, got super excited, and styled it pretty easily with olive skinnies and my nude Gigi sandals. I always love adding pops of turquoise with olive and blue!
Blush tank and olive skinnies outfit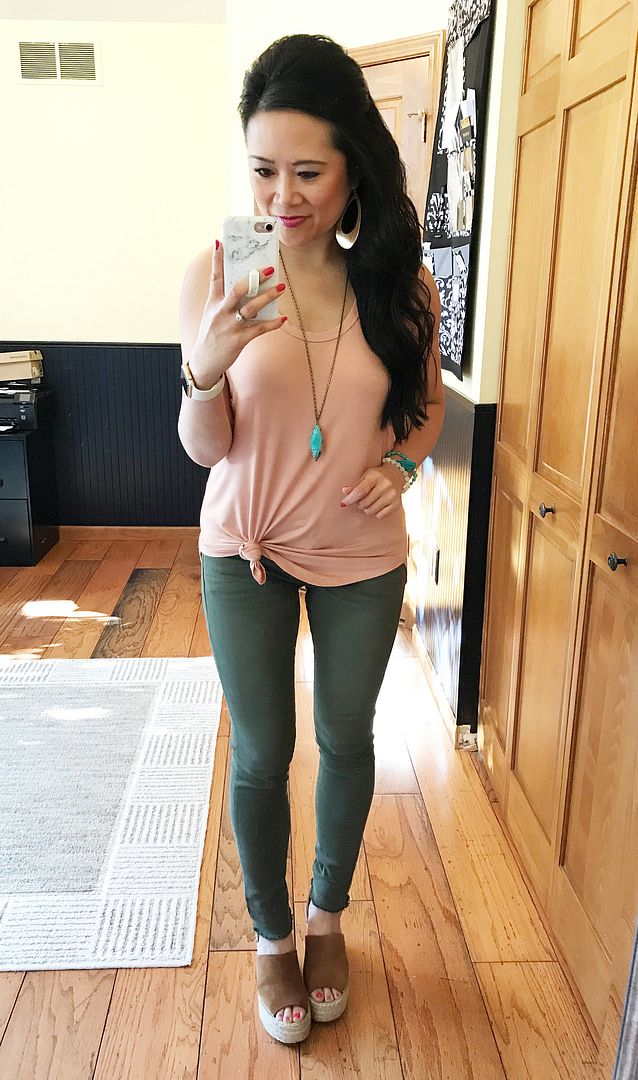 Fast forward to later that evening. I kept the olive skinnies on, but I was visiting Carrie and Stacy at one of their pop-up shops, so I had to make sure I wore a piece from their shop and changed into this blush tank. It's truly perfect for pea-soup thick humidity! I wanted height but comfort, so I swapped my Gigis for my platform wedge espadrilles. And then also to combat the heat, I did my fake-fancy-side-do to keep my hair low key out of my face.
Polka dotted cami and wine skinnies outfit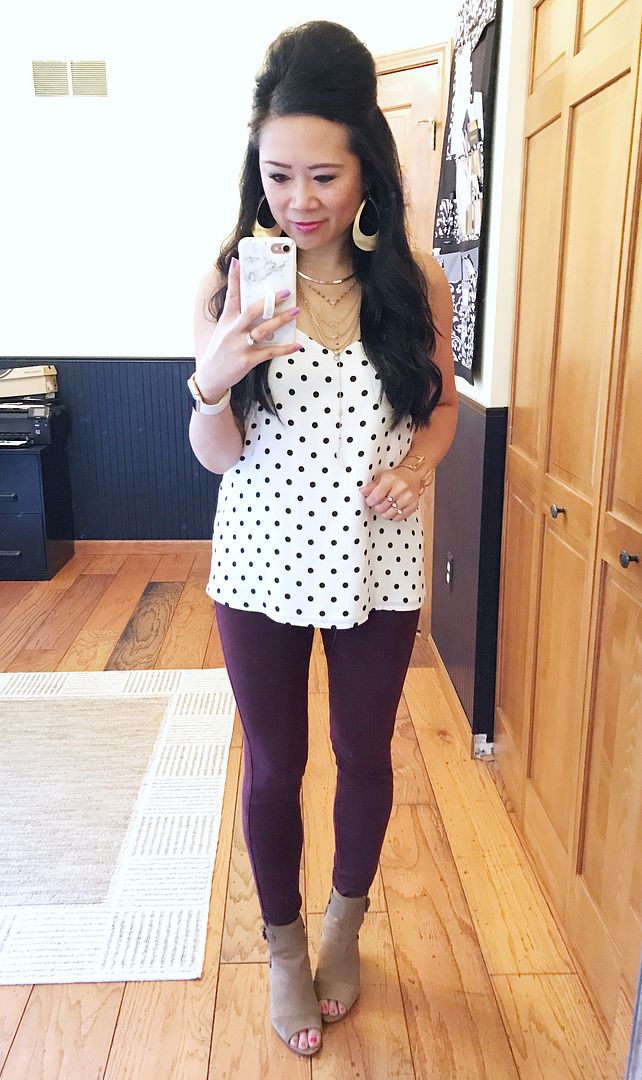 I told you I've been wearing my leather earrings to death!!! But anyway - I decided to dust off my wine skinnies this day. I always reach for them in the fall and winter months, but never think about them in spring or summer. I didn't feel like wearing jeans *again* though, so I forced myself to style the wine. I realize the booties aren't a super warm-weather choice, but I didn't feel like wearing any of my other sandals or flats. I find that polka dots is pretty seasonless which is why I chose to finish off the look with this cami.
Floral tank and blush skinnies outfit
Necklace: Kendra Scott "Rayne" (gifted) (similar color here) | Top: Grace and Lace | Bottoms: American Eagle
(options
here
,
here
,
here
)
| Sandals:
Joie "Avery" (other colors here)
And last but definitely not least! Last week I was going straight from the office to a bridal shower happy hour for a co-worker, and I definitely did not feel like changing between the events. I thought I should maybe wear a skirt or a dress, but I was way too lazy to shave or lotion my legs. #sorrynotsorry I remembered that I just got this new floral top, and was giddy because it screams "bridal shower" in my opinion! I loved wearing this. It was great for stuffing myself with cocktails, apps, and cupcakes, too!
And that's all she wrote for you today! I have a lot to look forward to this weekend! More classes then lectures! I will be soaking up all things Pilates and will try and share on Snapchat (@carylee07) or
Instagram
stories as I go! Have a great weekend!!

SHOP THE POST: