Hopefully today is everyone's Friday! Or if you're a lucky one, yesterday was your Friday! We are headed to San Antonio this morning, which makes me happy because that means squishes from the nephews!! I do plan on doing some Black Friday shopping early that morning, and will share my finds on Snapchat, Instagram stories, and then the blog once I get settled. But before I go, I wanted to share some outfits lately, which coincidentally would each work as a Thanksgiving day outfit if you're cramming trying to figure out what to wear! I have something for every level of dressiness, so let's get started!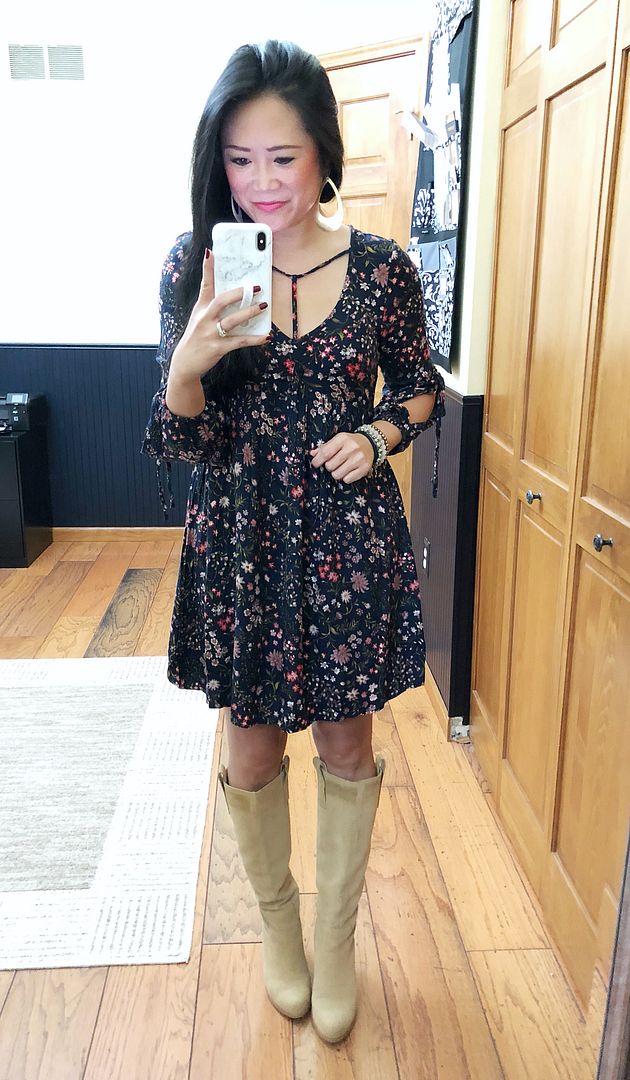 This is a nice dressy-ish option for Thanksgiving. The suede, wood-stacked heel boot keeps the dress a little more casual than if I would have chose pumps. You could obviously do black tights and booties instead if you'd rather be more monochromatic. There's plenty of room in this dress so you don't have to feel self-conscious after ALL. THE. FOOD.
A little bit dressier than the last outfit thanks to the blazer which always kicks up the dressiness a notch. When I got dressed this morning, I really just wanted to wear my new booties. I picked them up while we were in Boulder and I am obsessed with how uniquely colored they are! They're called "Black leather" but there is a bit of distressing to them which makes them look grey or red depending on the angle you're looking at them. Seriously love. I felt equestrian-inspired that morning, which is why I added the blazer. The bright green necklace adds a touch of festive-ness.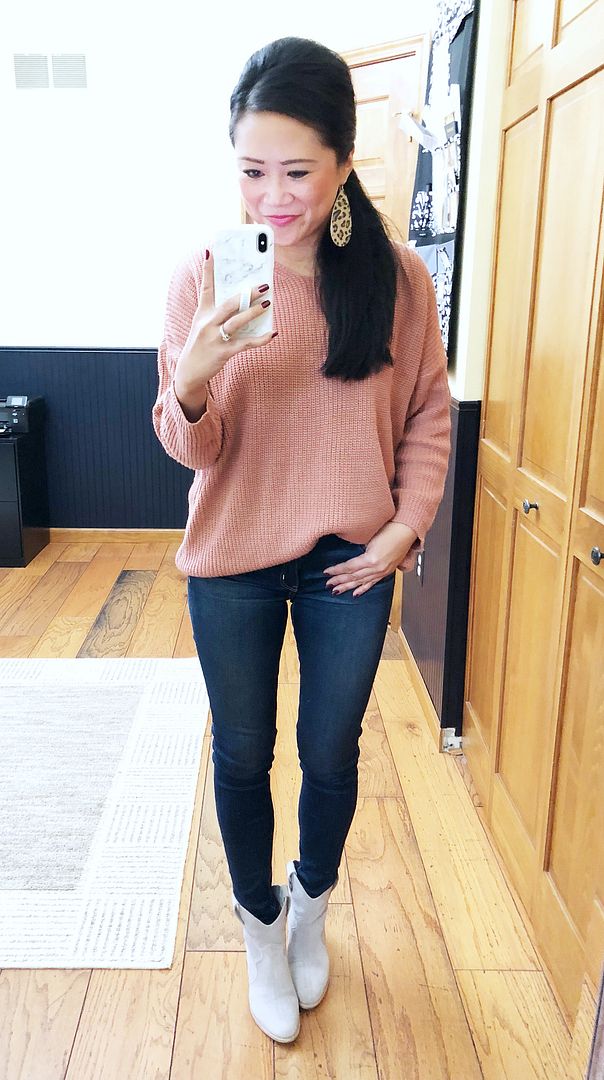 If your Thanksgiving is on the casual side, nothing beats a chunky sweater, jeans, and suede booties! Easy to throw on, comfy to lounge around in all day while suffering from a food coma, and the lace-up detail along the back still makes you feel trendy, like you're trying. A little. Throw in some leopard accents like these earrings and POOF! Your family will think your outfit is more effort than you actually put forth. Promise.
And last but not least is a Thanksgiving day outfit option for those that like a little glam. Embroidered mini, statement necklace, over the knee boots - all the sass you need while still being comfy running from family get-together to family get-together. I love the mix of textures in this outfit, it makes me happy! This is what I wore over the weekend for the husband's birthday dinner.
And that's all I have for you today! I should probably figure out what I am going to wear myself! We're not usually super dressy, so I will probably land somewhere between outfit #1 and outfit #3! Have a great rest of your week and HAPPY THANKSGIVING!!!!

SHOP THE POST: