Eeeek! January is basically dunzo. How did this happen? I blinked I guess. Anyway, I have a handful of outfits to share with you like usual on Friday, so let's go ahead and just jump right in!
This sweater was one of my recent purchases during the holiday break. I LOVE it. It is effortless. After work, I ended up just ditching the booties, throwing on some leggings and teaching Pilates in it, too. Such a fun piece.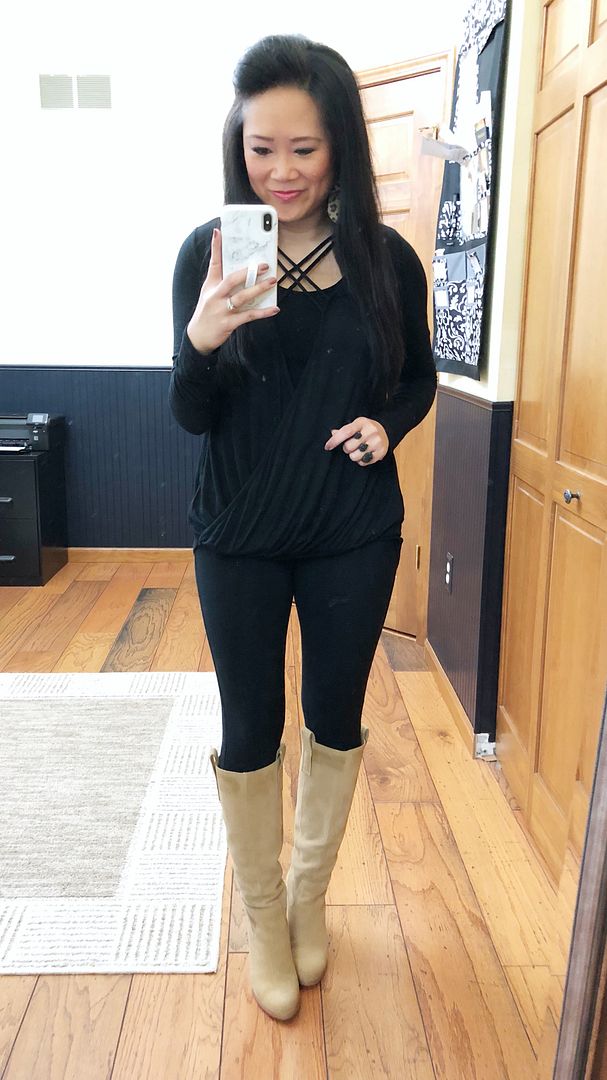 I don't know if you follow Merritt Beck or not, but I always love the way she looks in all black with neutral knee high boots like her post here. She definitely influenced this outfit combo.
The day I wore this to work, I was only going to be at the office for about a half day, then I had an appointment, then I had to go straight to the studio and teach. I knew I wouldn't have time to change, so I had to wear something that was going to be Pilates-teacher friendly, and this definitely was!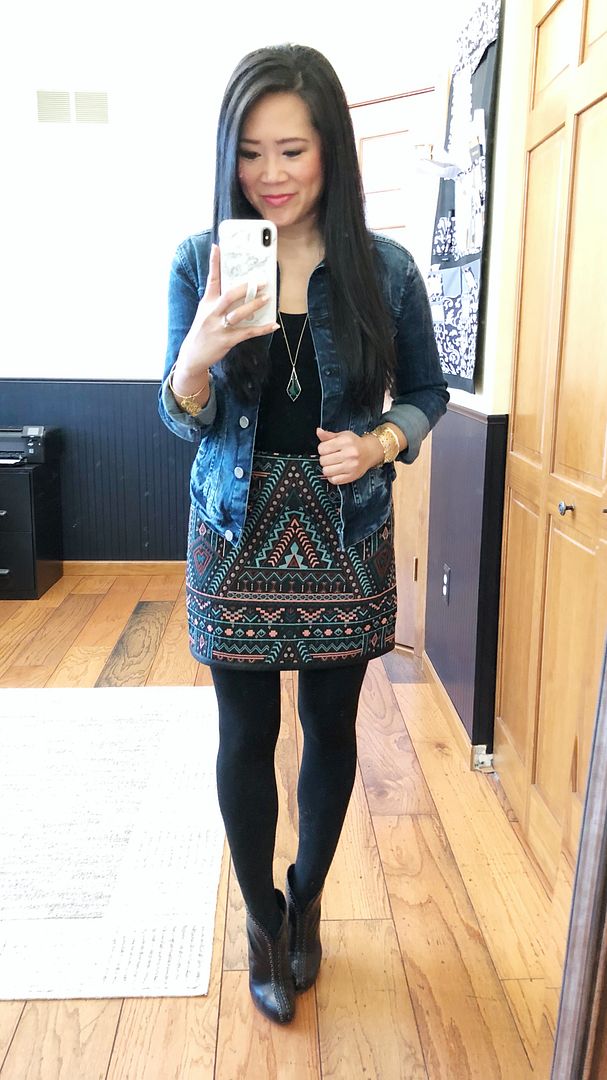 This post has a bit of everything for you. The last outfit was a bit casual, this one just a bit dressier. I love a good mini + tights + booties in the winter. It keeps things interesting in the thick of all the coldness. And the best part is that I won the garage parking spot lottery at work, so I get to park in the garage January and February. It's seriously the best thing ever. Not having to worry about wearing "parking lot" shoes to avoid potholes. Not worrying about freezing in skirts in the winter! YES!
Blazer: JCrew Factory | Necklace: Kendra Scott (other colors here) | Tank: Nordstrom | Bottoms: American Eagle | Boots: Vince Camuto "Hollie"
And last but not least. Every time I wear a blazer, I always wonder why I don't wear blazers more because I love them. Though admittedly, this wool one is probably too hot for me to wear inside, and since I had only a cami underneath, I suffered and sweated through the day with it on. I did finally say eff it towards the end of the day and walked around with a tank on like it was summer, but geez. Outside though, I looked amazingly temperature appropriate and not sweaty. Though I did get comments that I looked like a jockey. ha!

SHOP THE POST: