Last week, Matt was traveling for work. It was Tuesday about 3:45pm and I was in my boss' office doing my performance review. I saw that the department got a meeting invite for an urgent call at 4pm. We have had so many changes at the office that I figured it was some sort of re-org. Meanwhile, Matt tried calling me while I was with my boss, but I hit "ignore." When he called me right back for the FOURTH time, I looked at my boss and told her I should take the call.
He said he had to talk to me about the urgent call and told me to get up and go into an office by myself and close the door. He told me he had to tell me the news himself knowing that I am usually in my car at 4pm on Tuesdays headed to teach Pilates and he didn't want me to find out while I was driving.
I could tell he was crying, which is not like him.
He was traveling with his boss, and I immediately thought that maybe they decided to lay off his entire department. Why else would he be so upset?
Joe, our very good friend and co-worker, died from a heart attack at 37 years old.
St. Patrick's Day at Helen Fitzgerald's, March 2017
I have never had to deal with a loss like this.
My heart is completely broken. I can't even imagine what his family is feeling knowing how much pain we are all feeling at the office. I allowed myself to cry and cry hard Tuesday night until I could barely open my eyes. But the rest of the week, I kept a funny memory of him in my head and anytime I felt like I wanted to cry, I pictured his voice in my head saying that thing that made me laugh. His sister, who also works for our company but in another department, solicited memories of Joe from everyone that knew him. I've been reading them throughout the week and can only wish I leave that same positive impact on people's lives.
Joe was seriously the best! He was like my best girlfriend, which is a great trait to have because the majority of the people I work closely with in the office are male. He did everything I asked him to do even if that meant him doing something ridiculous like wearing a tee shirt that said "Yeast Affection" and participating in crazy relay games for our office olympics. He came to yoga with me, he came to a group Pilates mat class that I taught, he stood outside in the freezing cold with us for an hour and a half at the Shake Shack pop-up! He was always down for anything. He never complained, he always participated. I knew I could count on him for things inside and outside of work. He supported me and all of his friends in any way he could.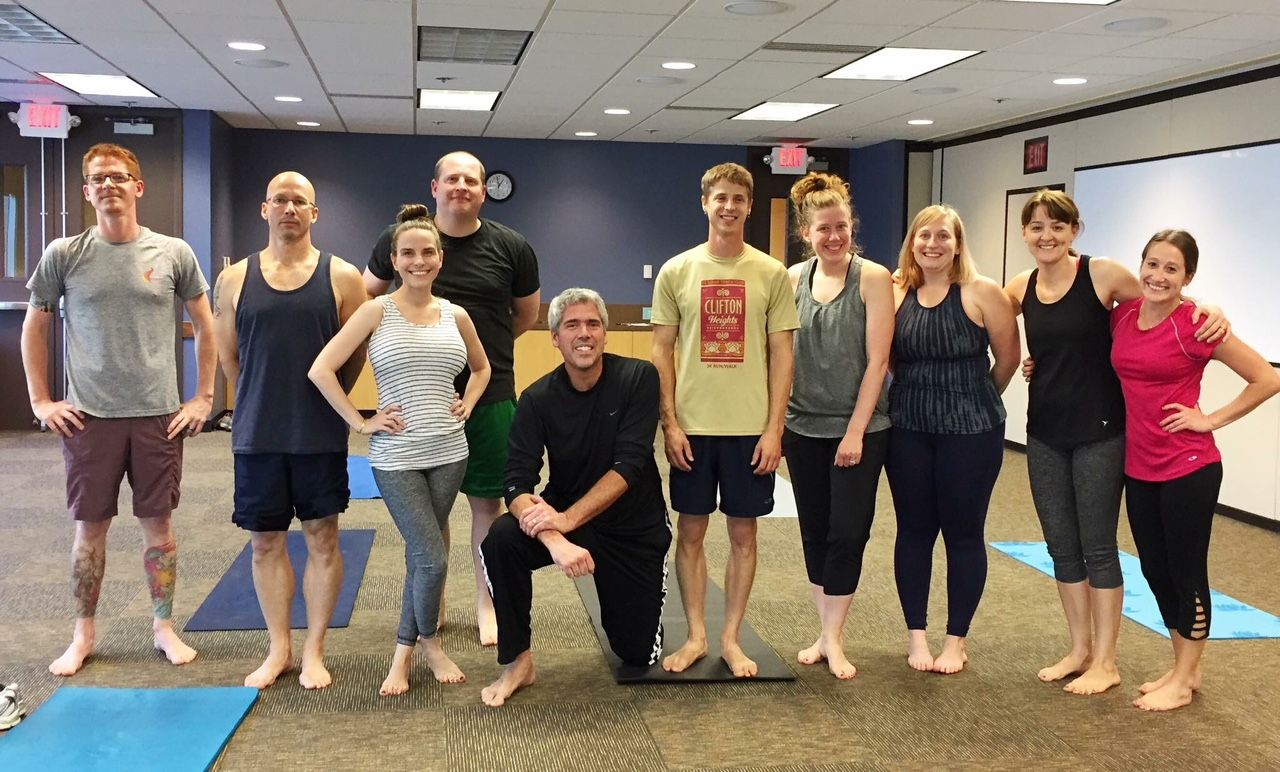 Joe with the group I taught Pilates to in the office, September 2017
I always admired him because he had to manage the Store Lifecycle Management software we used in the office – a job I can assure you NO ONE would want, but he handled it effortlessly and professionally and always with a smile on his face. He kept things lighthearted and was so organized. He was genuinely such a nice person and a great guy to be around.
He was close to Matt first before me. I remember one time as their friendship started blooming, Matt telling me, "You know who is a really cool guy? Joe. I really like him." The two of them set up a double date with us and him and his girlfriend, and that was one of several meals we would eat together. We went to lunch together often - so often that others in our office gave us a band-like nickname of "Joe and the Scobbies."
You learn a lot from a person when you eat with them! Like, he HATED olives. Hated them. But funny enough, we were at Jason's Deli one day and he ordered a muffuletta, not realizing that a key ingredient to that is an olive spread! In true Joe fashion, he made due. He scraped as much as he could off (even though you know olives are one of those foods that leaves its taste behind!) and ate around it, laughing at himself for his silly decision.
Joe with the "Yeast Affection" group at Panera Olympics October 2016
He always laughed at himself! He had a super low tolerance for spice, but there is a Thai place near the office that we liked going to. The server always asked what number of spice you wanted on a scale of 1 through 5. As we would go around the table, people would order 2s or 3s and Joe would order and ask for his to be negative. That always made me laugh.
The one time he said no to me was when our department had our holiday get together last December. We ended up at a brewery near his house and Drunk Caryl decided to call Urban Joe and try to lure him to the bar. I totally didn't remember this exchange though. The next morning at work, he walked up to me with this grin on his face and asked how I was feeling. I looked at him confused and said, "Did I drunk text you last night?" And he just laughed reminding me of how I was yelling at him to go to this bar. He was such a good sport when it came to my antics!
The very last time I had contact with him was when he was in San Antonio last week. I grew up there and he reached out to me for restaurant recommendations. I gave him my two cents and he replied back with "Right on. Urban Joe out to ruin people's valentines" which made me laugh out loud. He texted exactly like he talked and I can hear his voice in my head as I re-read those texts now. I will cherish that mindless text exchange forever now.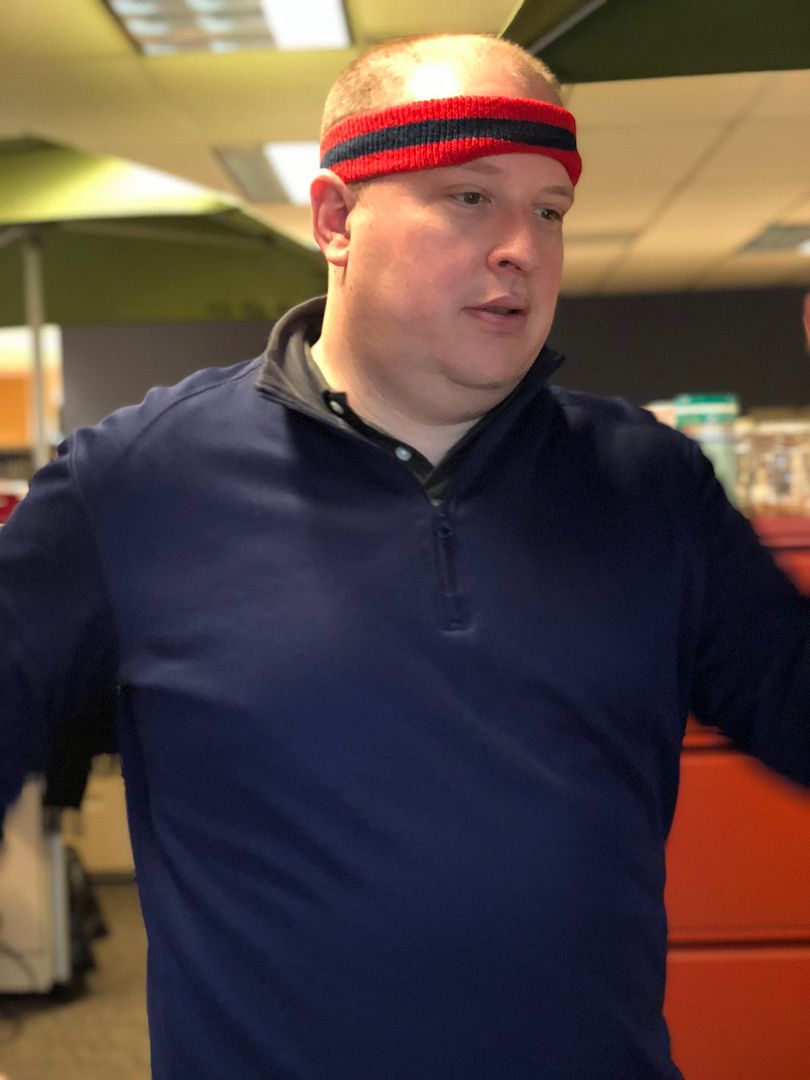 Speaking of text messages, I was trying to convince him to wear the "Yeast Affection" outfit to the pilates class I taught in the office here. So he put the headband on and was practicing his moves. I took the pic above of him and texted it to him and he replied with "Why the new iPhone add chins?"
I did a search for Joe texts on my phone. Below is a good one – he always made us laugh.
That screenshot epitomizes his personality to a T. We joked and called him "Urban Joe" because he was the exact opposite of Urban in his boat shoes. We made fun of him because he didn't know who Bruno Mars was even after his huge Super Bowl performance! However, he sure knew who Kelly Clarkson was! He would mistake any female singer on the radio for Kelly Clarkson.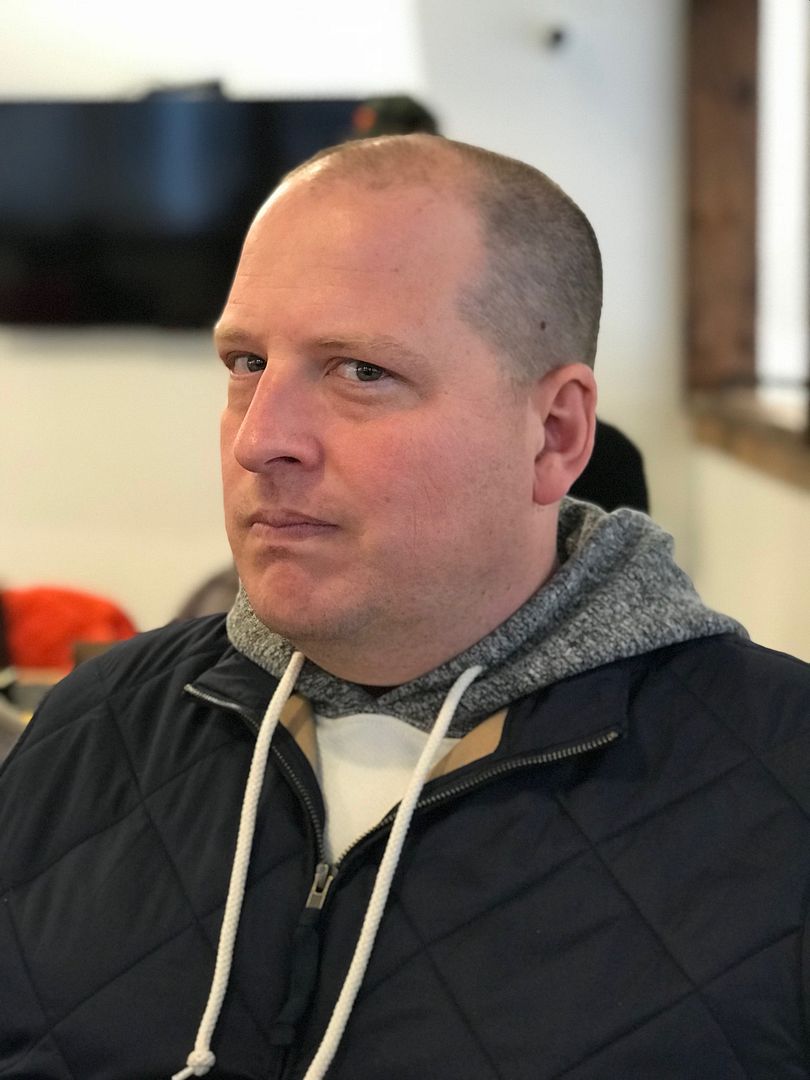 Joe at the Shake Shack pop-up, October 2017.
I was showing him how good he looked using portrait mode on the iPhone X. That photo is his profile photo on my phone…
Such a tragic loss and reminds us all of how short life truly is. There is not a single person that has anything but good memories to share about him. We are all finding comfort in sharing those memories now. His visitation was last night and his service is today. I couldn't think of blogging about anything else but him this week. My heart is broken. The office will not be the same. But it is fun to look back at how much light he brought into our lives!