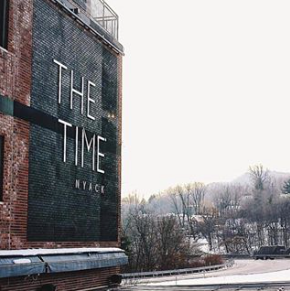 My boss and I have gotten pretty lucky the last couple of weeks finding adorable little hotels for crazy reasonable rates. We weren't sure if we were going to end up even making it to Jersey last week because of the latest snow storm, but we managed to make it there without any delays. We booked last minute and found this hotel called The Time Nyack just on the New York side of the NJ/NY border.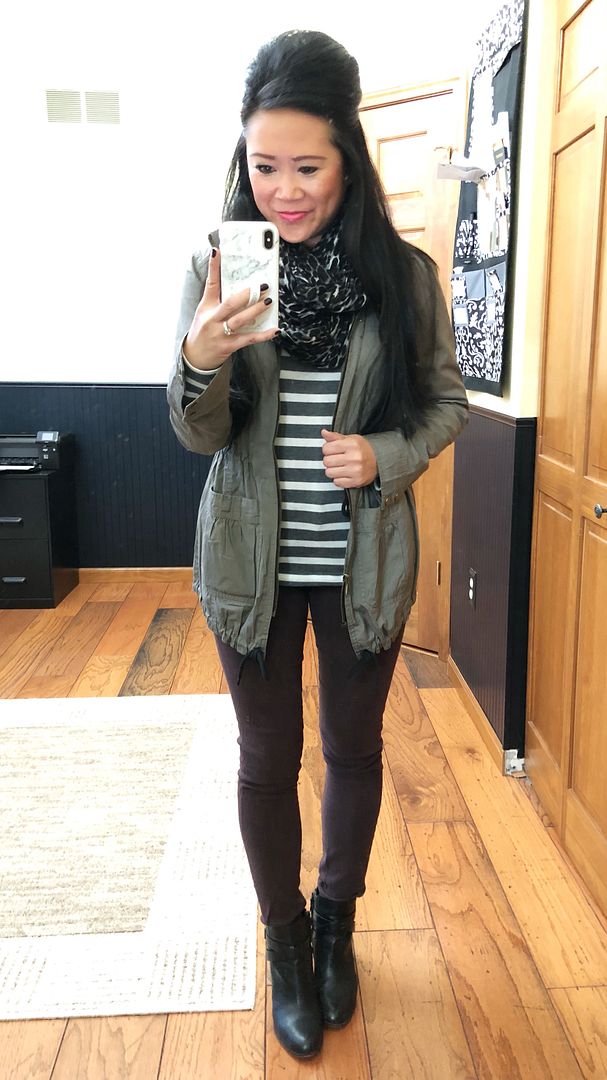 Jacket: Express | Scarf: Express (option) | Top: Gap (current colors here) | Jeans: Joe's Flawless Vixen ankle skinny jeans | Booties: Cole Haan
Our first stop was Lexington, KY. It's about a 5 hour drive from here and it would take longer to fly than to drive since there were no direct flights, so we opted to make it a road trip! My boss picked me up around 7am that morning and after the time zone change, we made it there around 1:45pm local time. We spent the day meeting with a vendor and then headed to dinner with them later that evening. The locals recommended a restaurant called The Merrick Inn and it was delicious! On top of that, their bourbon selection was super extensive (as it should be in Kentucky!) But, highly recommend going if you're in that area.
I feel like my travel uniform is pretty standard. Any skinny pant + my Cole Haan booties. I dusted off some old favorites for this outfit like my leopard scarf and these dark burgundy colored skinnies. Since I wore my moto jacket to death last week, I decided to switch things up and wear this anorak jacket on this week's trip.
We had to fly out at 6:30am the next morning, which means being up by 4am! Ugh! That makes for a long day. Needless to say, I need an outfit I can throw on without thinking. This sweater is easy with a great pop of color, and these ponte knit 5-pocket pants are heaven sent especially for travel. I threw my same scarf on from the day before and off we went.
We spent the day helping a cafe that was under construction - answering questions however we could, helping set up small things like shelving and artwork, and confirming all of their smallwares and marketing pieces were accounted for. It was a long day - we didn't leave until about 8:30pm that evening.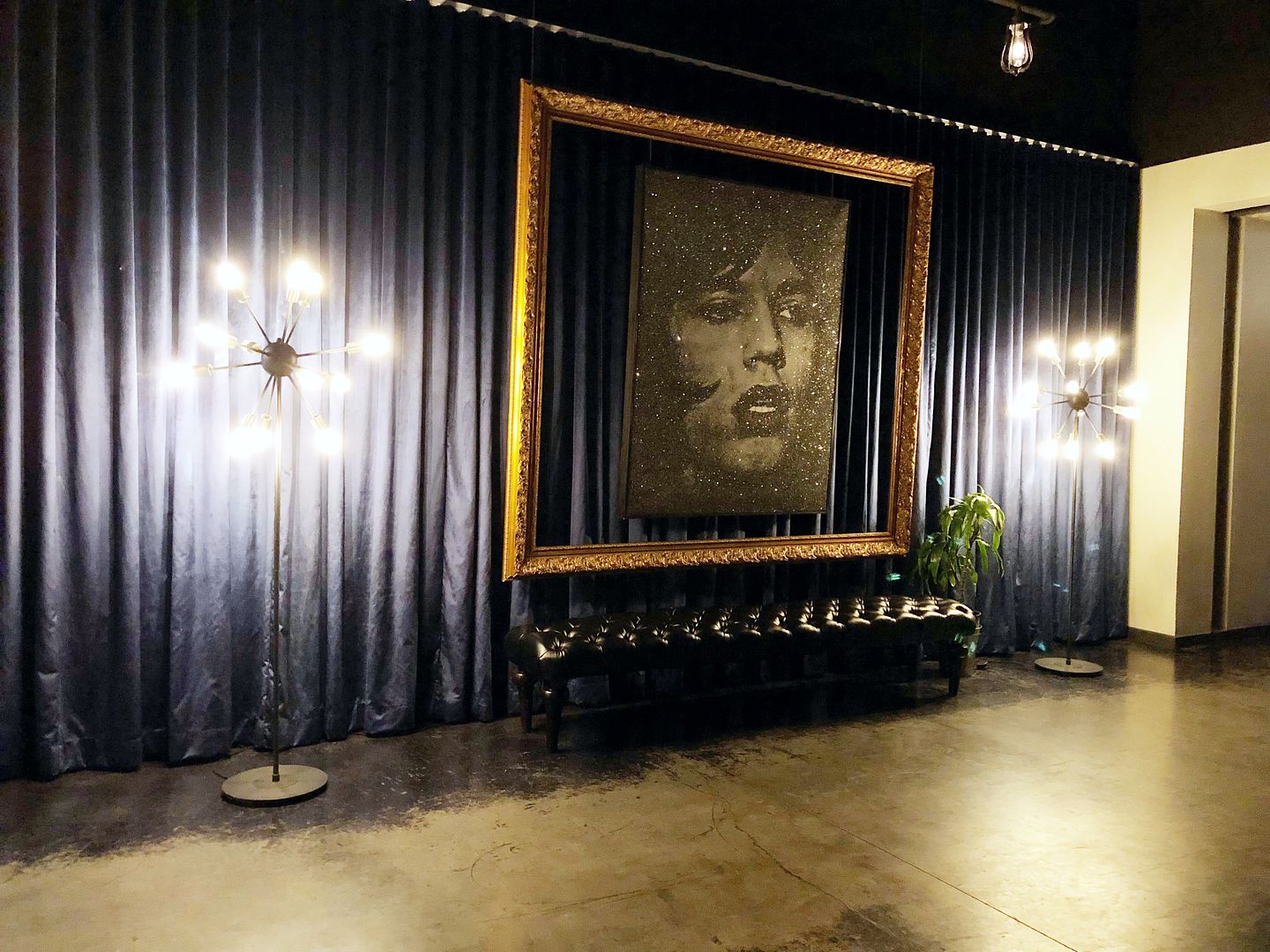 Any hotel that has a bar and restaurant attached is an added bonus, especially when we're checking in super late at night and are hungry! The details of this hotel were so great! I love how spaces make you feel - this one was very clever and fun, maybe a bit outlandish, but I liked that it was a bit out there.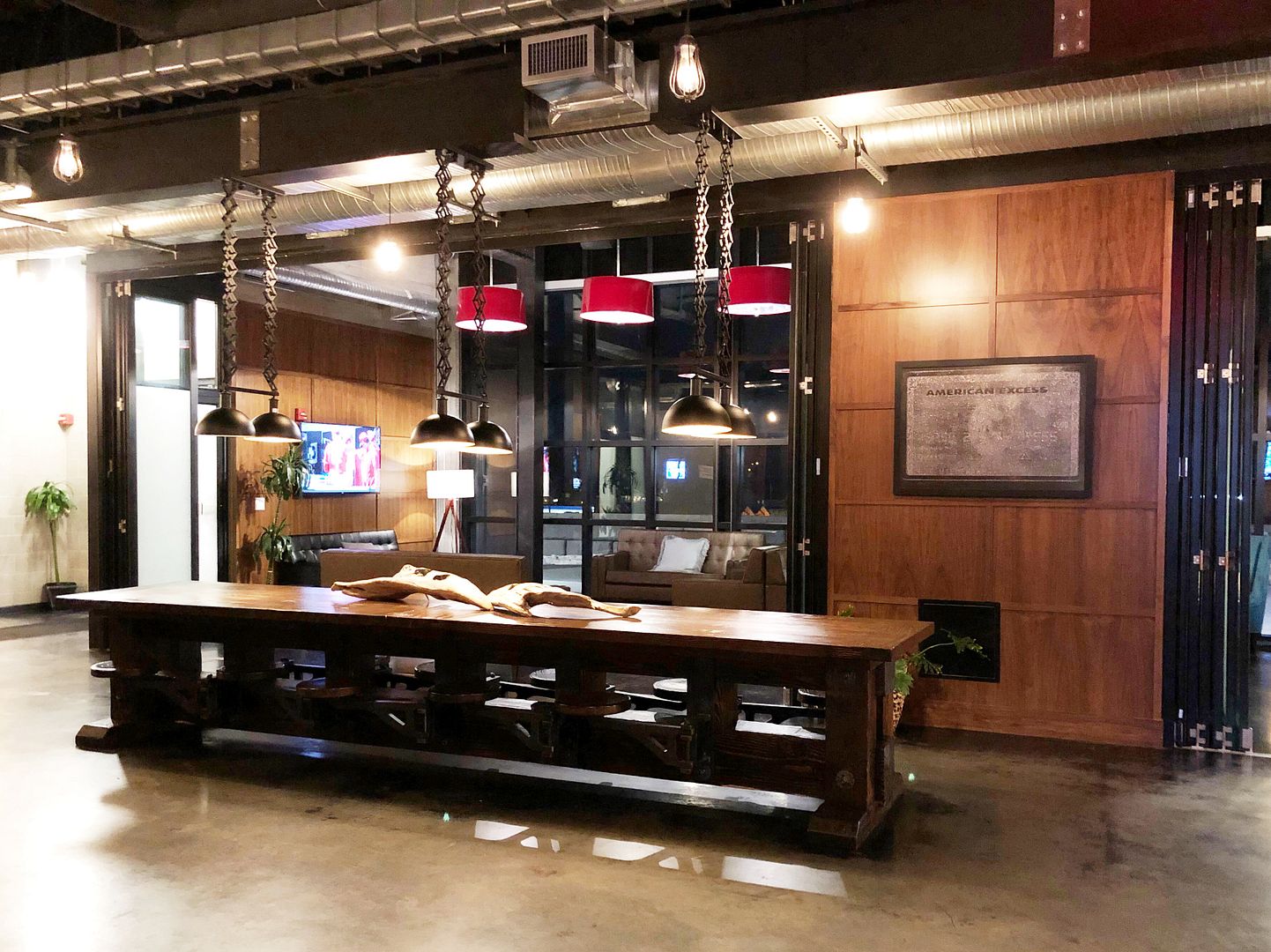 I wish we were there when it was still daylight so I could have taken photos of the exterior. And apparently their pool is amazing too. Maybe I will have a chance to come back in warmer weather!
My room was awesome! How awesome is this view! The bed glows! It was a sight for sore eyes after having two very long travel days!
We ended up paying $107 for this room, which is insane!
I love being able to recap these trips on the blog because it makes it very easy for me to search and refer back to this info later, or when I make recommendations to people!