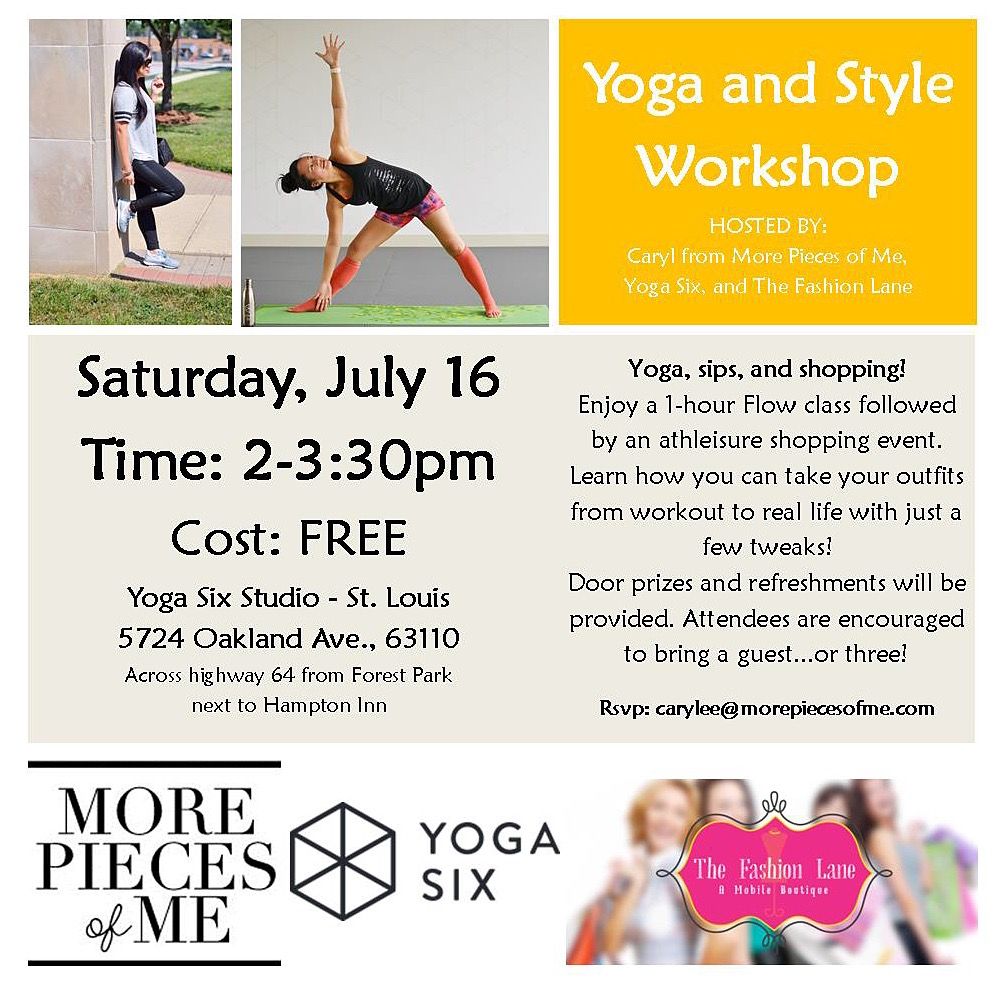 Thanks so much for your interest in the upcoming Yoga and Style event on Saturday! I hope your plans have not changed and you are still able to make it! I thought I would put together a little note so you know what to expect!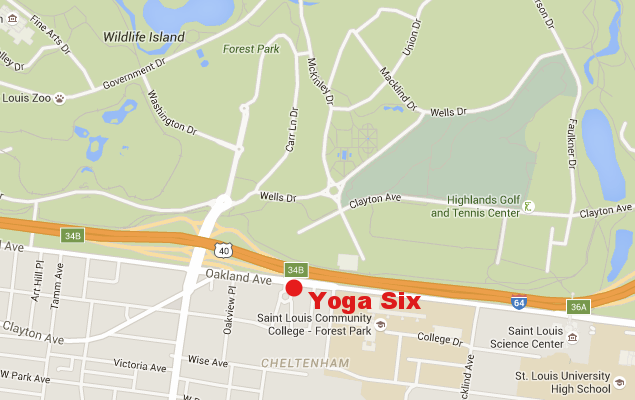 First - directions to the studio!
Your GPS most likely won't take you all the way to the studio. Depending on which direction you are coming on Oakland Ave, you may end up just short of or just past the studio. I got a bit turned around the first time I went there. It is across highway 64 from Forest Park on Oakland Ave right next to a Hampton Inn. It's on the first floor of a multi-story building - look for their orange sign. The side of the building that faces the highway is actually the backside. There is angled, back-in parking spaces on that back side of the building. Otherwise, there is a small parking lot on the front side of the building where their main entry is. There are also street parking spaces around that area as there are lofts and other businesses nearby.
When to arrive!
Yes, there will be an actual yoga class. The class starts at 2pm, so I highly recommend getting there by 1:45pm to allow some time for you to check in and get situated in the studio. The class will run from 2pm-3pm. If for some reason you are not able to get there until after 2pm, I don't think it's a huge deal since the studios are completely separate from the reception area. Depending on how late you are, you just may not be able to join the class, but you can still shop, have some refreshments, and I can show you around the studio. The more I thought about it, the more I don't think I can participate in the class myself as I want to be able to greet and direct any guests that arrive after 2pm.
What to wear!
Wear what you would typically wear to yoga! If you've never practiced yoga before - think leggings and a fitted top. I say fitted because you will be doing a lot of downward dog, so be mindful that your shirt may fall over your head when you're in that downward position! You can always do a front tuck or a knot of your shirt if you don't have anything fitted to wear. Also - you should plan to be barefoot or in the sticky-footed socks when you're practicing yoga. If you only plan to shop, I would still come in yoga or workout clothes. Wear flip flops or shoes you can easily slip off as you won't be able to wear shoes in certain parts of the studio.
What to bring!
If you have a mat, definitely bring it. If you're like I used to be and have a Pilates mat but no yoga mat, I would NOT bring your Pilates mat. It is so super hard to practice yoga on a Pilates mat. If you don't have a yoga mat, no worries, you can just rent one at the studio as I have arranged for the mats to be free of charge for you to rent for this event. Also, the studios are kept warmer than room temperature - think low 80s. And while you may think yoga is relaxing and easy, you will likely sweat, so be sure to bring a towel! I will have small bottles of water for the event, but you are welcome to bring your own water as well.
What is "Flow" yoga?
The class I picked for the event is Flow. I did a complete post about Yoga Six's classes here, so you can get the scoop about Flow there! If you're a beginner, no worries. You will be completely fine and if at any time you feel like something is too much for you, you can pause at any time. The instructors are great about offering modifications for beginners and more advanced participants.
What happens after yoga?
Laura's team from The Fashion Lane will be there. She has a fashion truck which means her shop is literally inside the truck. She will have items you can shop there. Also, I have 10 door prizes lined up from Kendra Scott, Charming Charlie, CS Gems and the Fashion Lane along with some goodies I picked out myself! While you all are getting your yoga on, I will be drawing names for these prizes and will hand them out as soon as class is over. I will have some super light bites and refreshments for you to munch on, too!
I think that covers everything! Please feel free to email me (carylee@morepiecesofme.com) if you have any additional questions. RSVP is not necessary, but it does help me plan for the refreshments! Feel free to continue to invite friends up to the day of the event! Thanks so much for your support!