I've been wanting to replicate this look since before the holidays. I love the unexpected combination of casual and sparkly. I love the mix of textures. I love that it looks like more effort than it really is. The fact that sequins are involved, makes it an easy win for me.
Here's the Pinterest image I used for inspiration (source):
I tried this for Christmas and loved it.
Topshop (via Nordstrom) sweater
I was very happy how that came out, but there's just something about gray plus silver that kept me wanting to experiment more. I found this Banana Republic sweater on clearance after the holidays. I bought it a size Large so that it was more slouchy than fitted. I paired it with a sequin skirt I bought last year from Express. Bracelets are also from Express, necklace is Chanel. Report "Marks" booties (similar)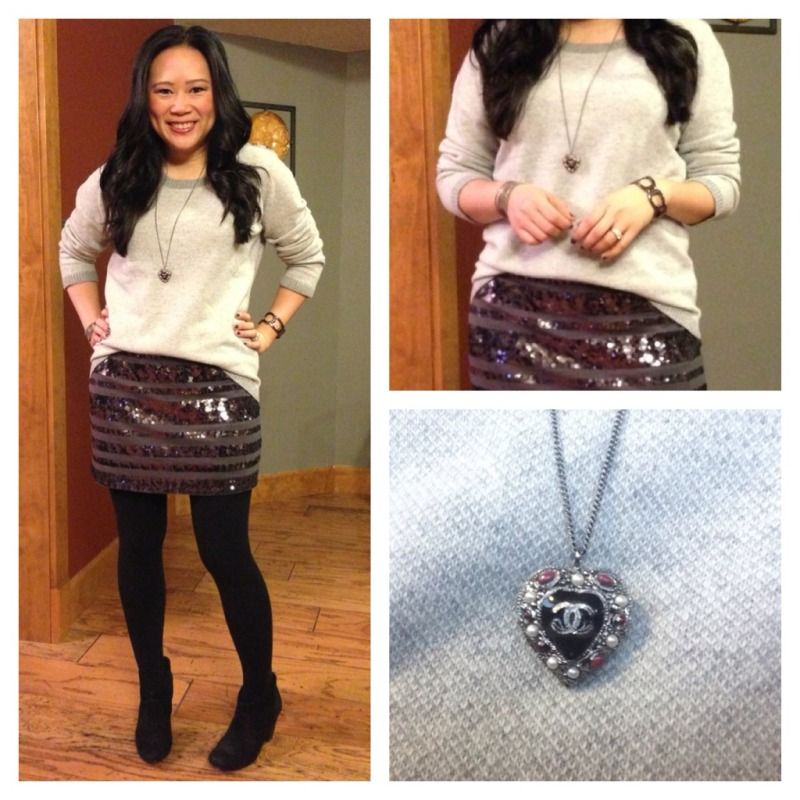 I honestly had trouble finding the perfect sweaters to duplicate the Pinterest look. This sweater was the perfect amount of slouchy without being too oversized. It was plenty warm, but not thick or bulky. It was perfect.
I wore this to work. I feel pretty lucky because I can wear whatever I want. The swing of "formalness" at the office is huge - jeans and sneakers to button ups and ties. So, I take advantage of being able to wear sequins as much as I can! I could wear this over and over again...