It's so hard to describe my style in just a few words. I'd say for the most part, my style is feminine bold classic glam. I'm not afraid of color. I honestly can't think of a color I wouldn't wear. I'm drawn to patterns
- animal print, stripes, color blocking - they're all good to me!
As far as fit - I'm petite at barely 5'-2", but I hardly ever shop in the petite section. I see myself as a bit high waisted, and my biggest area is my mid-section and hips, so I'm kind of square shaped. Because of this, I like my tops to be fitted so that the waist falls lower than an empire waist. And, things like ball skirts and tulip shaped dresses and skirts look best on me since they create the illusion of a thinner waist and a more hour glass figure.
Where do I like to shop? I'd say 70% of my shopping occurs online. I have all of my favorite brands stored in my Shop It To Me account so every morning, I get an email consolidating all of the designers I love, in my size, that are on sale on various websites. Obviously, this can be dangerous, but that's how I find a lot of the things I buy. As far as actual brick and mortar stores,
I'd say the bulk of my money goes to Nordstrom. Moreso shoes there than anything. But I also shop
regularly at Express, JCrew/JCrew Factory, Gap, and American Eagle, to name a few. I'm addicted to anything Kate Spade - her pieces are timeless, clever, thoughtful, simple, and beautiful.
As far as shoes, I have quite an extensive collection, which can be overwhelming, but it's nice because I can shop well beyond the basics and find statement styles. I love a platform heel. I love patent leather. Lately, I've been trying to buy shoes that I can keep forever. Shoes that will stay relevant for many seasons. My favorite shoe designers are Vince Camuto and Sam Edelman. I've tried a few higher end, designer shoes, and I have to say that my Valentino Rockstuds get the most wear.
People always ask me "How can you walk in those?" or "How can you wear those all day?" The walking really isn't bad, but I suppose it takes practice. A 4" heel is about as tall as I can go before I start walking awkward. And I sit at a desk all day! Of course if I know I'm to be doing a lot of walking, I will NOT wear my heels. I admire the girls I see sporting their heels at sporting events, at the mall, or at the airport. That's definitely not me though.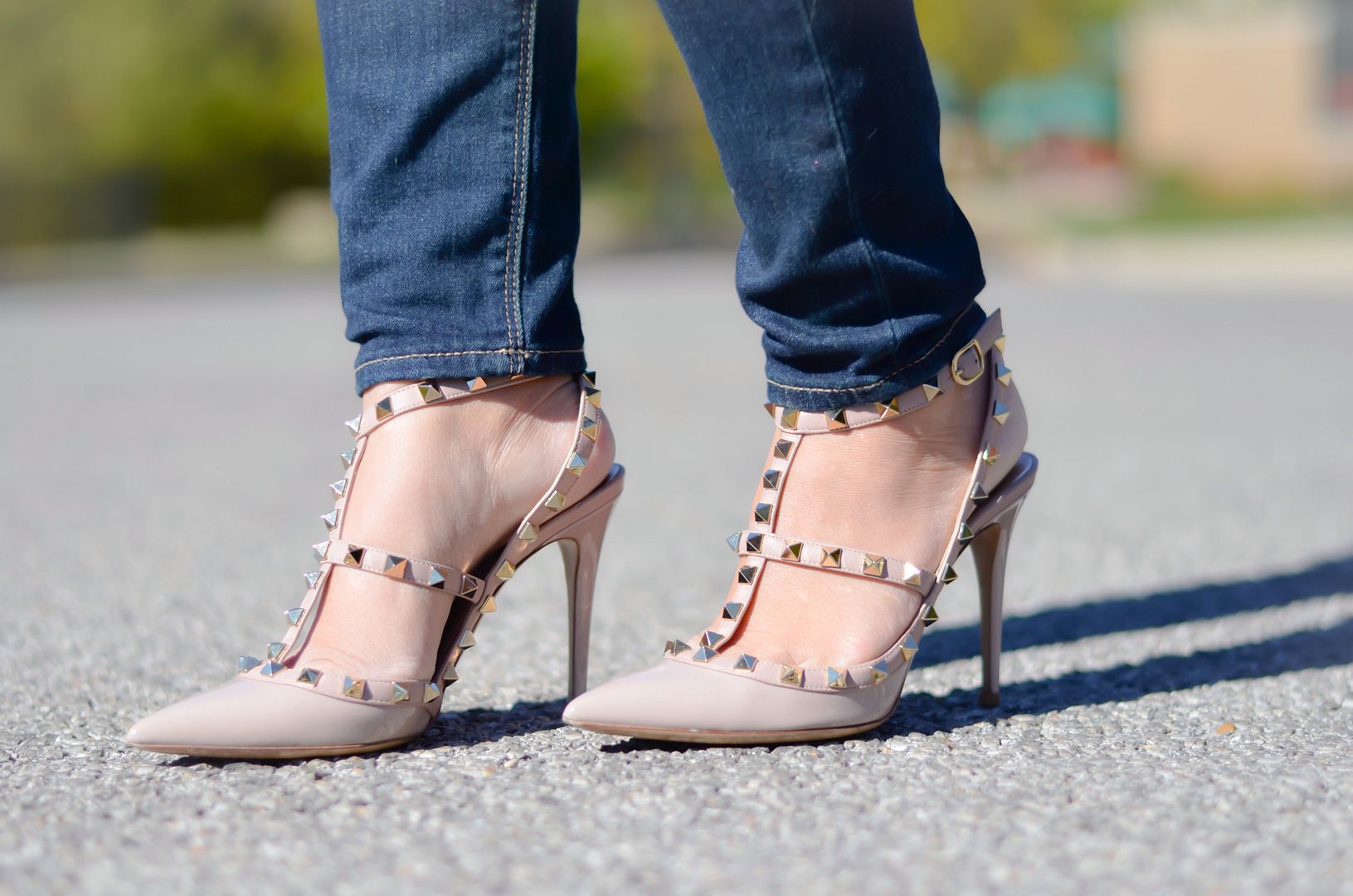 I could definitely improve my accessories collection. My most prized accessory is my Chanel medium classic flap in grey patent. It is absolutely beautiful and I plan to pass it on to my future generation. I do have a more casual Chanel tote that is also fabulous, but that's it as far as luxury brand purses. My other bags are in the medium range. Rebecca Minkoff, Marc by Marc Jacobs, and Kate Spade are my favorites for this price point.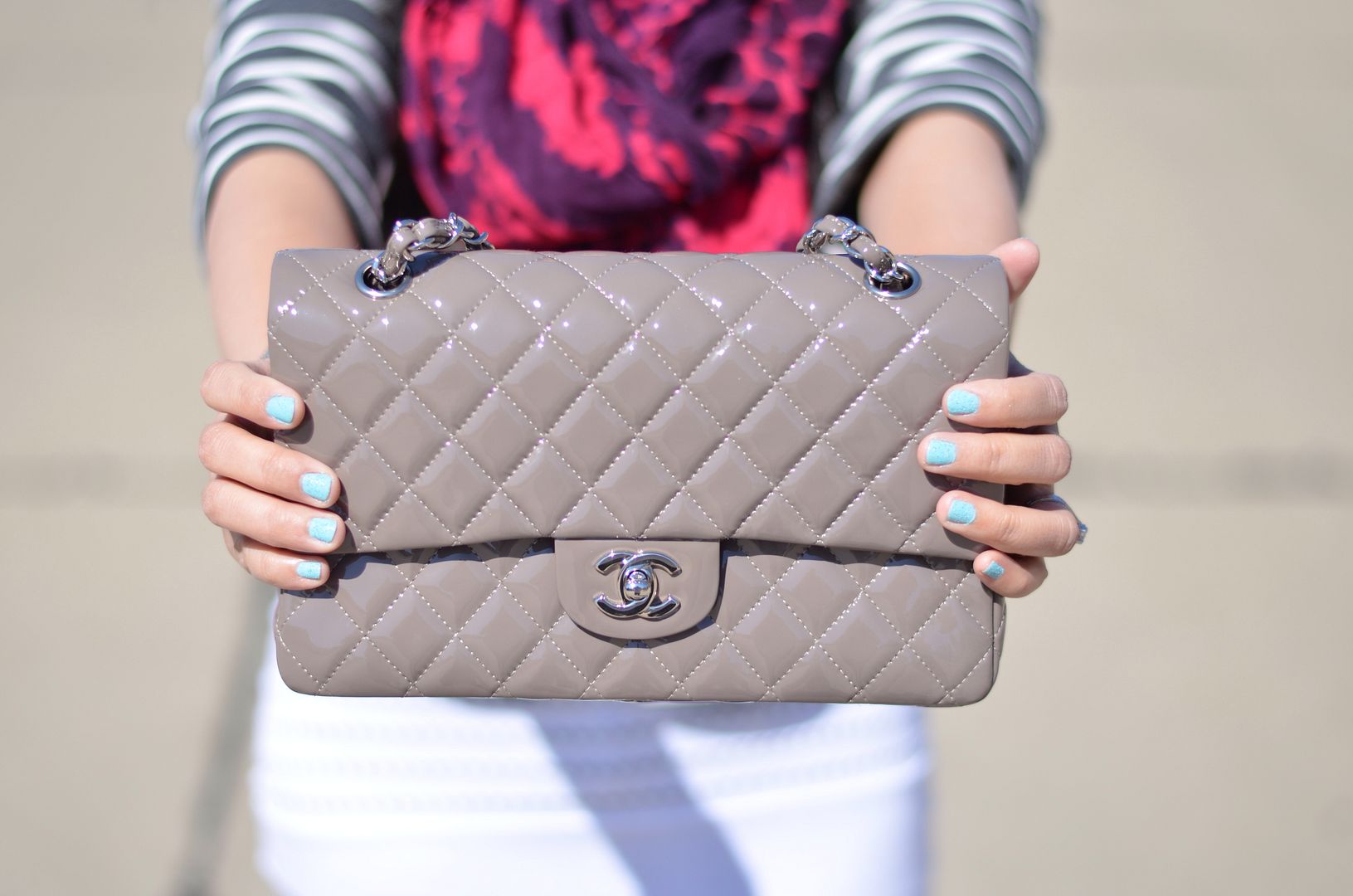 When I started this blog, I was jewelry challenged. Somehow that has changed over the years, or perhaps I have just learned? My collection is overflowing with Kendra Scott and Kate Spade pieces. And my most favorite thing to do is layer necklaces.
I work in Development/New Construction for a national restaurant chain. Our offices are pretty relaxed - there is a huge swing in what people wear - from shorts and sneakers to slacks and button ups. I think I'm pretty lucky because I can basically wear what I want. I can be creative - I'm not bound by pant suits. The majority of people in my specific department are male, and I think that's half the reason why I like putting my fashion out there on the interwebs, so that at least some people can appreciate it.
One last thing you should know about me - telling me that I'm trendy is probably the biggest insult you can give me. Being trendy implies that I am a follower, that I don't have my own sense of style. Do I participate in certain trends? Yes. But I like them because it appeals to my style and looks good on me. I don't like things just because they're "in" or because everyone else is doing it. I cringe when someone asks if something is still "in style." If you like it, it makes you feel good, and it fits you well - then wear it! Who cares what everyone else thinks? Create your own fashion thumb print. And remember, your best accessory is confidence.
Welp, that's me in a nutshell. My style is my style and I don't expect everyone to like it. But, I certainly have fun shopping and creating outfits, and that's what matters to me the most!
Shopping is my hobby.