I was notorious for overpacking. Mainly because I had too many liquids so I always had to check a bag. I figured, if I had to check a bag, may as well stuff it. But, recently I've decided it's not only a waste of my time to check a bag, it's way easier to just live off the bare minimum for the couple of days I'm traveling.
This week I'm in Dallas. I left Tuesday right after work so I had to pack Monday night. I will say that packing is quite the long process for me. I have to try on outfits before I commit to packing them because if they don't work when you're in your destination, well, you're screwed at that point. Some things I take into account when I pack:
1. Comfortable shoes. And no, I'm not talking about flip flops or Uggs. I'm a firm believer that you can wear cute shoes to the airport without them being 4" heels.
For this trip, I chose my Report Marks booties in cobalt as my airport shoes. Super easy to slip on and off at security, low enough heel to not stop me from walking long distances, but way super adorable.
2. Wrinkle resistant. Not only for sitting on the plane, but also for packing. I try to bring things that won't need ironing when I get there and will still look fresh when I land.
For both airplane days, I chose cotton dresses. I have my moto jacket for an extra layer if I get cold, or if not, it's light enough to stuff in my carry on if needed. Any kind of cotton or jersey dress is perfect. And just as comfy if not moreso than your pajamas. (Which I am also against at the airport.)
Shirt dress from a Saks Fashion Fix Sale
Old Navy Cobalt Tights
Report Marks Booties
Neiman Marcus Last Call Cashmere sweater
Express tank dress worn as a skirt
DKNY No Waistband Tights
Report Marks Booties
3. Layers. I save space when I pack multiple light layers vs. one thick bulky sweater. And the thin layers are honestly just as warm.
Cashmere is not bulky but it's absolutely warm. I packed two cashmere sweaters for layering over thinner base items.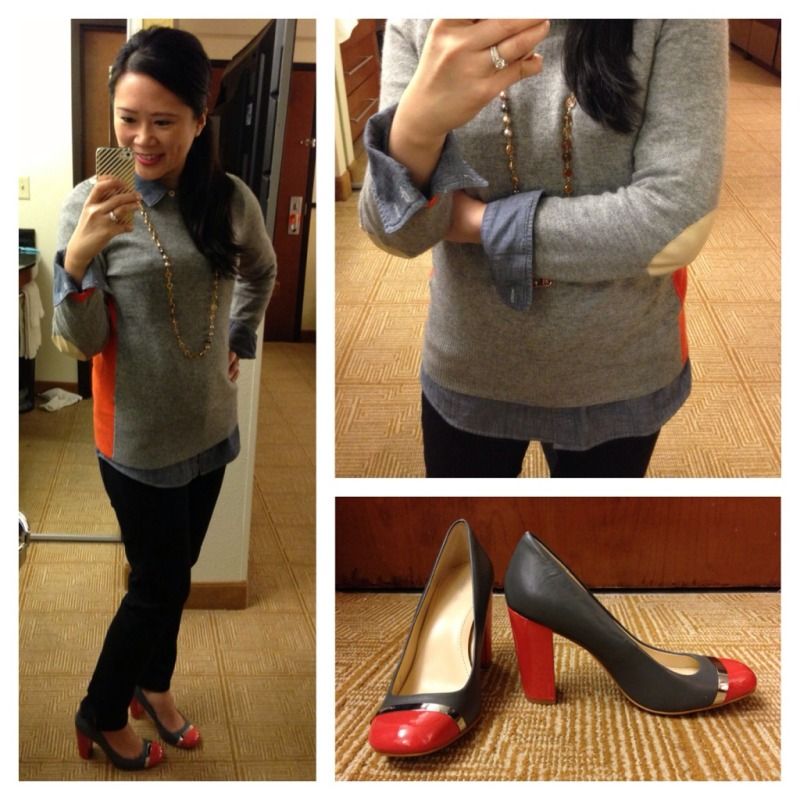 JCrew colorblock elbow patch sweater
JCrew Factory Chambray top
Gap black skinnies
Calvin Klein "Blaine" Colorblock pump
All I ended up with was my Lo and Sons "OG" bag and my backpack for my work laptop. Had this been an overnight trip only, I could have gotten away with my MacBook Air and managed with a large purse instead of the backpack. Even. Better.
If you've never watched the video for the OG, you must. It's amazing. I just love that everything has its own place. I could find anything in this bag with my eyes closed. I also found this travel wallet on clearance at Nordstrom recently. It's almost like a coupon organizer - it has separate tabs for your tickets, passport, receipts, etc. and also two compartments with credit card slots. This is an awesome place to sort all of my rewards cards for hotels, rental cars, and airlines, on top of all my business credit cards. And of course, you know I can't pass up a Kate Spade green passport holder.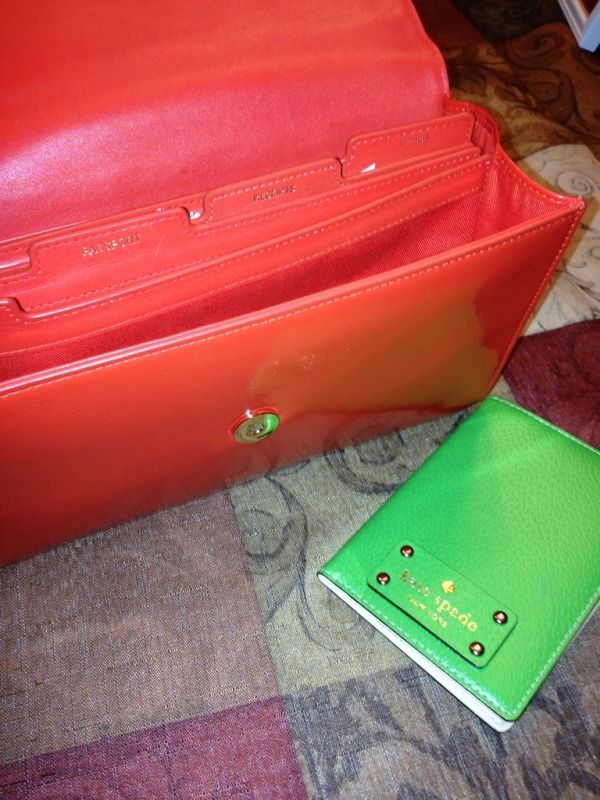 And that's it! All of this being said, I am ecstatic to be back home now!! What other tips do you have for packing light and staying organized while you travel?