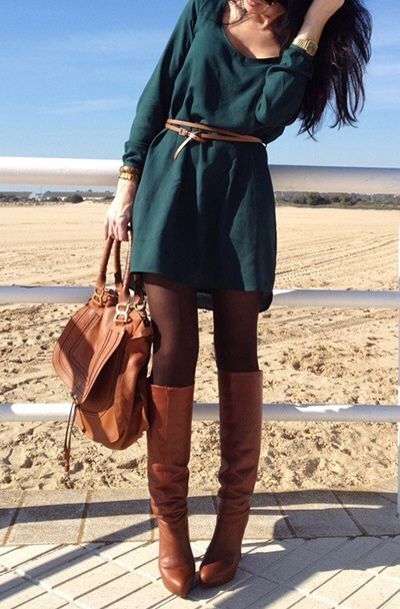 Original Source unknown but pinned from here
If you couldn't tell, lately I've been really into mixing and matching patterns and colors. I catch myself liking certain looks that I normally wouldn't have put together myself. I'm learning very quickly this season that wine/burgundy is such an awesome neutral. It pairs well with so many colors - a definite staple in my wardrobe moving forward. When I originally saw this outfit, I liked it immediately. I'm all about being effortless but looking put together. There really is nothing easier than a sweater dress. The wine tights (although right now they look chocolate to me) break up the monotony, and cognac always adds a touch of butter (that's a good thing.) The chunky gold accessories dress this up just enough.
So this is what I did. I didn't have a green sweater dress. Honestly, I don't have much green in my wardrobe at all. As I was sifting through my dresses, I thought, "Who are you kidding? You know you have nothing in solid green." But then I landed upon this silk dress that I snagged from a Saks Fashion Fix sale last year. Not as cozy as a sweater dress would have been, but I was still pleased with this overall look.
Saks Fashion Fix Sale dress
DKNY tights
Coach "Adair" wedge boots
Kate Spade bow ring and watch
Side bar: I realized that I need a skinny wrap belt. After gift cards and discounts, I got this DVF belt, regular $225, for $20!