I was looking through photo after photo trying to find my Pinspiration for today. I really wanted to wear my desert booties. One problem with having so many pairs of shoes is that you have to intentionally dress around them every once in awhile, or else they could go unworn for quite some time. I did a search for "desert booties" but really wasn't seeing anything that captured my interest. So, I changed my search to "wedge booties." As a result, there were so many images of Rachel Bilson, that finally, I narrowed my search even further to "Rachel Bilson wedge booties." There were a few other looks that I liked a lot.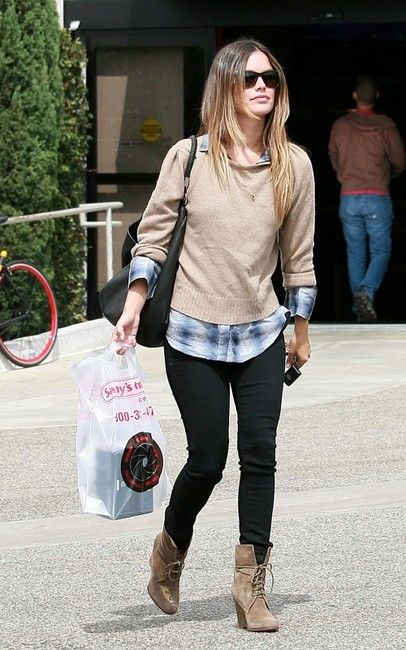 Taken from here
(Original Source Unknown)
I love her style a lot. The above looks are all pretty casual, but she is naturally beautiful, laid back, but can also be quite classic, glam, and girlie for her more dressed up occasions. Plus we have a lot in common - you know, we're both petite brunettes. :) But anyway, the reason I chose the outfit I did was simply because I had very similar pieces to easily replicate it - simple black blazer, moss green tee, printed scarf.
Paw prints courtesy of Annie the Beagle
Frenchi brand blazer from Nordstrom (similar here)
Gifted scarf
Ruched tee from NY&Co (old)
Express Stella skinnies
Nine West Outlet "Naomi" Booties
Kate Spade watch (available here)
Chanel Istanbul tote
As you can see, we got quite a bit of snow since my photos yesterday. What you don't see is that the snow is a bit crunchy on top because of the ice. This ended up being a work from home day, but since I was already almost completely ready, I figured I'd go all the way and take the photos. Especially with as long as it took me to find my Pinspiration last night!! Hope you're warm wherever you are!