First of all, if you haven't checked out the Slice app, you need to. Especially if you do as much online shopping as I do. I'd say 70% of my purchases are online. It's similar to the Trip It app for organizing travel, but it takes it one step further by automatically syncing to your email address (more than one if you'd prefer), and consolidates all your purchases into your app. It then sends you notifications once your item has shipped, and finally when it is delivered. But it doesn't stop there. If there is a price drop on one of your recent purchases, it notifies you again so that you can pursue a price adjustment with the merchant. I just saved $30 without even trying!
For those of you who like to track your spending trends, it categorizes your purchases so that you can see your spending in the form of a pie chart. Surprisingly enough, my "shoes" slice was not the biggest wedge! The app is free and so is this endorsement. I have no affiliation with the company, I'm just extremely happy with what it can do. As if I needed more tools to make shopping more convenient. :)
So, what slices am I currently I'm tracking?
1. Silver and Rose Gold Sequin Jacket from The Limited. I've actually already received this, but wanted to include it in this post because it's exceptionally fabulous. Unfortunately, this one is sold out. I just bought it on clearance, but this one is great, or this one for more of a blazer cut. I had been wanting a sequin jacket after seeing ideas about how it could be styled. It's not just a holiday piece, folks.
2. M.A.C. Tinted Lipglass in Girl About Town, purchased
here
. Yes, this is a fuchsia lipgloss. I have been obsessed with bright lip color lately. I've been wearing M.A.C. longwear lip color in
Lasting Lust
, which is a shade of red. It brightens up my face instantly. I decided to try the fuchsia, which was recommended by a friend based on my skintone. This also arrived on my doorstep this week, and I'm in love with it.
3. M.A.C Clear Lipglass, purchased here. I bought this as a top coat for any of my glosses. I hate shine on my face, but I love high shine on my lips. This feels pretty heavy when applied, so a little goes a long way. It definitely lives up to its name as lipglass - high shine and a protective top coat to your favorite lip color.
4. Kate Spade Ostrich Bridge Bow Bracelet, purchased here. I was so torn about what color to get, this blue or this one, which is closer to the infamous "Kate Spade green" color. I've already spoken at length about my current cobalt blue obsession, I could easily write a whole post about my Kate Spade green obsession. In the end, I chose the blue because I have a ton of her stuff in green already (it's a disease, really.) But, I'm not promising I won't eventually buy the green one, too, if it's still there later...
5. Kate Spade "Dominick" colorblock skirt, purchased here. This skirt is a no brainer for me. It's the shape that flatters me the most, in bright colors that make me happy. Well played, Kate Spade, well played. Very excited to wear this now and later.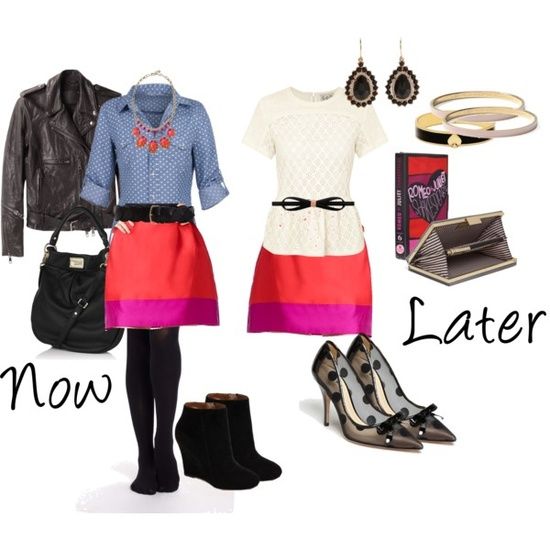 6. Forever 21 Tiered Bow Belts, purchased here. I may or may not have purchased all 3 colors available. I originally wanted a black belt with a gold bow, but when I saw the red, I was torn. I decided it was silly to pay for shipping on one $4.80 item, so I added both the black and red to my cart, but then thought, "well, may as well just get all three!" I definitely have use for all three colors. Hopefully they work out. I love the simple, but girlie design. The bow is such a nice detail to an otherwise simple belt.
7. C. Wonder Stretch Cotton Leopard print pant, purchased here. I didn't actually find this for myself. A friend of mine sent me a link to these asking if I thought these would be appropriate for work. My response was that the print was subtle enough and they were adorable, so yes, definitely work friendly! They ended up being out of stock in her size, but she was able to live vicariously through me since I ended up ordering them instead. Since I'm short (5'-2"), I anticipate these being the length of regular pants to me, which I actually like better anyway - makes them more versatile for year-round wear!
Whew! Guess I've had a pretty busy spending week! If you're interested in how any of these items worked out, let me know, and I'm happy to post a proper review. Otherwise, you can expect to see these in a future outfit of the day!