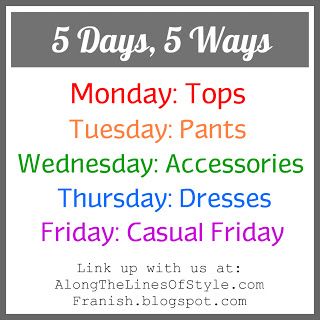 Well, we've made it to the end, folks! If you've kept up with me all week for the 5 Days, 5 Ways link up - thank you! Be sure to check in with
Franziska's
and
Whitney's
blogs since they are the co-hosts of this awesome link up. While you're there, sift through some of the other bloggers like me who have chosen to link up. So many inspiring ideas out there!
We are finishing out this week with a "Casual Friday" theme. Because my office is pretty laid back, I have the luxury of making any day of the week a casual Friday, so I wasn't sure what I wanted to feature. Plus, I was really enjoying seeing one piece repurposed in 5 different ways. Therefore, I decided to go ahead and tie my Casual Friday theme down to one simple thing
- the

REROCK SKINNY EMBELLISHED ROLLED CUFF JEAN from Express.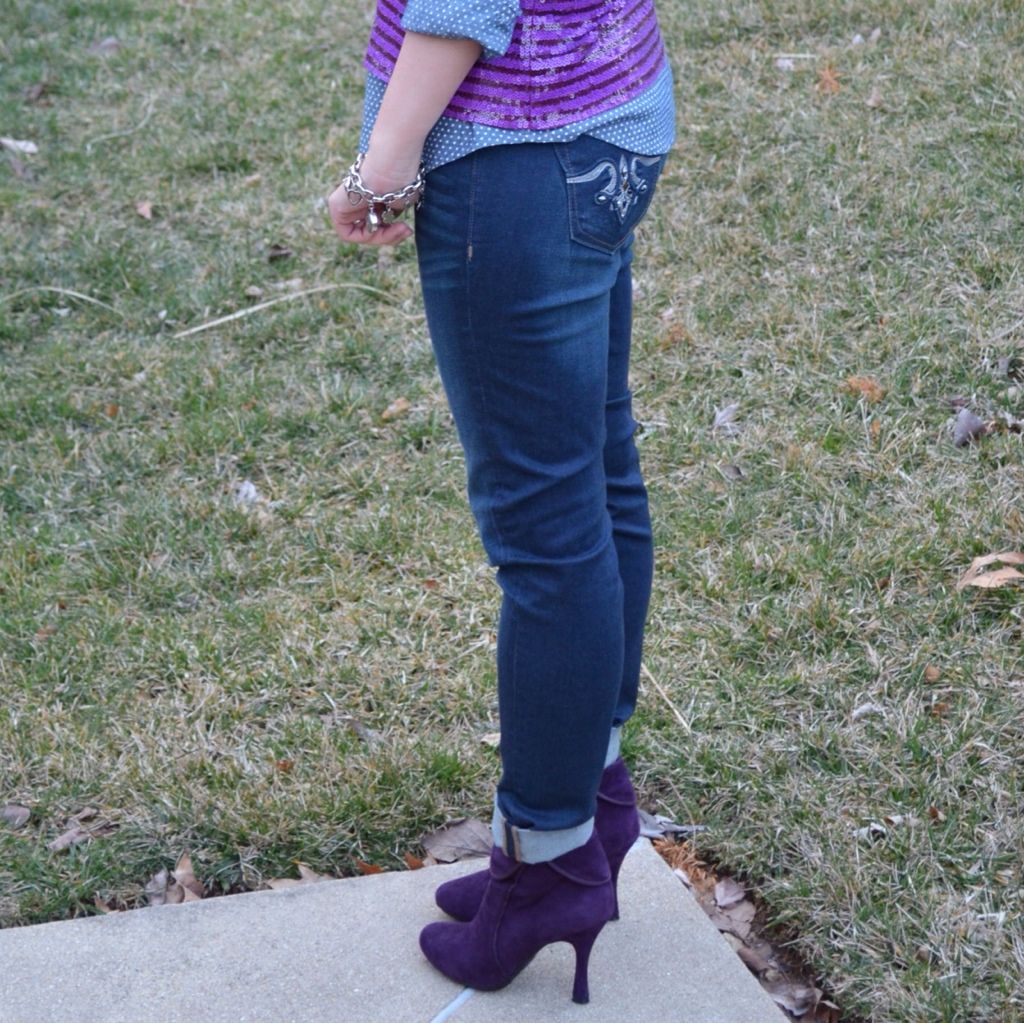 I mentioned earlier in the week that it's funny to see trends in my outfits. Apparently, I really like to wear sequins with these jeans. I don't know if it's the embellished pockets that are brainwashing me to do this, but I had to laugh when I saw these photos next to each other. I mean, sequins are awesome, what can I say?
This has truly been fun and inspired me to create more of these remix type posts in the future. This challenge has also encouraged me to seek out new ways to wear pieces, i.e. wear individual pieces more often, which in theory should cut down on my shopping. In theory... no promises. :)

I'm also linking up with Amy at Coffee Beans and Bobby Pins because it is Friday after all! Today she's featuring my blog in her Friday Five, which gives me the biggest happy because she's one of my favorites! Click below to check it all out, and link up, too, while you're there!