Today I am linking up with Amy at Coffee Beans and Bobby Pins. I pull lots of inspiration from her - she does an awesome job of creating "big town" outfits although she lives in a small town. Great mix of attainable pieces.
Ok, as for today's Pinspiration, this is actually a couple years old, but I've just recently stumbled across it, and loved it immediately.
Plaid has been coming back into my life in a big way this season. I've always loved it, dating way back to the grunge flannel days. But lately, I've been inspired by how it is being paired with dressier counterparts- statement necklaces, sequins, and in this case tuxedo pants.
Mine are white denim, so it's not a super formal look, but this could still easily take me from work to cocktails, and I would have never considered a plaid shirt as an evening piece before. I chose to do nude heels verses black because the black was too harsh since my pants are white and not khaki. Your attention immediately went to my feet, and I really wanted my feet to disappear in this case with all the focus being up top. Plus, the tuxedo stripe is so prominent, I really didn't want my shoes to compete with that.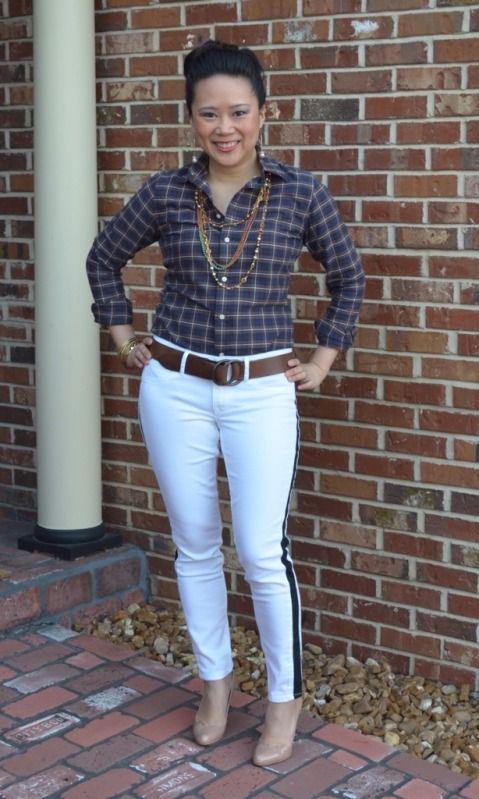 Rugby by Ralph Lauren plaid top
Christian Louboutin décolleté pump
Premiere Jewelry and Forever 21 bracelets and earrings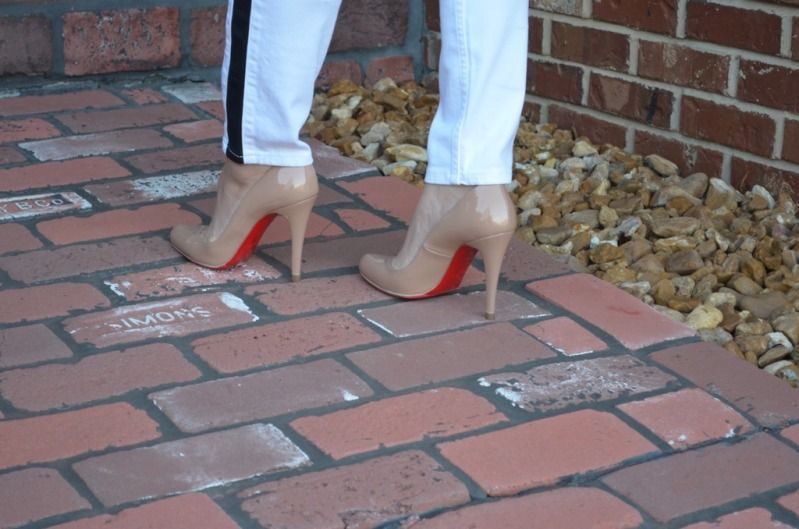 For my hair, I did a modified version of my chignon that I've posted before. I just did it high center vs low and offset with my hair pulled straight back vs parted to the side.
I'm loving these Pinspiration posts! If you ever come across something you'd like me to re-create, or even a piece you'd like me to style, let me know!
Remember to check out Amy at Coffee Beans and Bobby Pins!