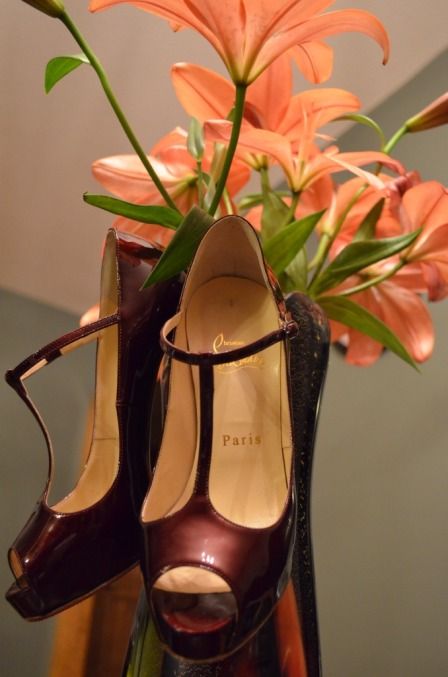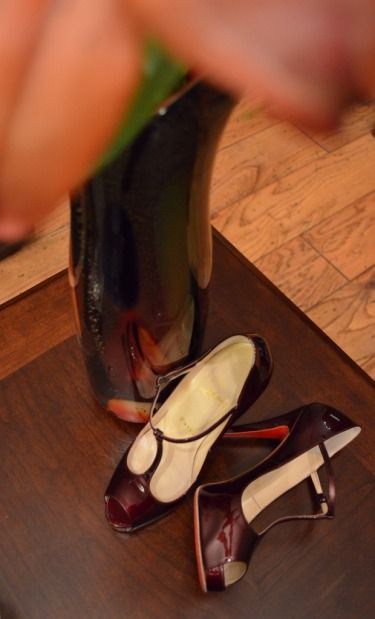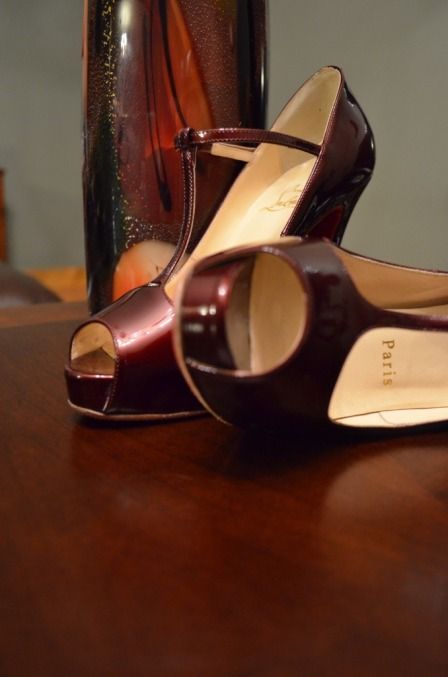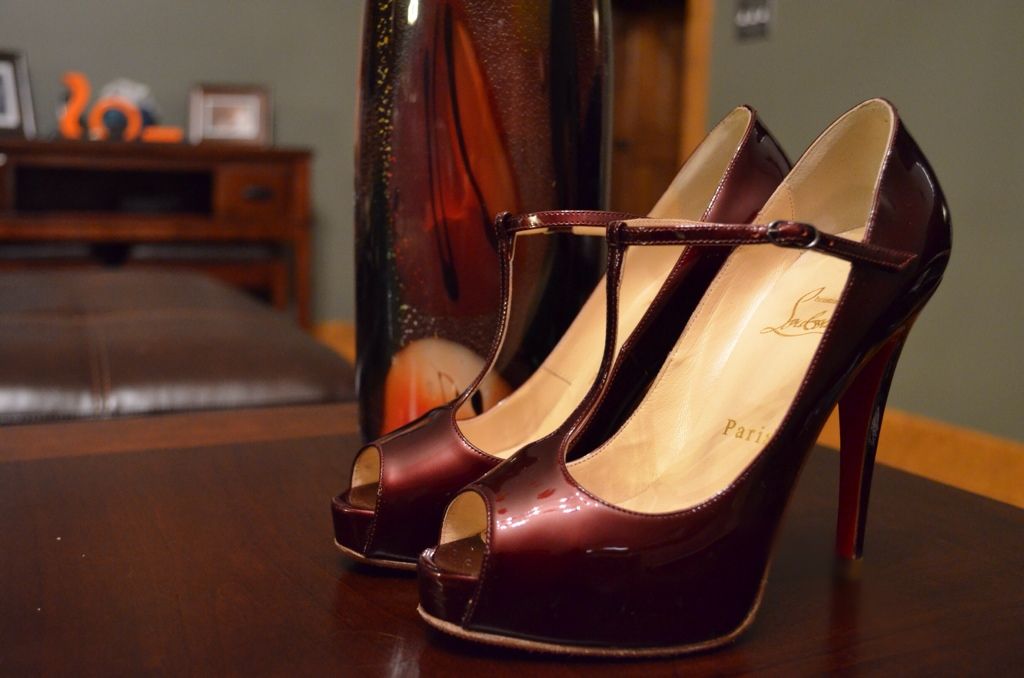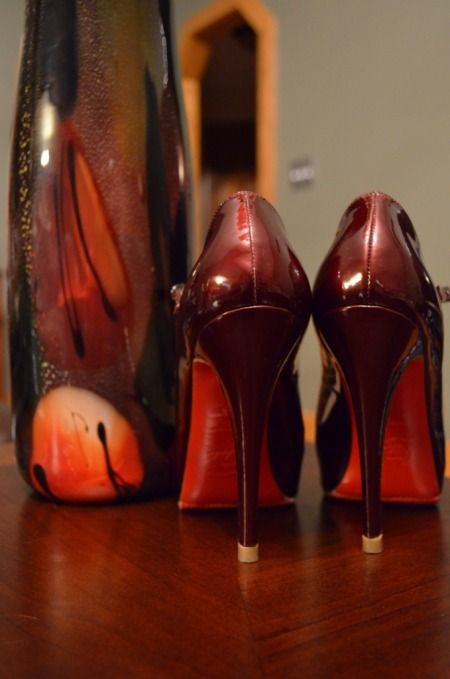 I am obsessed with shoes, that's no secret. And yes, that means I have a small collection of Christian Louboutins in my closet room. My very first Louboutins were actually a pair of espadrilles, which I'm sure I will feature in another Shoesday in the future. Since I'm not exactly oozing money, I wanted to cover the basics in my Louboutin purchases. Basics first, fun stuff later, should I choose to further expand my collection. Plus, since these are investment pieces, I wanted to make sure I bought classics that could last... the rest of my life really, or as long as I am able to wear heels. My priority list was black, nude, and red. These "Burlina" pumps definitely filled the red position. T-straps, Mary Janes, patent leather, hidden platform - they immediately had my attention. Mmmmmm.
For those of you that are curious about Louboutins, here are answers to some commonly asked questions.
Q: How the heck do you pronounce "Louboutin?"
A: loo-boo-TAHN is how I say it. Technically, since it's French, you're not actually supposed to annunciate the N at all, it's more of a nasally, open ended N sound. (You former fellow French students will understand what that means.) I certainly won't be offended if you make a hard N at the end because I do it all the time. But, I might be offended if you said loo-eee-boo-TAHN, which sounds like it would be offspring of Christian Louboutin and Louis Vuitton.
Q: How do they run, size-wise?
A: My struggle with Louboutins is sizing. I am 99.9999% of the time a size 6 in every other brand, but my Louboutins are 36, 36.5, and 37 depending on the shoe. This particular shoe is a 36.5. They're a little narrow for my wide foot, and I feel like patent leather in general has the tendency to feel a little more snug, especially since it takes a lot longer to give and stretch. My advice to you if you are in the market for some Loubies - definitely try them on in person. Not to mention that shopping can be a little sketchy online unless it's with a major department store or other commonly known website; which brings me to my next question.
Q: Where can you buy them, and are they ever on sale?
A: Yes, they do go on sale. The classic styles may not go on sale as often as seasonal styles do, but you just have to keep your eyes open... and have spies! Department stores like Neiman Marcus, Saks, and Barney's carry the brand. Nordstrom does, too, you just need to call customer service to figure out where because it's only through select stores. My Nordstrom SA told me before that she would be able to order them for me if I ever needed her to. For the first time ever, I saw Christian Louboutin on Rue La La - last week I believe? Needless to say, they went pretty quickly. I bought these Burlinas at the Shoe In in Vegas, and ever since then, the SA who sold them to me added me to her distribution list and will email me periodically with sales and new arrivals. I was able to order booties for 40% off this way. There are actual Christian Louboutin boutiques, but I've only been to the one in Vegas.
Q: How can you tell they're fake?
A: Honestly, I am far from being an expert. This is why I only buy from the major department stores and avoid random websites or eBay because you just never know. If it seems too good to be true, chances are, it probably is.
Q: Does the red sole rub off?
A: Yes, and pretty quickly. Before I've worn any of my Loubies, I drop them off at the cobbler to apply red rubber soles to them, as well as replace the heel tips. The rubber soles protect the red lacquer in the area that makes contact with the ground, the rest of the heel remains exposed. If your cobbler has a close enough color match, no one will ever really notice these watching you from behind when you're walking. Maybe even more importantly, the rubber sole also makes them much easier to walk in because the original bottoms are quite slippery. Here's a photo of the soles of my Rolandos for reference.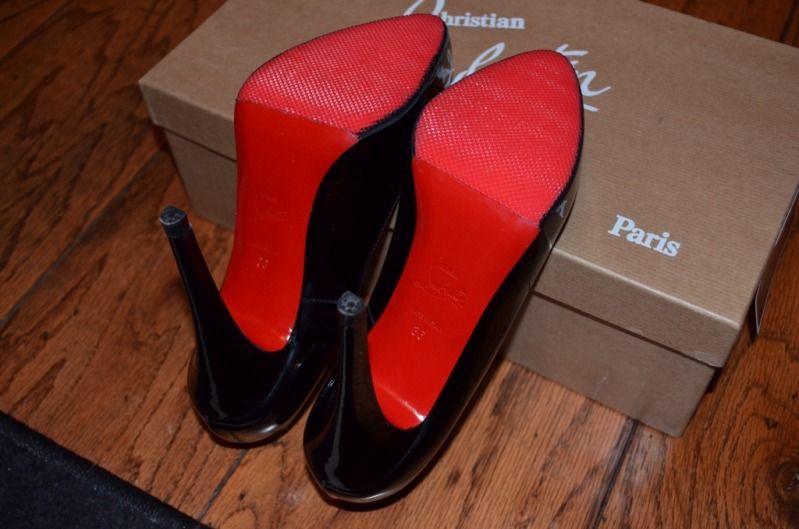 That's my Loubie lesson for today. If you have other questions, I will do my best to answer them!
I'm wearing the Burlinas in my little profile pic in the sidebar. Here's a larger pic so you can appreciate them a little better. They're definitely breath taking, and I plan to keep these in my wardrobe for as long as physically possible!
Happy Shoesday!
Francesca's Top
Express sequin skirt and cuff
Christian Louboutin Burlina pump