It's no surprise that UPS and Fed Ex have been making it rain on me the last couple days after my crazy haul a week or so ago. This mint top arrived and it was everything I was hoping it was going to be. Even better when I tried on my new Peter Pan collar necklace with it, and saw it was perfect. Well, it was almost perfect. The shirt would naturally move when I moved, so the necklace would not lay right. I like it laying so that it truly looks like a collar and you can't see any shirt peeking out of the top. But alas, every time I moved, the shirt shifted. One of my biggest fashion pet peeves is having to fidget because of your outfit. No matter how good you look, it all goes to the wayside if you're constantly tugging on this or adjusting that. Sooo, since this necklace has a fabric backing, I used some of that Hollywood tape to keep it completely in sync with the shirt at all times. Ahhh. No fidgeting required.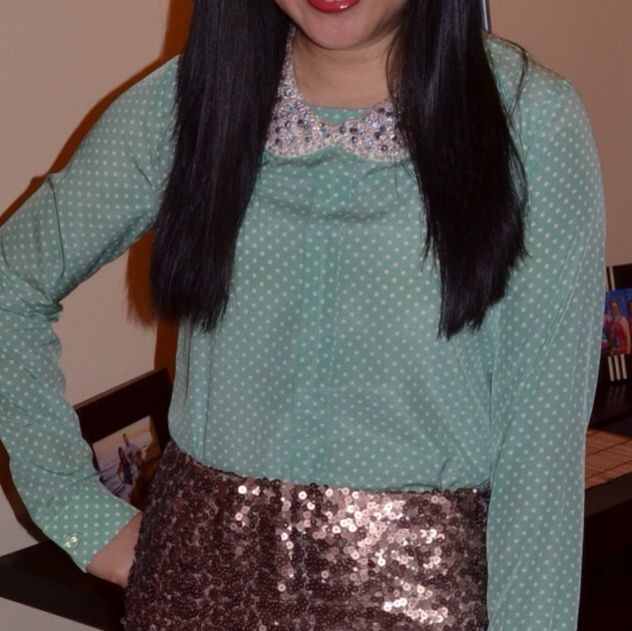 Amazing the little things that can make big differences!
I'm not sure what made me decide to wear the sequin skirt with this. When I was trying to build this outfit, I started sifting through my skirts one by one and stopped on this. I thought it would be a perfect complement to the necklace. Too much sparkle? Shut yo mouth! There's no such thing as too much sparkle. I did struggle with shoes for a bit. I have these amazing mint shoes, but they competed too much with the top. You can never go wrong with nude. I love that this nude pair has a hint of blush in it, and they basically disappear with my skin tone. Perfection.