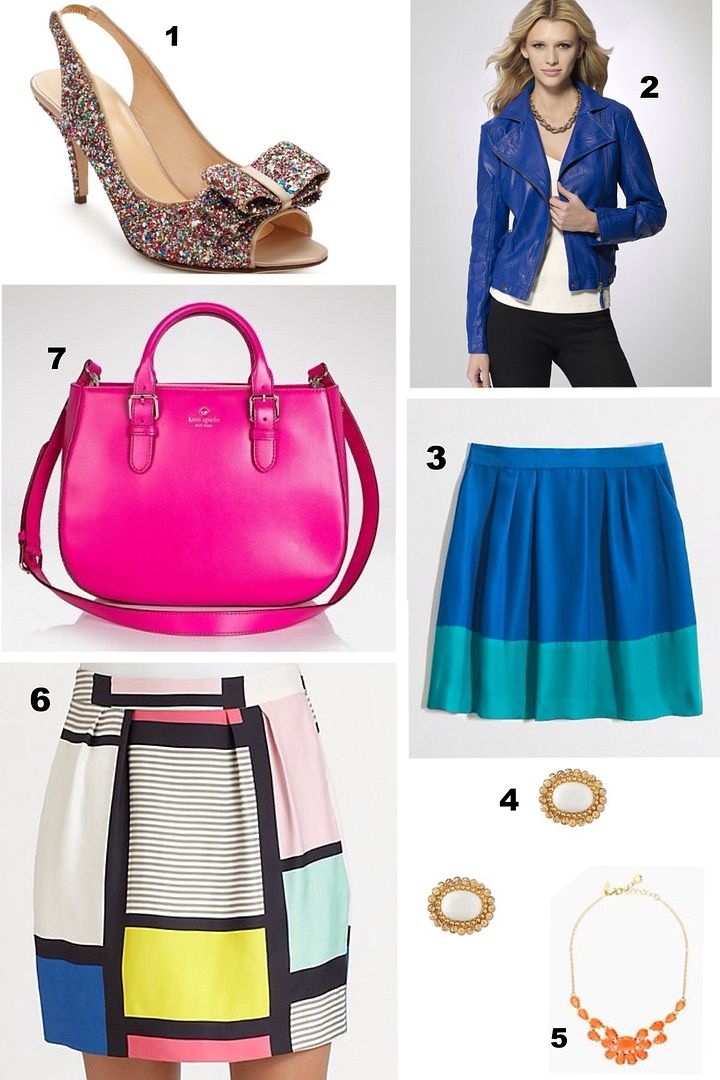 1 - Kate Spade "Sawyer" glitter peep toe slingbacks
60% off thru
surprise flash sale on katespade.com
60% after additional 30% off with "Sale30" code (final sale)
4 - Kate Spade "Spotlight" studs
67% off
thru
surprise flash sale on katespade.com
5 - Kate Spade Plaza Athenee necklace
62% off
thru
surprise flash sale on katespade.com
75% off
thru
surprise flash sale on katespade.com
7 - Kate Spade "Charlotte Street Sylvie"
55% off
thru
surprise flash sale on katespade.com
As the saying goes, "Good things come to those who wait," n'est-ce pas? I had been seeing those glitter slingbacks all over the place, but never really could justify paying their full price for glitter shoes. But for 60% off making them equivalent to many full priced "department store" brands, why yes, yes I shall have them. I'm pretty sure I let out an audible squeal when I saw them on the flash sale.
The blue moto jacket, I know I will not wear for awhile. The weather won't allow it now, but when it does, I'll be kicking myself when the cobalt jackets are full price and I could have had this one for under $60. So, to save future Carylee that grief, present Carylee bought it. This is also why I buy cocktail dresses on sale even when I don't have an event to wear them to yet - I will have it when I *do* need it.
And the pink handbag - swoon! I had seen this Michael Kors bag on sale when I was last in Lexington. The color was so saturated, I absolutely loved it. I seriously debated getting it. My only hesitation (other than the fact that I don't need another travel tote) is that I felt like the straps were too small, proportionally, for the bag. I wished it had thicker straps. Alas, this Kate Spade bag showed up on the flash sale, the same price, if not cheaper, than the Kors bag would have been, and the shape and straps of this bag make it more functional for me.
The other things are bonus buys for me. I've stated a few times on this blog that I lack in the skirt and jewelry department, hence these purchases.