After I went through my recent closet room overhaul, I had a pile of stuff that needed to be listed on Poshmark. If you've never dealt with Poshmark before, it's basically an online consignment shop - an alternative to buying and selling items from your closet on eBay or Craigslist. It is mobile app based, so you can list things very quickly. What's also nice is that Poshmark acts as the middle man for the transaction, so you don't actually have to collect money yourself from the buyer. Once your item sells, you will get an email with a shipping label. Shipping is included in your service fees, and it's kind of nice because when you are typing in your desired listing price, it auto calculates what your net earnings will be.
Ok, so all that out of the way - I received a recent J Crew Factory order today - a pair of red shorts, a yellow lace dress, and a mint/gold bracelet. The bracelet was amazing, so yay! The shorts were a size 4 and were way too small so they are going back. (I'm normally a 2/4 there.) The dress I ordered was a size 6 and final sale, but I took a chance on it because this dress is a 4, and almost borderline uncomfy, so I thought a size 6 in a similar cut would be fine. Nope. I was *swimming* in the 6. And of course it was final sale. Poop. Yes, I could get it tailored, but considering I have two pairs of jeans waiting to be hemmed for, oh, about two years now, I figured I'm not motivated enough to get the dress altered. I decided right that second to undress my dress form and list the yellow dress on Poshmark. After I had that dress listed, I was on a listing kick. Literally for about 2 hours! So! Because of all that effort, I'm shamelessly self-promoting my Poshmark closet here. Click on the button at the top of this post or anytime in the right hand column of my blog, or just click on this right here. Hope you find stuff you like! I will try and be better at listing things regularly. I know there's a ton of clothes that really need to get listed.
Hokay! Now for my outfit.
We woke up to a thunderstorm this morning. Poor little beagle was scared - I'm surprised she even decided to go out and tinkle! On top of that, I accidentally turned off the alarm and fell back to sleep, waking up about 45 minutes later than planned. I didn't have my outfit picked out and ended up going through a stack of clothes before finally just deciding upon this, which apparently is a foolproof outfit. When all else failed, I turned to leather side panel leggings and a portofino shirt. And my bun. And hot pink heels.
And Kate Spade.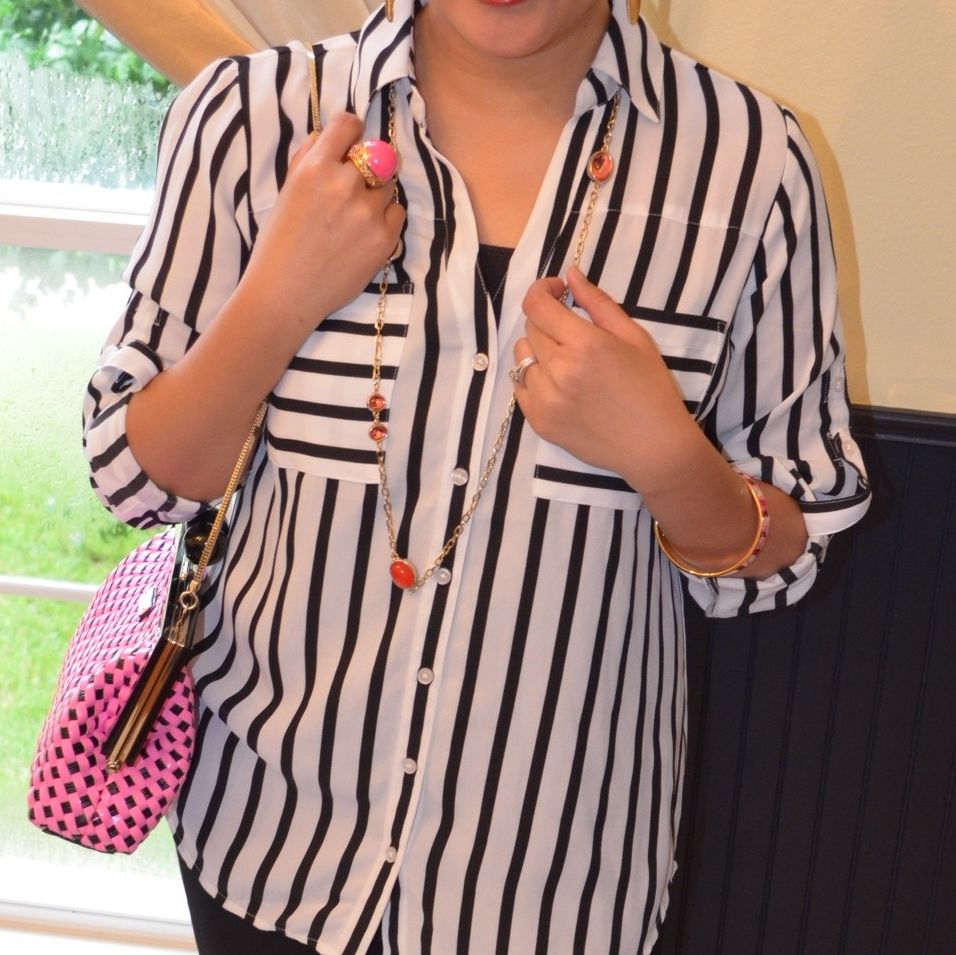 I thought for sure I'd get referee or prison comments because of the striped shirt, but alas, none. Perhaps I was too prepared for them with witty comebacks.
I really apologize for my Kate Spade addiction. I can only imagine how tired you guys get of me name dropping her stuff. But her designs are just so colorful and playful and happy. At least, that's how they make me feel! Here are 3 of the 5 KS culprits today - ring, bracelet, purse.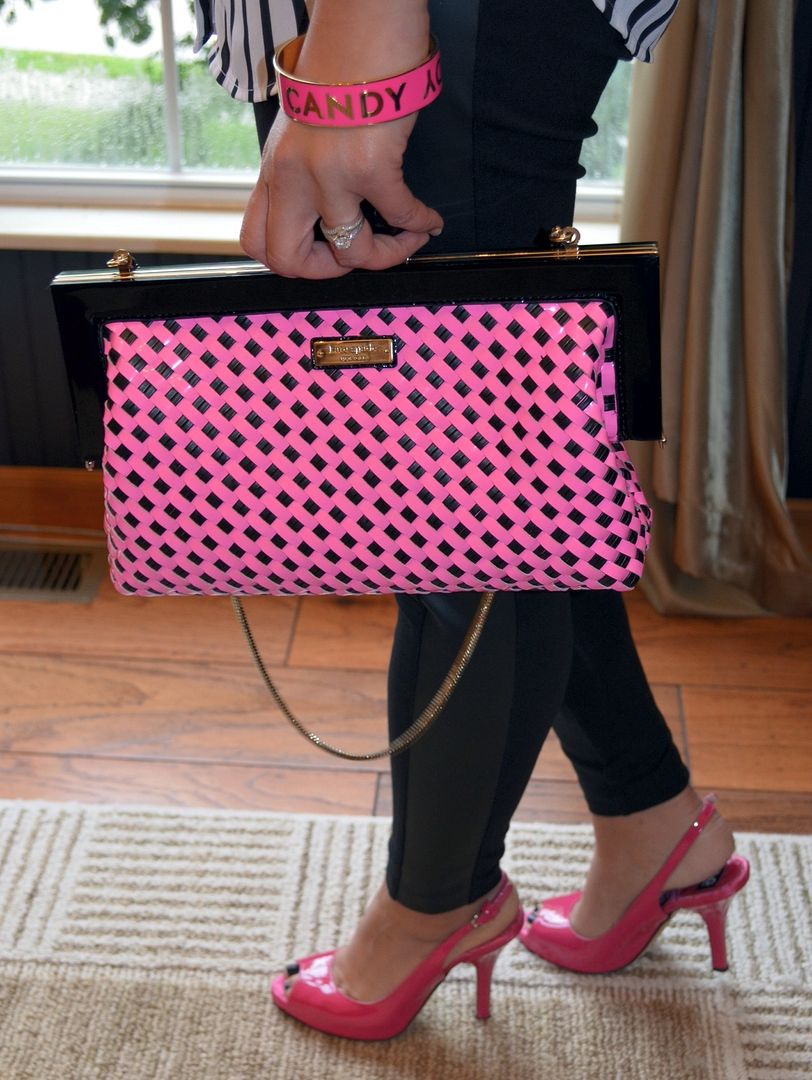 And these would make numero quatro. The infamous "Randi Too" rainboots that give me so much joy. One of the biggest things I hate is have wetting feet in open toed shoes because of rain or wet ground. I knew rainboots were in order today, and that's half the reason why these leggings were also a necessity. I was running too late to worry about shaving or lotioning my legs for a dress/skirt, and leggings obviously tuck nice and neat into the boots.
I've been trying to limit my bun to once a week, because again, I feel like people get tired of seeing it (even though I love it to death.) But I didn't really have a choice today because of my time constraints. And of course it was one of those days where it would not cooperate with me. It took a couple of attempts, and I still wasn't satisfied with it, but just chose to throw in the towel and step away from the hairspray. Looking back at these photos though, it looks pretty good! So perhaps I was just being a harsh critic this morning in my haste getting ready.
But wait. I said 5 Kate Spade pieces and I've only highlighted 4. Yeah, I forgot about my phone case.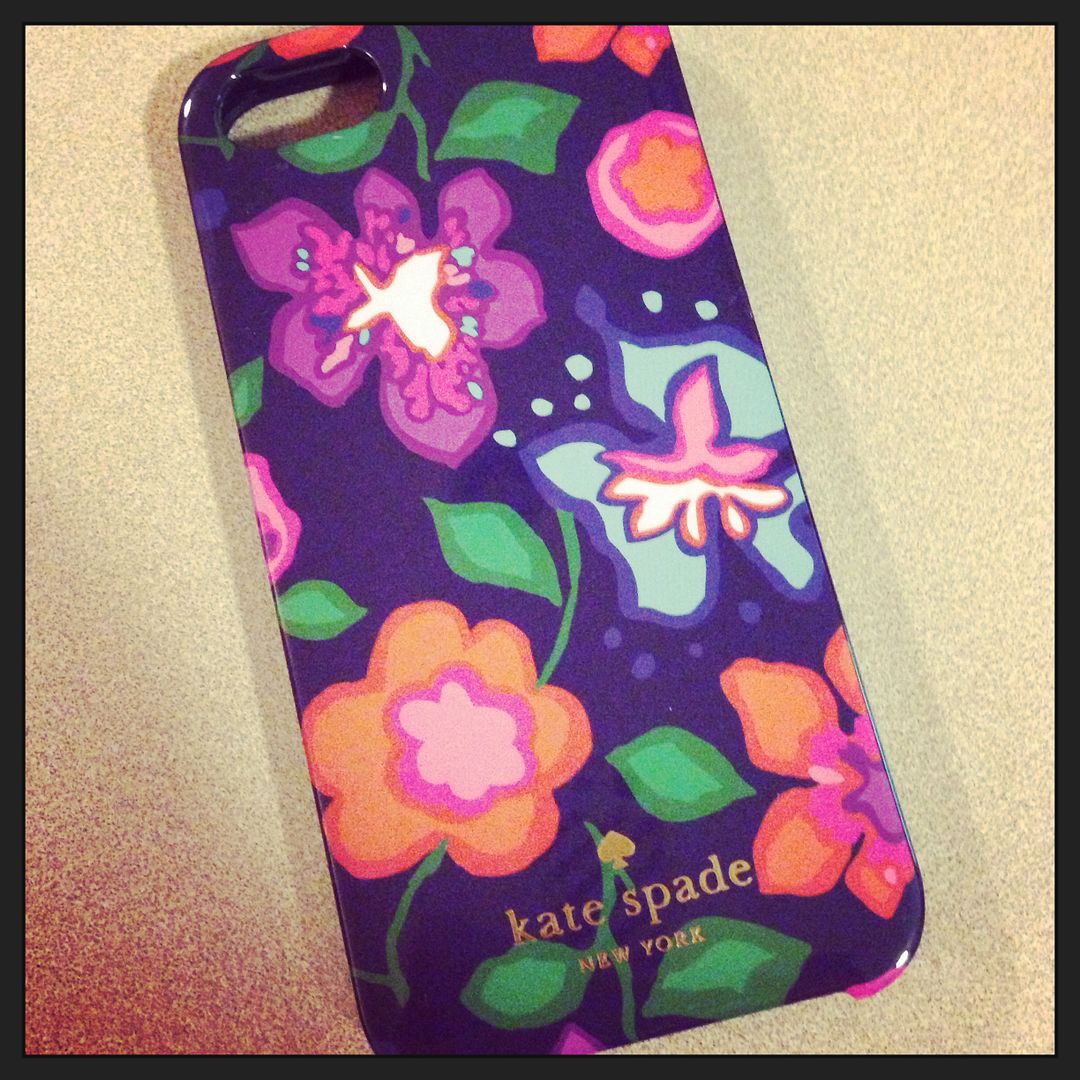 Ok then. I didn't mean to turn this into a Kate Spade tribute post, but apparently that's what constitutes my foolproof outfit.
I promise I am in no way affiliated with Kate Spade or its subsidiaries! I am simply a die hard annoying addict.
Kate Spade ring (option), "Arm Candy" bangle,
"Beverly Terrace Shyla" bag, "Randi Too" rainboots,
D&G peep toe slingbacks (option)