You guys will have to bare with me a bit this week. I have a feeling it's going to be a random post week. I have a meeting in Gulf Breeze, FL that I have to attend at 1:30pm local time. The way the flight times worked, it made the most sense for me to just fly in Monday instead of on the day of the meeting. Plus, by coming in the day before, it gives me a little bit of wiggle room and I don't have to stress out about any delayed flights. I could have flown out late Tuesday, but it would have put me landing at almost midnight. Not really usable time for me at the airport or on a plane, and then I'd be dead tired on top of that. Meh, no thank you. I will fly out first thing Wednesday and be home by 9:30am. So. Long story short, my 1:30pm meeting has turned into a 2-night trip. I'll be using my off time preparing for meetings I have back in the office Thursday and Friday, and I'd be silly not to take advantage of the beach. All of that being said, I wanted to do a post about what I packed for this 2-night trip and how I kept my bags to a minimum.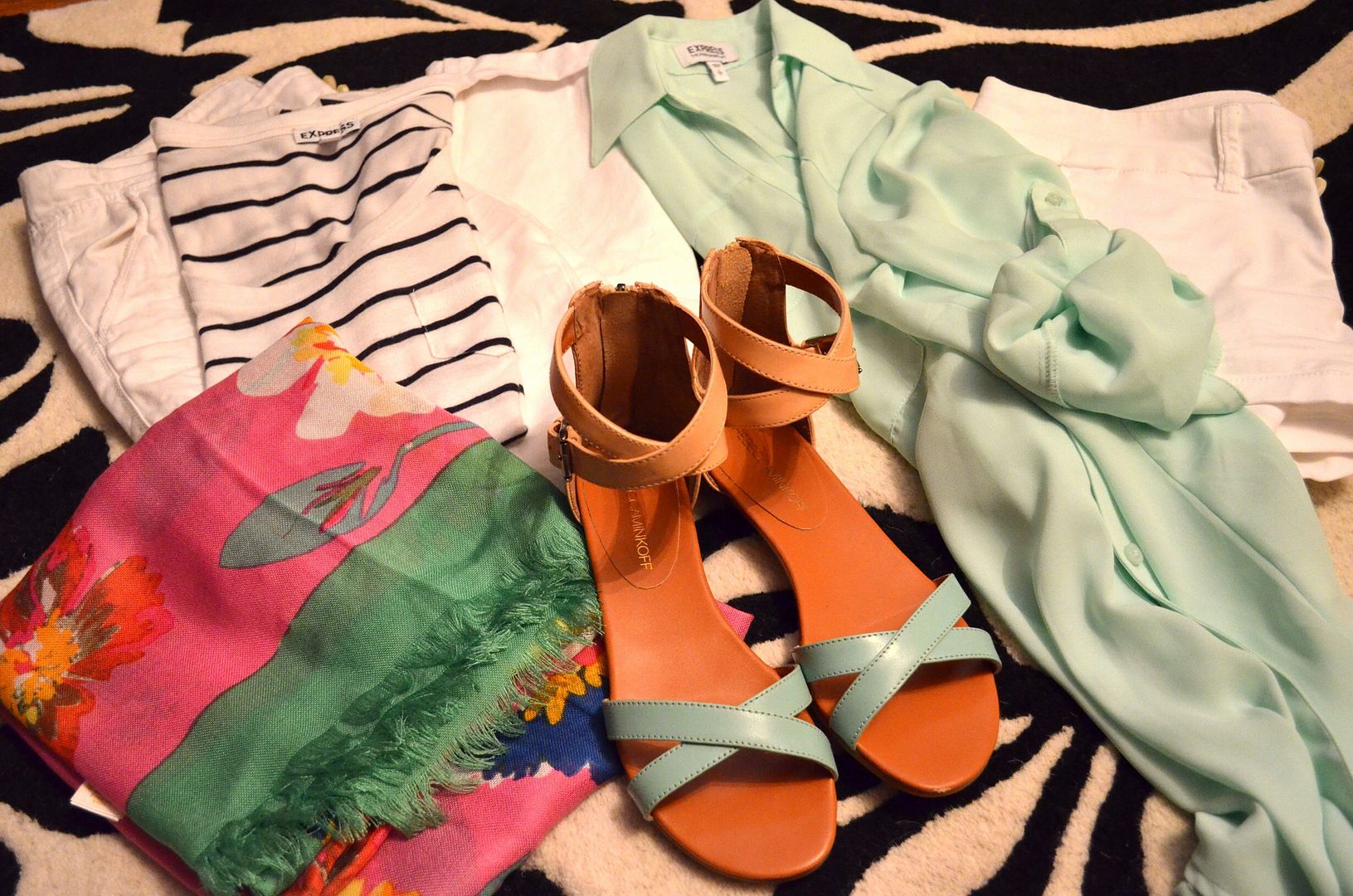 To Florida: mint portofino shirt, white shorts, flat sandals, scarf/wrap
To home: striped tee, white chinos, flat sandals, scarf/wrap
I don't know why I had it in my head that I wanted to wear white bottoms for each flight, but I did. Perhaps something about being on the beach? I like to dress in layers when I fly because it's always unpredictably hot or cold. The scarf adds color pop but also doubles as a light wrap if I get chilly. Flat shoes are essential for lots of airport walking and I wanted to make sure both outfits worked with the same pair of shoes as well as the scarf.
Hotel lounging/sleepwear:
Bra top tank, terry shorts, striped cardi, flip flops
Just the basics. The cardigan again for warmth, especially because I love my hotel cold. An easy tank and shorts I can lounge and sleep in, but still acceptable if I have to run down to the front desk for something. I hate when I've brought stuff that is not so public friendly and I have to throw my work clothes back on before leaving my room. Or, if I bring sweats or something and no flip flops and I have to walk downstairs in sweats and heels...
Short sleeve button up, striped pencil skirt, peep toe pumps
I always try to pick outfits that won't wrinkle easily. The shirt is a poly/rayon blend and the skirt actually feels like sweater material, but a bit more structured. Heels are ok for this outfit because the meeting doesn't involve a ton of walking or being on a job site.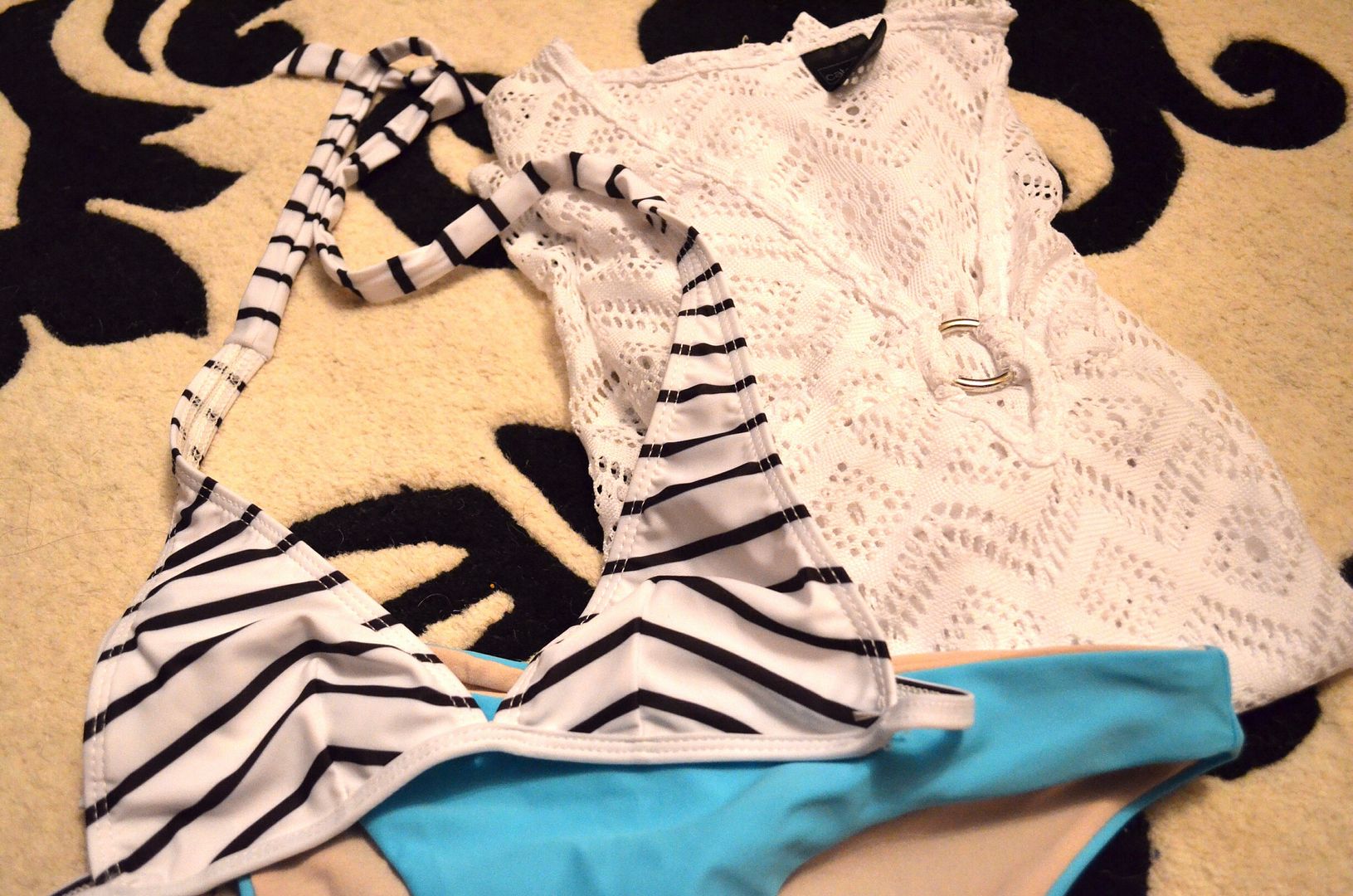 Bikini top and bottom, crochet tunic cover up
I would be so so happy if I could manage to squeeze in some beach time. Hoping to get the work part done fast so I can enjoy the setting. This is the only project I have in Florida. My other projects take me to Connecticut, Vermont, Michigan, Wisconsin, and Toronto... so, yeah. I never get to visit the beach for work.
Small crossbody bag containing:
ID and credit card, lip gloss/chapstick, powder, misc meds, cell phone,
cell phone charger (not pictured)
I did this for the first time on my last trip, and it was pretty genius. It gives everything I need quick access to close to me at all times, but the bag is still small enough to put in my carry on if the gate agent makes me consolidate my stuff into two carry ons (I travel with a backpack laptop bag also.)
Shoe compartment at bottom of carry on = LOVE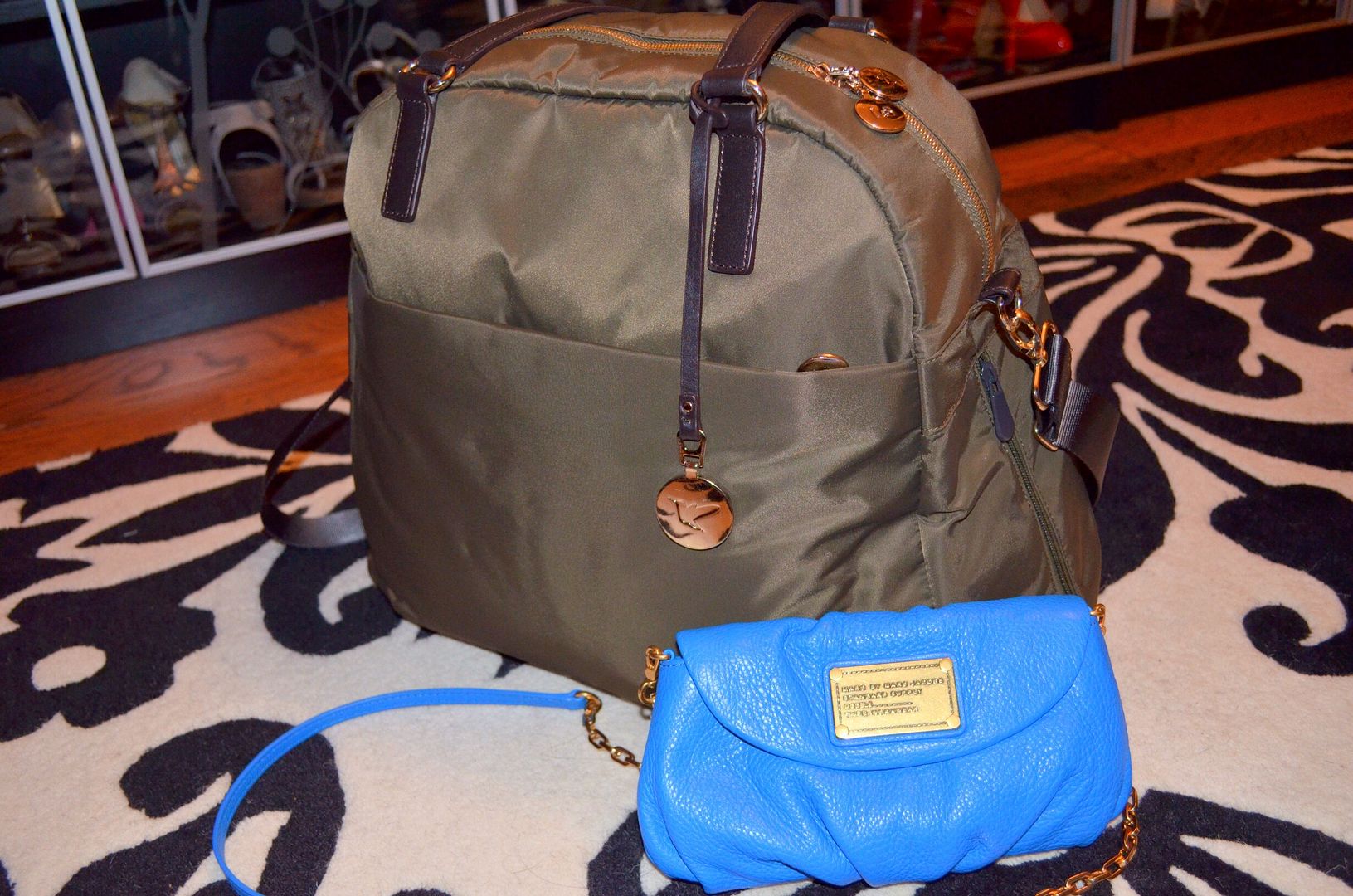 And that's everything, which fits nicely in this shoulder bag with room to spare. T
he only thing left is a small makeup bag that I will stick in this bag in the morning. And, l
ike I said, I do have a backpack with my laptop in it. I also keep my quart sized bag of liquids in it too - it makes it easy going through security taking out my liquids and laptop all in one swoop. My travel document holder is also in my laptop bag for receipts and such.
It makes traveling sooo much easier for me to have such small carry on bags. I don't have to worry about my bag being too heavy to lift in the overhead bin. It's much easier to walk and maneuver in a crowded airport without having to worry about a roller bag. I never have to worry about checking my bag - not even gate checking it on super small planes, which speeds up the whole airport process. Traveling is hard in and of itself - let your carry ons take away some of this burden!
Have a great week! Wish me luck at my meeting, and for some beach time!