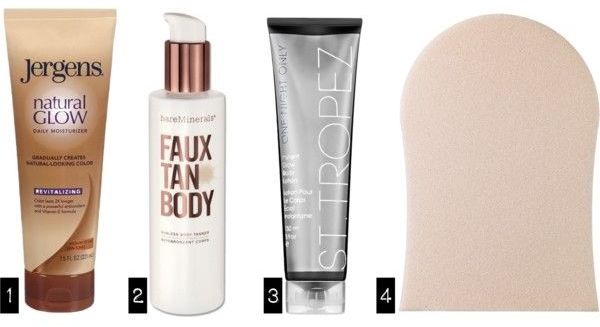 2 - Bare Minerals Faux Tan Sunless Tanner for Body
I've recently got on a kick to try sunless tanners because of a free sample I received of the St. Tropez One Night Only lotion. I had heard lots of good things about the St. Tropez tanners, but never had an urge to go out and buy it for myself. When it was offered as a free sample, I figured it was worth the try, as a lot of times, the free samples aren't really that appealing to me. I felt like the St. Tropez lotion did what it was meant to do, but I didn't have anything else to compare it to. I decided to try a couple of others to see how this matched up.
1 - Jergens
Natural Glow
:
I remember seeing ads for this a few years ago, but again, I had never took the plunge and tried it. I saw a sample sized tube of this at Target, which was perfect for a test run.
Pro: It's cheap. Comparatively anyway to its competition.
Pro: It comes out of the tube white.
Con:

It comes out of the tube white. Which makes it harder to see and know if you are applying evenly.
Con:

It has a crazy strong "burnt skin" smell. You know what I'm talking about. Sarah talks about this specific smell in more detail here. Granted, I will say that I have a ridiculously sensitive nose. No joke. I have found things by sniffing them out before. So, maybe it's not *as bad* to the average nose, but I don't think I will be using this. Maybe just as a back up if I'm desperate.
2 - Bare Minerals
Faux Tan
Sunless Tanner for Body: I decided to try this after Sarah recommended this in her post. Well, I should say that I did a little bit more research after seeing her rec, and after reading equally good reviews about it, I decided to order it.
Pro:
The smell right out of the bottle is one of my favorites. It's that same cherry almond smell that Jergens uses. (Or at least super similar)
Pro:
Packaging. I like the pump vs. the tube. Don't really have a backup statement for this other than that it's a complete personal preference.
Con:
Over time, I still get the burnt skin smell. I felt like it was promising based on the reviews, and again, it could just be my extra sensitive nose, but I could still smell it permeating off my skin. The first time I used it, I didn't have my mitt yet, so I just applied with my bare hands. I thought that maybe I was smelling it specifically from my hands because of the concentration of product on them as I applied it (even though I did wash my hands afterwards), however, I tried it again after my mitt arrived, and I still had the same smell. I even put my nose right up on my arm (which H caught me and asked befuddled, "Did you just smell your arm?!") and confirmed my suspicions. I will say that it's not *as* strong as the Jergens Natural Glow smell, but still noticeable.
Pro:
I loved the results on my skin. It applied easily and left my skin tan, but in a natural way. I will continue to use this, but won't be applying two coats simply because that makes the smell more noticeable.
3 - St. Tropez
One Night Only
:
Funny how life comes full circle. My first product to try, which I loved, but just had to compare it with others. It reminds me of the quote from Sweet Home Alamaba:
What is it about you Southern girls? You can't make the right decisions 'til you tried all the wrong ones?
Pro:

No burnt skin smell. There is a little bit of a perfumed fragrance to this that I do notice, but it is definitely not burnt skin.
Pro:

Results. Just the right amount of color so I'm not as pasty.
Con:

Um. I really have nothing bad to say about this. Honestly. I really like it, and I should have never second guessed its performance!
Being a complete sunless tanner virgin, I honestly didn't know what I was doing. Here are some tips of dos and don'ts.
DO Use an
applicator mitt
.
I was amazed how quickly and easily it applied the lotion and blended it into my skin. So much so that I thought - dang, why can't I just use this for regular lotion, too?
DON'T squeeze the tanning lotion directly on your body - apply it to your hands or mitt first. I honestly thought I grew a new birthmark overnight on my leg. After the second time that this happened, I realized, it wasn't a birthmark, I squeezed a dollop of the lotion directly onto my leg, and the concentration of it on this area being left there for a few seconds while I blended lotion on other parts of my leg caused a dark spot. Completely a common sense error, I know. I definitely know better now.
DO let your skin dry before you put on any clothes. This is more precautionary than anything as I have not seen any discoloration in my clothes after using any of the lotions above. What I usually do is apply it when I'm wearing my terry cover up, then let it dry as I put on my makeup and fix my hair. I even wore white shorts the other day with no spill over of color.
DO exfoliate before application. This does help it go on more evenly.
DON'T try to rush it. Yes, you should apply as quickly as possible, but quickly AND evenly. You will end up pretty streaky if you try and do this haphazardly. If I know I will be using a sunless tanner, I add 5-10 minutes onto my getting ready time. This gives me time to apply a second coat if needed, and I also add a coat of regular lotion on top. I feel like this helps "seal" in the tanning lotion.
I admit that I've laid in a tanning bed before. There was a year or two that I used to go semi-regularly. But when I look back at photos, I'm pretty horrified. I. was. dark. How did I not see this before? I'm glad I decided to put a halt to this and embrace my normal color. Yes, of course, I love myself a good tan, but I also like being carded still in my 30s, and I know that tanning wasn't the best decision for my skin. I'm ok using the sunless tanners in between my trips to the beach.