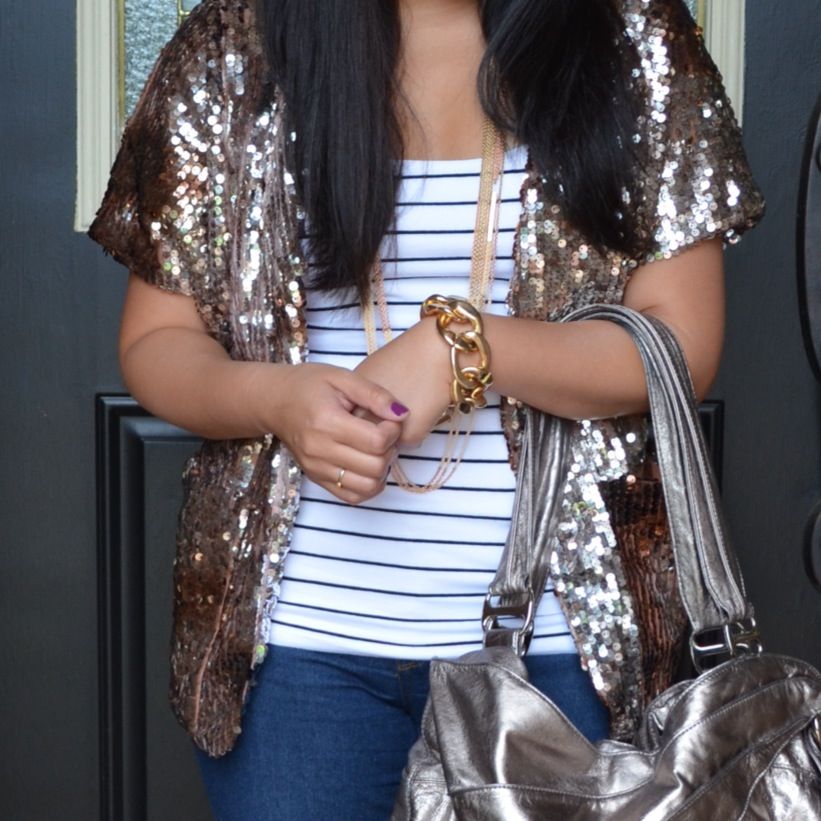 The Limited sequin cardigan and necklace
Giuseppe Zanotti pumps (option)
It's about a 2-3 minute walk to the kitchen from my cubicle, and during that walk, I had 4 people say, "WOW, you're sparkly!" Sparkly or obnoxious, I think in this case the two words are interchangeable. But, it's all good because it was intentional. The only other time I've worn this sequin number was to see Taylor Swift. (Because, you know, why not?) I hadn't worn it for the work audience and since Erin and Laura are hosting a metallic themed linkup, I felt today was the day to pull this out again.
I'm actually wearing a few of my favorite things today. These shoes. OMG. I did a Shoesday post on them awhile back. They're ridiculously drool worthy and will always hold a special place in my heart as being the first pair of designer shoes I ever purchased. The same can be said about this bag. It was a black Friday purchase a few years ago, so I was very surprised to even find it online still. It was my first designer bag that wasn't a Kate Spade. I had been wanting a metallic bag in this particular color because it pairs well with both blacks and browns. It's roomier than it appears and the straps are soft and allow the bag to hang comfortably on my shoulder.
Everything together makes for a pretty sparkly outfit, but I figured I may as well go all out! This gloomy Monday definitely needed lots of shimmer!