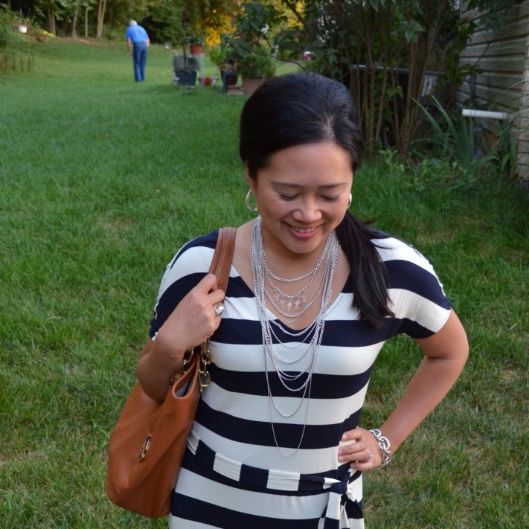 (Ignore the little man butt over my shoulder)
Express necklaces (2 layered)
This dress is great. I love a good maxi dress! And I love stripes, so what could possibly go wrong? I turned around and did the butt check in the mirror, and I could see my panty lines. That drives me absolutely bonkers. I have this slip, which I highly recommend to everyone and anyone, that I wear with skirts and dresses all the time, year round. I have it in every color, plus an extra one in black. They're seamless and perfectly fitting - I just couldn't live without them. I put one on under this dress, and I could still see just a hint of my panty lines. What a bummer because I just LOVE this dress. Hmmm. Let's try it on with TWO slips underneath. Ahhh, voila. Worked like a charm. (They're so lightweight, this does not feel heavy at all to wear two of them, it really just feels like one.)
Alright then, I have conquered the vicious VPLs. Now what? Welp, the length of this dress was super whacky. I usually try and go by the model then add about 3-5 inches. So for example, if the dress shows their ankles, then it would touch the ground for me. I couldn't see the feet on this model at all, nor could I tell whether she's wearing flats or heels: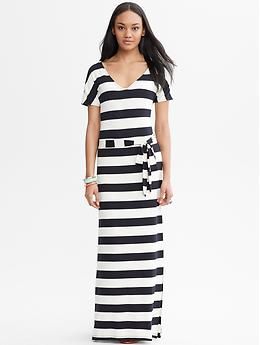 Yes, yes, I know I should just know my measurements, but I just don't trust going by the numbers alone. Even though I'm short (5'-2"), I rarely order anything in petite because while the length may be ok, it just fits funny in my torso and just everywhere in general. I know I end up having to size up in petites. SO. Long story short (too late), I ended up ordering a size small in the regular length and then a medium in petite.
When I got the dress, the small fit me fine in the body, but even in my 4" heels, there was still 3" of extra fabric on the floor. The petite medium was really big up top, and my ankles were exposed! I was so confused! How could the length be that much different? I finally decided that I must have ordered a tall sized small. That's the only thing that explains it, or simply, they sent me a tall by mistake. A friend, similar height as me, said she ordered a regular sized small and the dress hit the top of her feet. I really don't like my feet exposed when I'm wearing a maxi dress, so I knew I wouldn't like that length. But I loved the dress? What was a girl to do?
I cut the tall. Yep, I just cut it. Another friend of mine had said she does this to jersey maxi dresses all the time instead of getting them professionally tailored. She hasn't had any issues with fraying or unraveling of threads. She said over time, it simply curls up a little at the ends and it's completely fine. I was definitely a bit scared to make that first cut, but it seems just fine and no one would ever know any different.
In the end I'm glad I cut the length to right where I wanted it. I'm glad it worked with two slips on.
I'm glad I kept the dress.
It took a couple of little tweaks, but I'm one happy striped dressed girl.