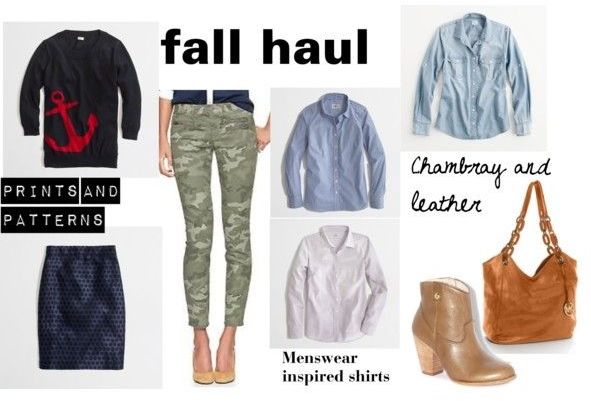 Anchor sweater (sold out)
I've mentioned before that St. Louis recently opened not one, but two new outlet malls. I honestly thought they were right next to each other, but found out when I was visiting the second one that they're actually 3 exits apart. One is the Taubman Prestige Outlets which has all your typical players like Banana, Gap, JCrew Factory, and Polo. Then there are the Premium Outlets which has Saks Off Fifth, Kate Spade, Michael Kors, Coach, BCBG and a couple of repeat offenders like Gap and JCrew. I've been to both of them, and I like both of them - I wish the stores would just all combine into one ginormous outlet mall! I didn't end up buying anything when I went to the Taubman outlets, but last week I visited the Premium Outlets and bought everything you see above, with the exception of the camo skinnies, which I ordered online from Gap.
I was certainly feeling in the mood for fall when I was making my purchases. My big craving was for menswear shirts. I just feel like they are great for layering, and for dressing up or down. When I used to work in a more strict environment, I had a plethora of button up shirts. After I left that job, I think I just overdosed from them, and I stopped buying them altogether. They are great base pieces to have in a wardrobe though, which is why I decided to get a couple of classic prints.
The other purchases were more impulse buys, I'll admit. However, I'm equally excited to start wearing everything. I can't say I'm excited for the cold weather just yet, but I'm starting to miss my tights and boots... What are you excited to wear this fall?
Oh hey, for those of you still clinging onto summer, or who live in a mild climate where transitioning into colder months never happens, I just listed a slew of dresses and other goodies on Poshmark so check it out!