Before I get started, I just want to give a huge spoiler alert because I plan to go into detail about the concert. So, if you are going or planning to see the show and you want everything to be a surprise, then I suggest you stop reading right this second!
Still here? Ok then, don't say I didn't warn you!
HOLY WHOA the concert was amazing! I've been to all of his solo concerts to date - I've even been in the VIP section for one of them, which meant I got to touch him. Twice! But despite the touching, I have to say that this, by far, was his best solo concert ever. Oh, I don't know, it could be because he sang THIRTY ONE SONGS FOR THREE STRAIGHT HOURS!!! Ok, I'm exaggerating - it was not three *straight* hours, he did have a 10 minute intermission in there so everyone could catch their breath.
I don't even know where to start. I guess I will just use his set list as my guide, so to speak, and add commentary and video when appropriate. But let's talk about the seats first. Back up. Let's talk about the tickets first and how I got them. Welllll, I had already seen Justin in Chicago when he was with Jay Z over the summer. It wasn't until after I had already bought the Chicago tickets that the St. Louis date was released. I already ruled out going to the St. Louis show because it landed on the husband's birthday, and well, what husband really wants to spend his birthday at an ex boy band member's concert? Apparently *my* husband does because for *my* birthday, he bought me tickets to the show! And he picked seats that are in the perfect sweet spot that I like! We were two rows off the floor, and in the first section to the side of the stage so that we were close, but still able to see a full front view of the stage.
As soon as I saw our seats, I literally screamed out loud. Don't get me wrong - I would love love love floor seats! But unless you're in the first 10 rows, this shorty would much rather be elevated on the side where I can see over people's heads! These seats were perfect. I ended up not bringing a regular camera to the show, so all of the pics and videos I took were with my phone. The videos were great considering the fact they came from my phone - the videos ended up coming out much better than my still photos, so this post will be pretty video heavy.
The tickets said the show was starting at 8pm. We got there at about 7:30, which gave me time to buy my concert merch before the show.
He did not have an opening act. There was a DJ set up in the middle of the stadium to keep everyone entertained - quite interesting seeing a crowd full of JT fans doing the Harlem Shake… I was starting to get a little restless the later and later passed 8pm it got, but I finally heard one of the security guards tell the guy in front of me that he wasn't coming on until 9pm, so I hustled for one last potty break before the show! OK, now I'll move into the set list.
1. Pusher Love Girl. He opened with Pusher Love Girl. I love how artists always tease the audience with the first song. They stand there in the dark or hidden so you can only see hear their voice, so that anticipation builds and you just want to scream, SHOW YOUR FACE ALREADY!!
2. Rock Your Body
3. Don't Hold the Wall
4. Future/Sex/Love Sound
5. Like I Love You. Ah his first solo song from his freshman album. It will always be one of my favorites!
6. My Love. Speaking of favorites! I love this song, too (ok, I love all of them), but I loved that he did this beginning rap part himself <3
7. TKO
8. Strawberry Bubblegum. Only Justin can make "strawberry bubblegum" sound sexy.
9. Summer Love. Does he not have the best acapella voice ever? I mean seriously.
10. Love Stoned
11. Until the End of Time
12. Holy Grail. I was so so so happy he sang this. He ended up not singing all of it - just that opening chorus, but it was a great lead into Cry Me a River. I couldn't resist scream singing as I video'd this, so no video for the blog, sorry! (No one needs to hear my scream sing voice.)
13. Cry Me a River. The ending of this song (see here) definitely felt like a grand finale of sorts. The lights came on and there was an announcement that the concert would resume in 10 minutes. The entire stadium was on its feet the entire show, so I think everyone was a little relieved of the little break (even though he's totally worth the back aches and sore legs!)
**Intermission**
14. Only When I Walk Away
15. True Blood
16. Drink You Away. I put a 15 second video of this song on my Instagram. It's one of my favorite videos I took during the show, but I did't want to post it here since it's formatted to portrait view for optimal viewing on my phone, but not so much for a computer screen. Check it out on Instagram here.
17. Tunnel Vision. Ok, so, yeah. This one was great for the boys because he had naked women projected behind him! Yep, boobies. So, yeah. All I could think of was the DJ announcing before the show that a mom had brought her 8 year old son for his birthday and that this was his very first concert. #awkward
18. Seniorita. I was distracted as he was performing this song because they started setting up caution tape at the ends of the floor seats to keep the aisles clear. I noticed there was a stage at the back of the stadium at that VIP section, so I thought for sure that Justin was going to come walking 5 feet in front of me down that aisle and to the back stage. Nope. Not exactly.
19. Let the Groove Get In. Turns out, he had a rolling stage. It was pretty amazing actually. A portion of the stage lifted up and basically straddled the floor seats as it transported him and his dancers to the rear of the stadium. I loved this! I just love when artists make it a point to be accessible to every last person in the audience. There honestly was not a bad seat in the house.
20. That Girl
21. Heartbreak Hotel (Elvis cover). I can only imagine how crazy Memphis got when he performed this!
22. Not a Bad Thing. I listen to this song on repeat. It's probably my favorite song on this second album. It's very NSync'ish, which may be why I like it so much!
23. Human Nature (Michael Jackson cover). This was a great tribute to him!
24. What Goes Around Comes Around
25. Cabaret
26. Take Back the Night. For this song, the stage started transporting them back to the front. I got the cutest video of his feet dangling off (see here). And he was wearing Christian Louboutins - I die!
27. Murder
28. Poison (Bel Biv Devoe cover). So here's what happened. I was shooting some video and then all of a sudden they bust out with this Poison cover. And then when this dance break happened, it took all of my strength not to scream and go crazy for the sake of not messing up my video!! I could watch him dance. All. Day. (Sorry for the portrait view.)
29. Suit & Tie
30. Sexy Back
31. Mirrors. My favorite song on the first album. I could scream sing this on repeat for hours! It was kind of cute once the music for this song started - this look of relief just crossed his face; kind of like when you're running a half marathon and you see that last mile marker. 31 songs. He was visibly sweaty after the first one! I can't even imagine how exhausted he was by that last one! I mean, *I* was exhausted from just scream singing! I couldn't catch my breath! And here he is, jumping around and dancing and singing on stage. I give him props. I just want to hug him and put him in my pocket!!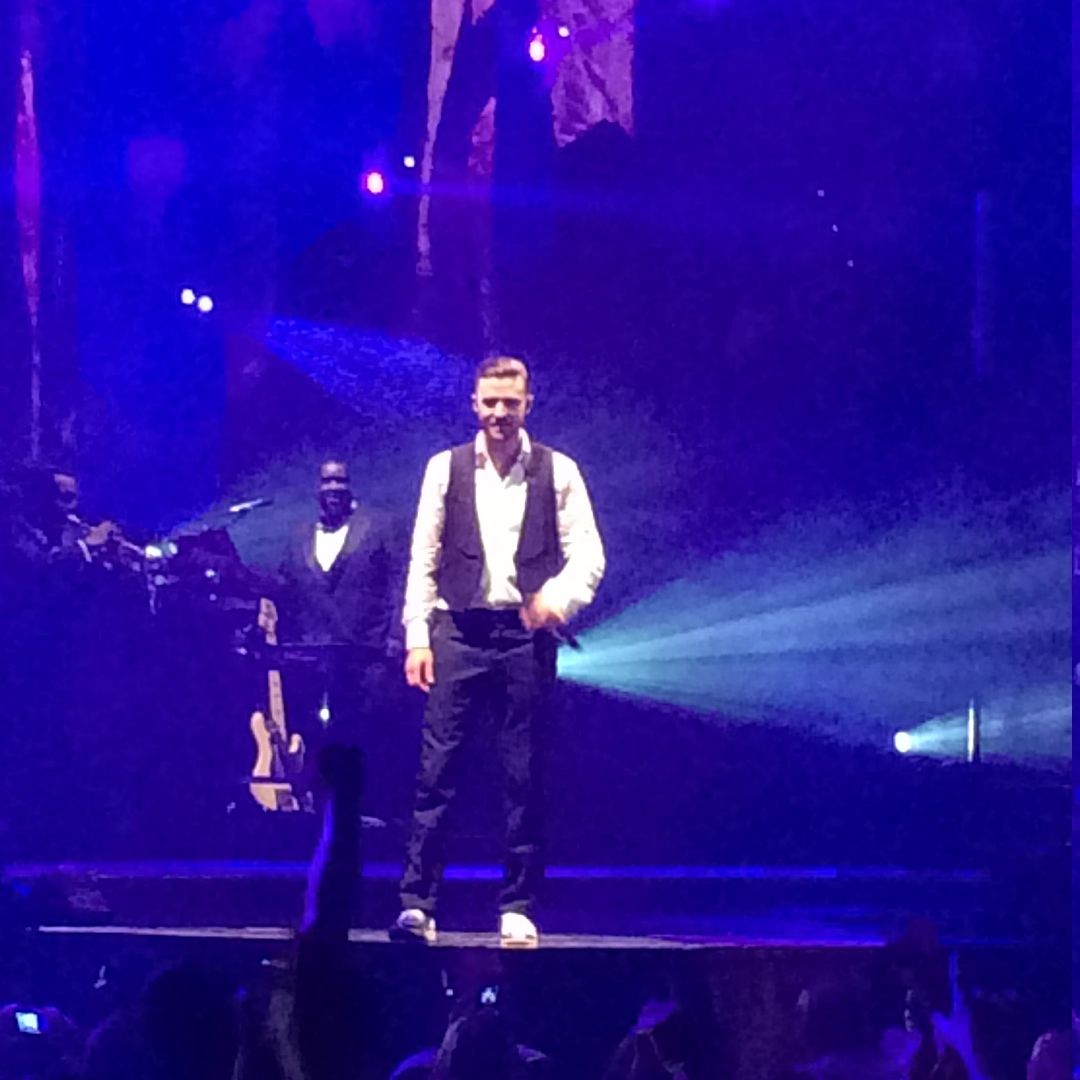 It was just shy of midnight by the time it was over, but wow was it worth the sleep deprivation. I cannot stop watching my videos and trying to relive it. I'm so happy and thankful that I was able to go. The Chicago concert was just a tease - this was how Justin SHOULD be! If you have the opportunity to go, I say, don't even think about it, JUST GO. And take me with you!