Hello Monday! I've spent the weekend nursing a cold. It's weird how things happen though. I was at work Thursday afternoon and sneezed. Ever since that one sneeze, I haven't felt the same since! I had that constant "I have to sneeze" feeling, my nose has been runny, and my head has been stuffy! I took meds and went to sleep at around 9:30 Thursday evening (compared to my normal midnight bedtime), and knew I had to tough it out on Friday because we had post season baseball tickets that I wasn't about to miss because of a cold! I survived, but ever since we got home from that game, I've been doing my best to rest.
I do feel much better as I'm writing this on Sunday afternoon, but I continue to take cold meds just to be safe! Unfortunately, I had no strength to take proper outfit photos for you this weekend, but I do still have some other things lined up to share with you, so I hope you'll tune in! With my cold and Jenna traveling this weekend, we thought it would be fun to do a little post swapping. We each chose a few favorites the other has worn recently (ish) and are sharing them in today's posts. Enjoy!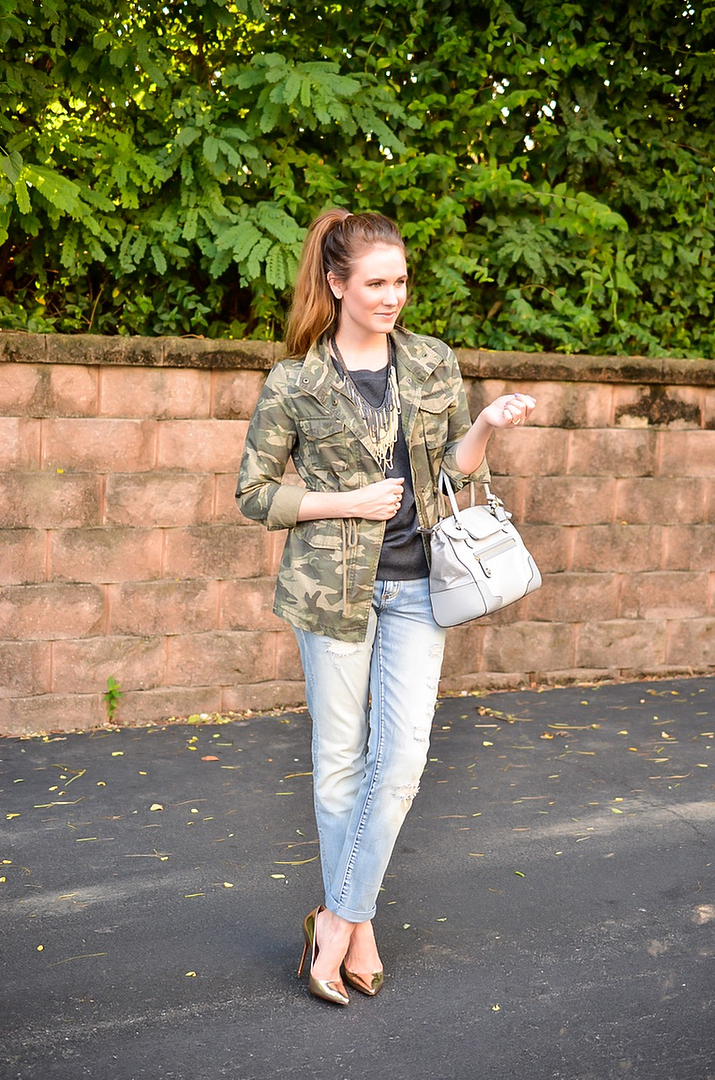 I know you guys can totally see a little bit of me in this outfit, and if you don't, you should! I would wear it head to toe! I'm always a fan of mixing boyish pieces like this camo jacket with more girly pieces like those amazing rose gold pumps. I have a camo jacket that I don't wear enough, so this is a great reminder to do so. And I wish my hair looked that good in a traditional pony tail!
I absolutely adored her outfit choice for the Reward Style party in NYC.
I swear only Jenna can make pieces from Forever 21 look so lush and expensive.
And there are so many things that she shows me she likes that I would never give a second glance, but she always manages to not only make it work, but she makes me NEED it - like the feather trimmed top she's wearing
here
. I love her ability to see potential in unique pieces while still maintaining a healthy collection of basics as well.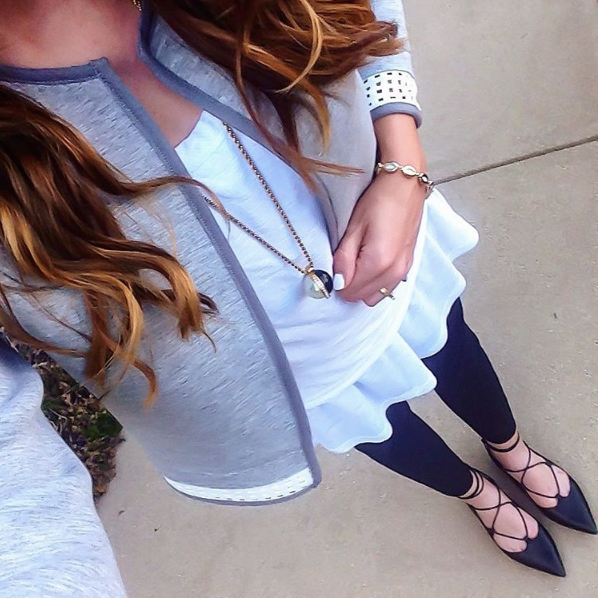 And last but not least is this adorable combo she posted on Instagram a few weeks ago. The silhouette of this outfit is so flirty and fun, and it's hard not to gush over those lace up flats! And again with the hair - such great color and perfectly tousled! All of this makes for the perfect outfit and top down selfie.
And that's all I have for you today! Did your favorite make the cut? What have you pinned from Jenna's blog lately? Let me know in the comments!