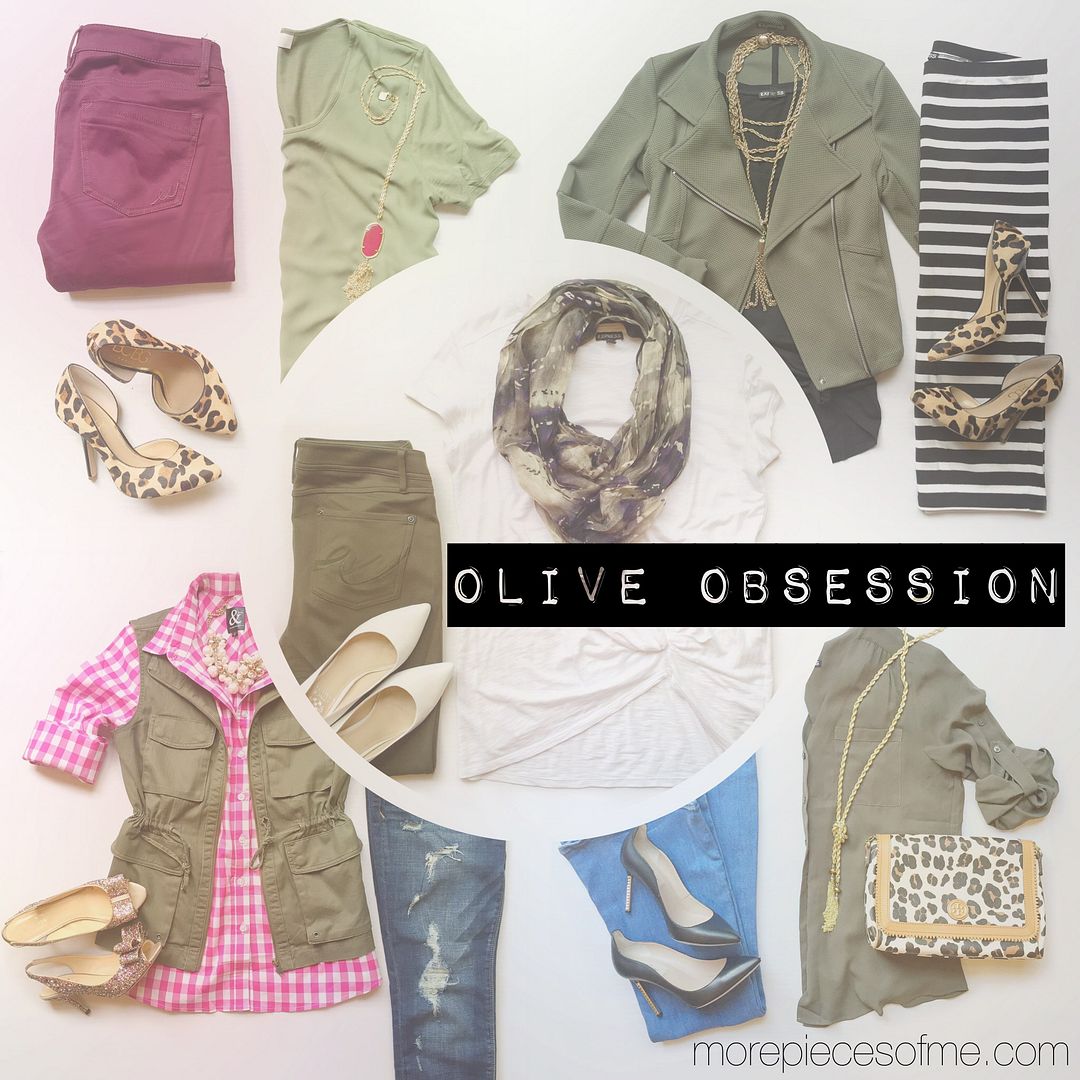 Let's be real. If I put together a post with all my random outfit selfies where I'm wearing olive, you'd be scrolling for an eternity. But a few weeks ago, I participated in a week long Instagram style challenge (check out hashtag here) and the challenge was all about olive and a few of its best pairings. I thought I'd go ahead and share some of my favorites from that week!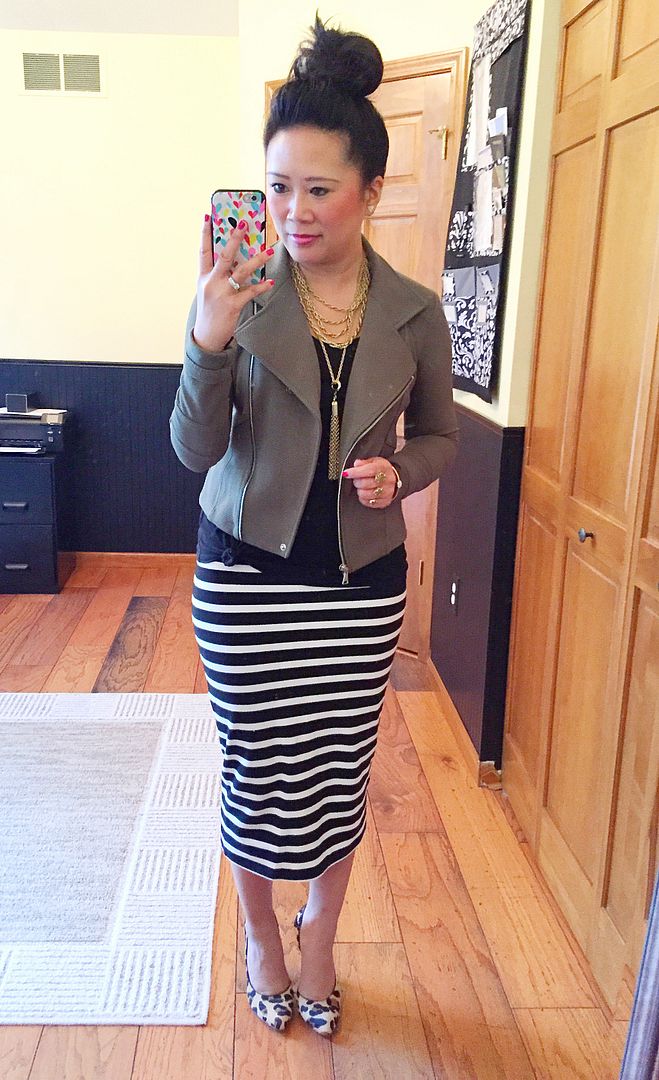 Necklaces: CS Gems (c/o) (options here and here) | Jacket: Express (current colors here) | Top: Express | Bracelet: Nadri | Skirt: Express (option here) | Heels:
BCBG (option here)
First up is the olive and stripes combination. I have a ton of stripes in my collection, so this was a pretty easy pairing. This midi skirt is still one of my most favorites in my collection.
Next up was olive and leopard. Though, really, I did leopard with my previous outfit, and this bag is really ocelot, not leopard, but you get the idea! And this reminds me that I need to take my flare jeans out for a spin again! I really love the fit of these, though I really can't ever give up my skinnies.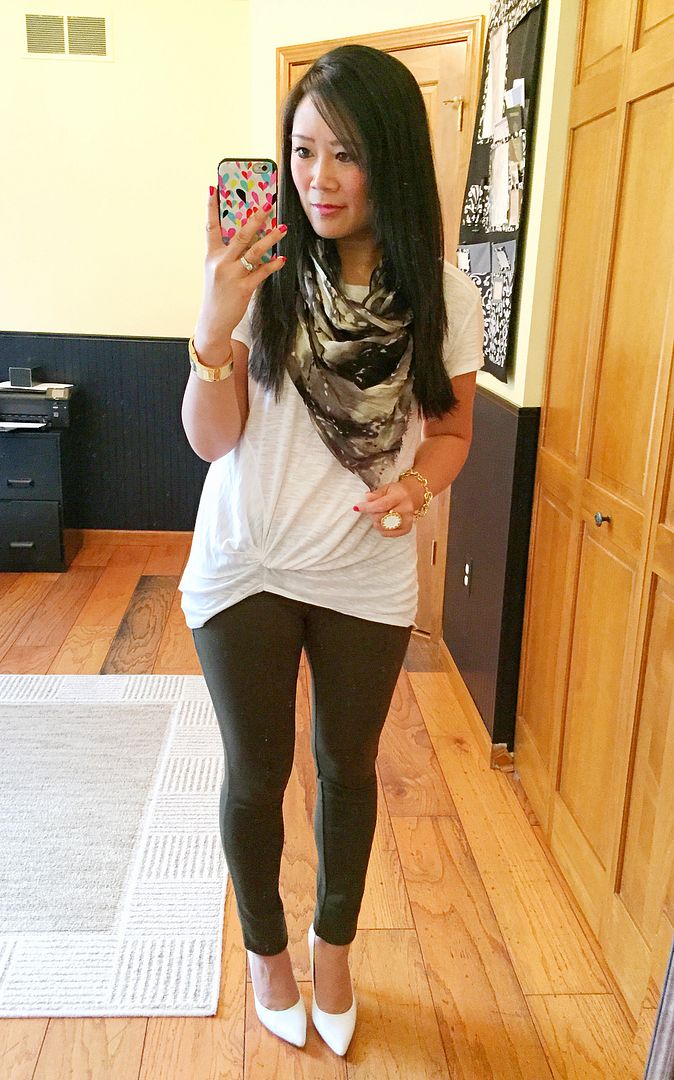 Scarf: Kohl's (gifted) | Top: Express |
Bracelet:
JCrew Factory
| Bracelet: CS Gems (c/o) | Bottoms: Express (40% off!) | Heels:
Vince Camuto (option)
Olive and white was surprisingly a hard combo for me. But, it's a lot harder when all of your white pants are dirty. Oops. Luckily, I had just gotten these olive ponte knit pants, so I just paired my favorite knot tee and threw on a scarf to finish out the look.
Hot pink and olive was another combo in the challenge, and I ended up replicating the outfit I wore back in the day
HERE
.
I'm still pretty obsessed with that look! And not on the challenge list was wine and olive, but since wine is one of my most favorite things to pair olive with, I wanted to go ahead and share that as my fifth outfit for this post! I just recently wore the combo in this post
HERE
.
Short and sweet for you today. Admittedly, I feel like I'm fighting a cold and really just need a good night's sleep! I had one good sneeze at the office this afternoon and have been stuffy and groggy ever since! There's no time to be sick! It's post season baseball!!!! Have a great weekend!

SHOP THE POST: