Necklace: Charming Charlie (c/o) | Bag: 3.1 Phillip Lim (shop other colors HERE) | Top: JCrew Factory | Bracelet: JCrew (shop other cuff bracelets HERE) | Bottoms: Gap | Sandals:
Sperry (option, option) (shop traditional Sperry style shoes HERE)
The first day of spring started with snow flurries. Well, I'm putting my fingers in my ears and saying "lalalalalalala" because
I'm totally in denial that it's freezing outside!
What's funny is that I really don't think winter was as harsh as some of the past years, but for whatever reason, I'm craving spring style SO bad. Brights like this top and these skinnies are getting me through this residual cooler weather.
Rachelle did an awesome review of this bag - read it HERE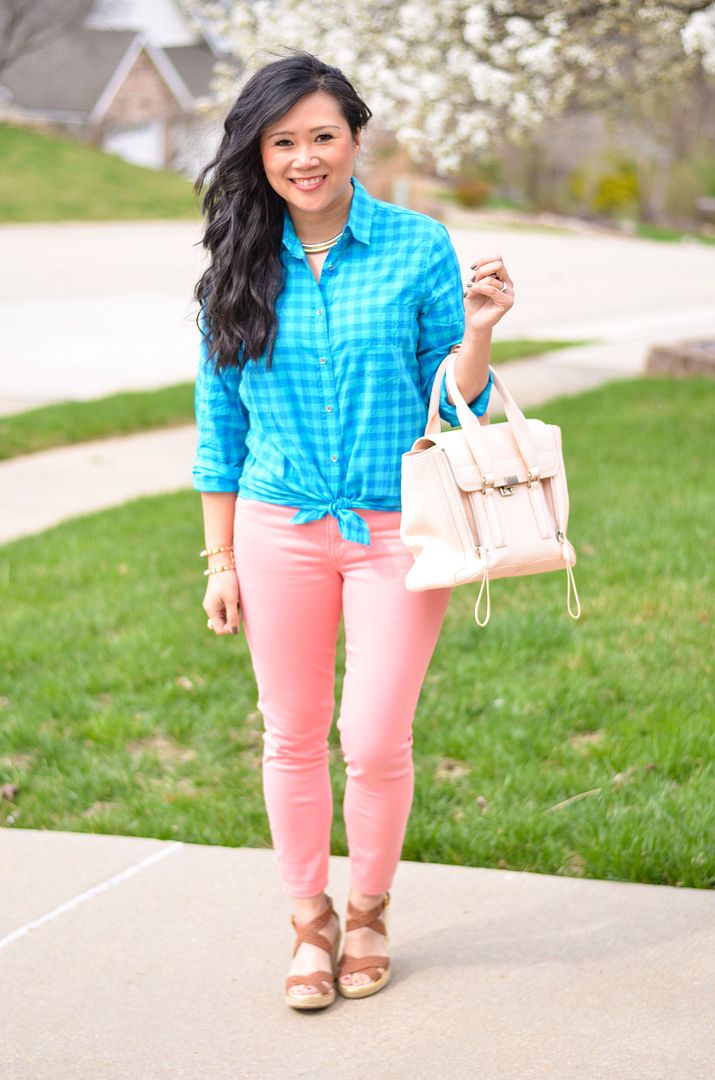 This weekend was great, mainly because I was actually in town and could fall back into my normal routine. On Saturday, we had so much fun at a blogger shoot. Jenna's parents have the most gorgeous house on a lake, and they opened up their home so 5 fashion bloggers could use it as an amazing backdrop. I haven't seen any photos yet, but I am excited to share them with you! More to come soon!
Sunday was extremely low key. The husband and I did our usual morning workout, went to one of our favorite places for breakfast, then I got caught up on some blogging. Lazy days are the best, especially when you've been going a million miles an hour like I seem to have been lately. I do have a trip this week, but luckily it's only a day trip to Cleveland and back! Thankful that I don't have to pack! Ha!

SHOP THE LOOK: