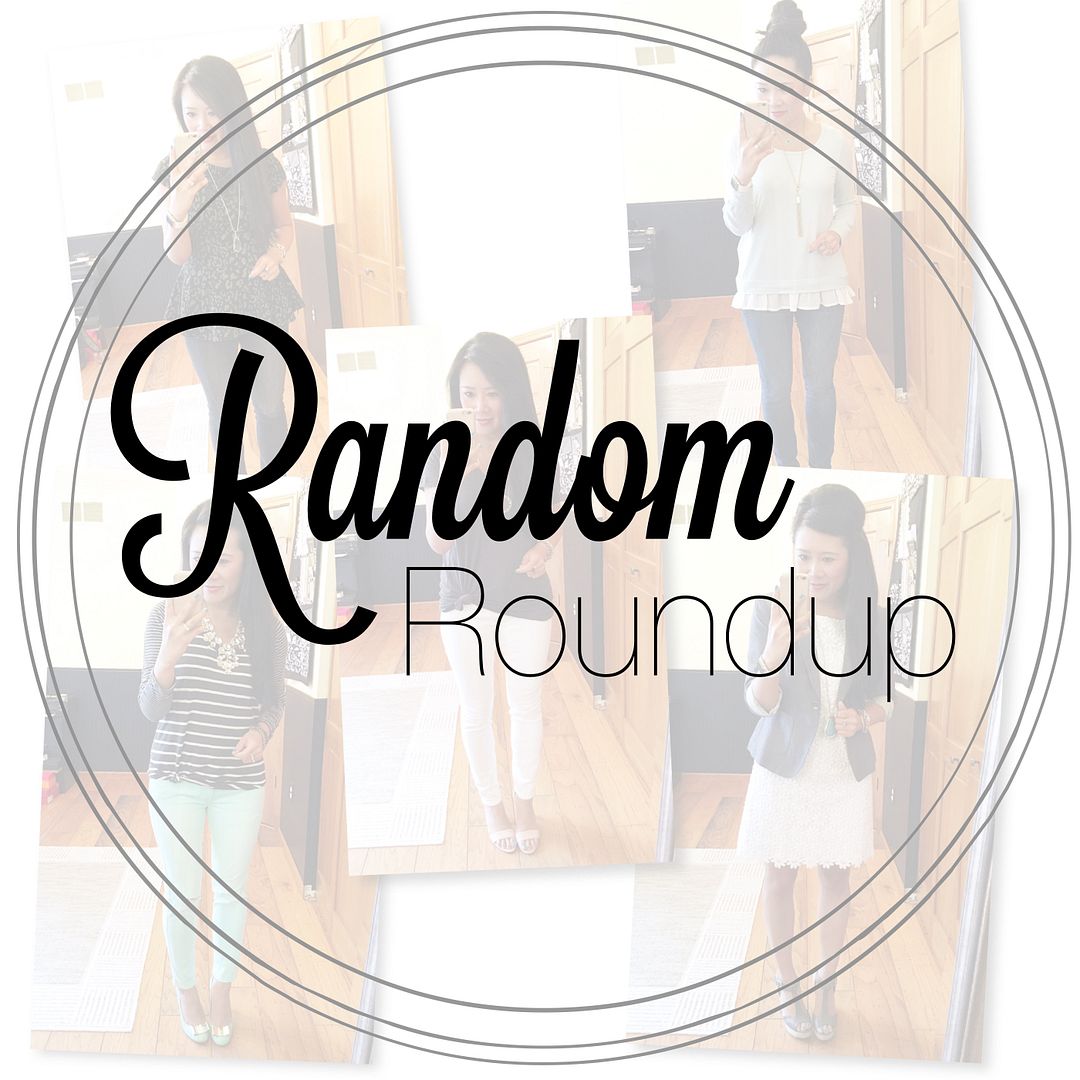 First of all, thanks for all of the comments and notes about yesterday's top view selfie tutorial post! I had a couple of non-blogger friends share their selfie attempts with me and it was quite comical! Anyway, it was fun to put that together for you guys, so I hope it was helpful. Onto today's post!
I have spent a lot of time at the airport these last few weeks. I feel like it all started with our Orlando trip and it's been downhill from there. I've hit Vegas, Detroit, and then most recently Alabama and DC. Luckily, it's been a good mix of work and fun, but packing is still the worse chore ever regardless! Today I thought would be a good time to round up some recent airport style looks, and share some of my logic for picking what I picked. Let's get started!
These first two outfits were for an overnight trip to Birmingham and Montgomery, Alabama. I was going to be spending the majority of both days in the car because we had to visit 10 different sites. I wanted to bring one pair of comfortable shoes to get me through both days, the same jewelry to get me through both days, and be comfortable enough in the humid weather as well as on the chilly airplane. For the outfits I wear *to* my destination, I am especially picky about selecting things that won't look wrinkly when I land. I'm less concerned about that for my outfit I wear coming home.
Top: Olive and Oak (from the Fashion Lane Truck) | Necklace: House of Harlow (almost half off!) | Bottoms: Gap | Booties: Hinge
It's harder for me to pack for work trips in the summer than it is in the winter. In the winter, it's super easy to dress around boots and booties. Tights and dresses with blazers and riding boots are kind of perfect for work trips. But I cannot pull that off in the summer. And since I really don't own any chinos or dress pants, I really have to rely on my skinnies. But I don't want to wear traditional blue denim (though, I'm not sure anyone would really care, honestly), so I opted for grey and white instead with some kind of patterned top.
The coworker I traveled with is 6'-4" which is why I went for heeled booties. I always feel like a 5 year old when I am traveling and walking alongside giants. I know that's a silly thought, but if I can get some heel height, that helps my confidence and the way I carry myself. These booties are perfect for that. They're a manageable height, but give me just the boost I need. I was also dressing around my new yellow bag, so I figured the grey outfit and this navy gingham would be good pairings.
The next quick trip I had was to DC. We were only visiting 3 sites this time, but I was going to be standing basically the entire day. The first day was only a travel day. I was going to be in the office up until around lunch time, plane to DC, then headed to dinner with about 8 other coworkers. I really could have worn whatever this day, but I wanted longer-ish sleeves that I could roll down in case I was cold on the plane. And then similar to the last trip, I wanted both outfits I took to work with the same jewelry and the same shoes.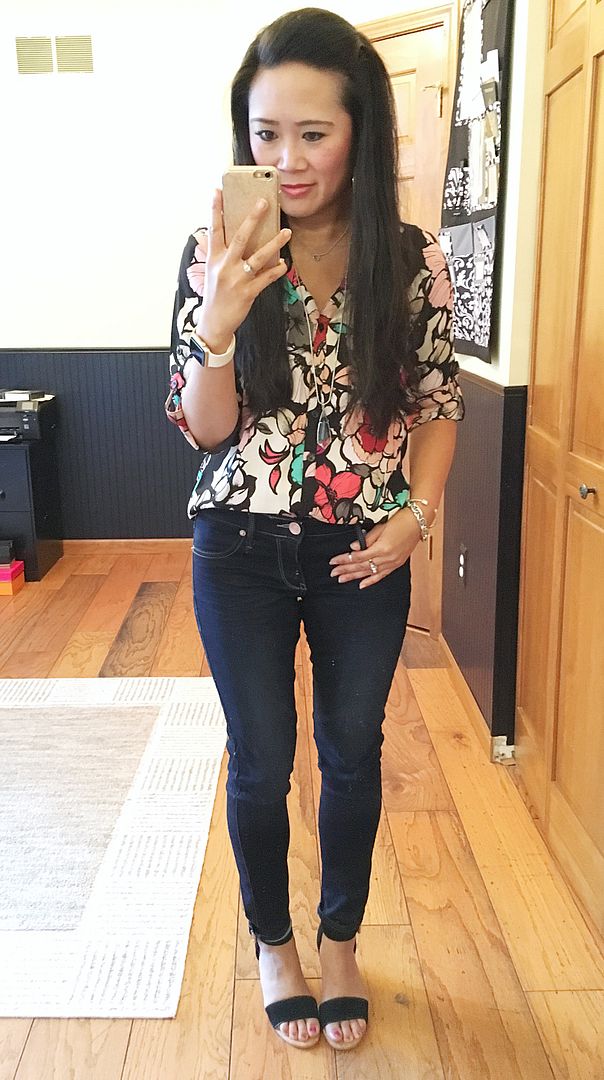 Necklaces: Kendra Scott (long, short) | Top: Express (shop current prints here) | Bottoms: Express | Sandals: Vince Camuto
(other color
here
, similar
here
)
You really cannot go wrong with an Express Portofino. A printed one makes it even more fun for me. This was such an easy outfit to throw on - almost as easy as pajamas. Almost. I was perfectly comfortable in terms of temperature on the plane, and the outfit lasted me through dinner also. My only complaint is that being on the plane makes my feet swell, so when I got to the hotel before dinner, I elevated my legs to help bring down the swelling a bit! Warm weather plus regular swelling is not a good combo! But, regardless, the sandals did just fine.
Necklaces: Kendra Scott (long, short) |
Top:
LOFT |
Bottoms:
Gap |
Sandals:
Vince Camuto (other color here, similar here)
Just like with the last trip, I reached for another pair of colored skinnies. I have mint and blush pairs also, but figured the olive pair would be a good neutral, especially when paired with these black sandals. I also brought a black and white striped top to wear as a backup, but I chose this solid white one mainly because the striped one needed to be ironed, and ain't nobody got time for that.
I think I stress a lot about travel outfits, but at the end of the day, it really should not be stressful - just easy! Easy, and if you add little touches of jewelry, and even fun shoes, you can still feel like yourself! My next trip isn't until the 22nd, but luckily it's just a day trip to Chicago and back so I don't have to pack a suitcase. YAY for that!

SHOP THE POST: