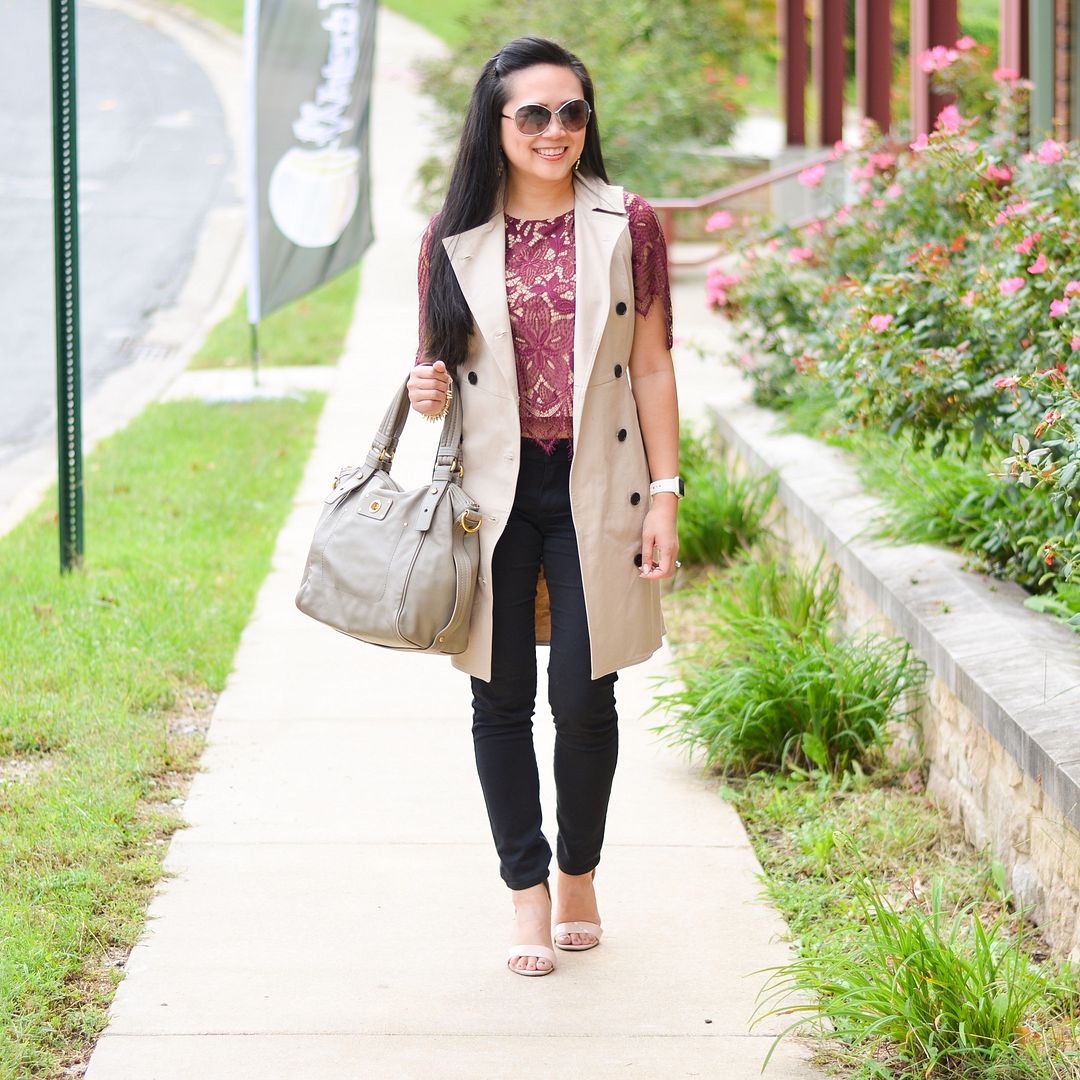 Sunnies: Tom Ford "Iris" |
Trench vest: Ann Taylor (old) (option) |
Bag:
Marc by Marc Jacobs "Helena" (
option
) |
Top:
Express
|
Bottoms:
Express (
similar
) |
Sandals:
BP
Do you guys follow Jennifer from Haute off the Rack? I don't remember how I first came across her, but she is hands down one of my favorite "mega" bloggers that I follow. Her outfits are relatable, her photos are gorgeous, and her personality is so much fun. I would so be her BFF in real life (in a non-creepy, non-single white female kind of way of course.) Anyway, she posted this outfit on Instagram last week and I immediately screenshot it. It's perfectly effortless and I knew I wanted to re-create it.
She makes me wish I ordered the ivory version of this top instead because it looks fabulous with that wine colored vest. She may have also convinced me I NEEDED a wine colored vest, and I just ordered this one here. I always love new ideas for styling my trench vest, and I never would have thought to throw it over this lace tee! Genius!
Looking at these photos, I think next time I wear this top, I definitely have to go with mid to high rise pants. I have a short torso, but this top is still pretty cropped on me and I don't like that you can see a gap between the lining and the top of my pants! These pants are super low rise though, so that's half the problem. Regardless, the actual outfit formula is just right and I'm really loving this lace tee!

SHOP THE LOOK: