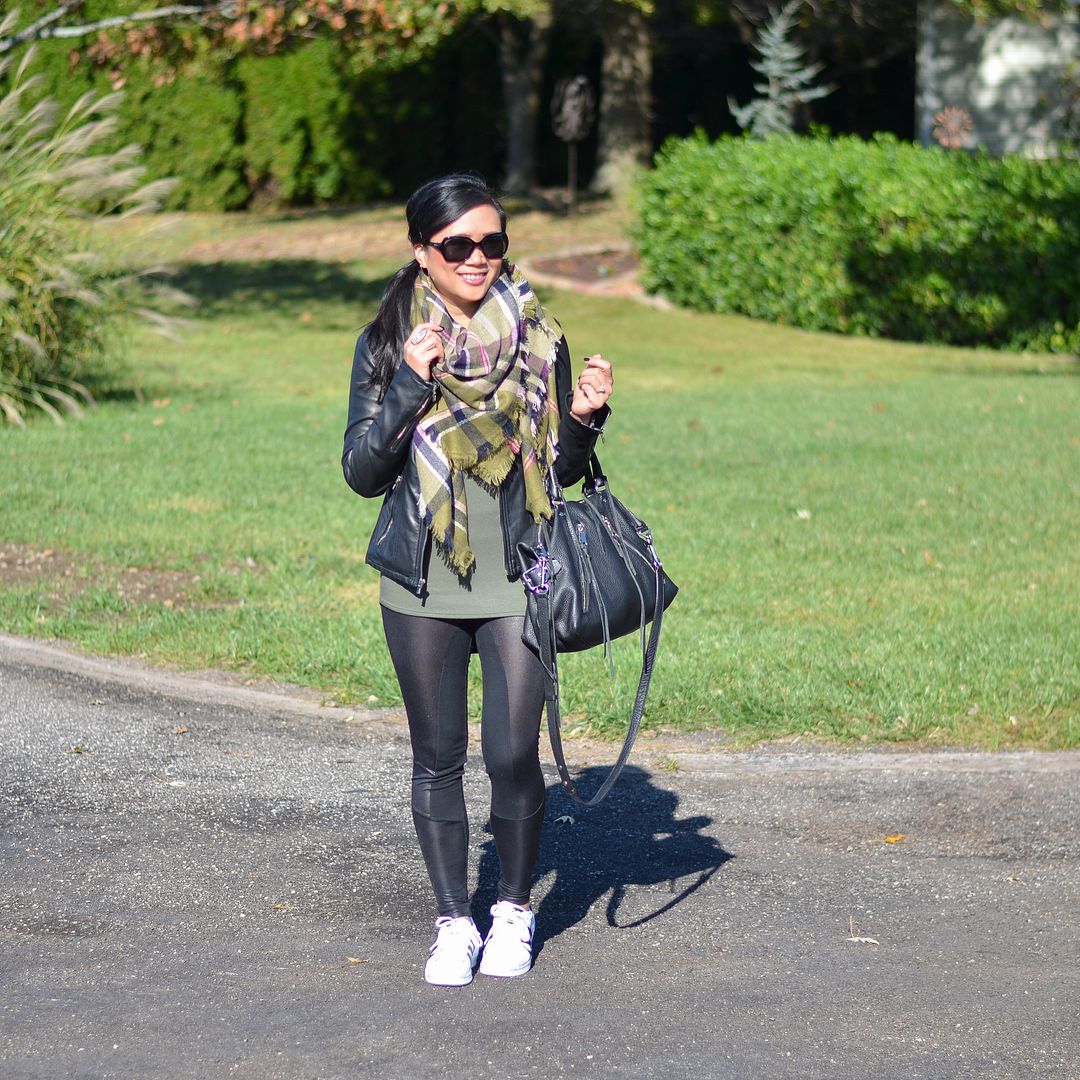 Sunnies: Oakley "Overtime" | Scarf: Dillard's (options here, here, here, here) | Jacket: Express Minus the Leather Double Peplum | Necklaces: Kendra Scott "Beth" and Kendra Scott "Amanda" | Bag: Rebecca Minkoff Moto Satchel | Top: Express One Eleven V-neck tee | Bottoms: Express (option) | Shoes: Adidas "Superstar"
Somehow, some way it is the last Wednesday of October, which means that it is time once again to link up with
Mel
,
Shay
, and
Sheaffer
for What's up Wednesday! All that means to you as a reader is that you get to read about a bunch of life randoms that I may not otherwise share on the blog. Not for any reason other than I don't really think about it! You can always follow me on Snapchat (carylee07) if you want the latest randoms! I'm only picking a handful of the questions to answer for the sake of time, but let's get started!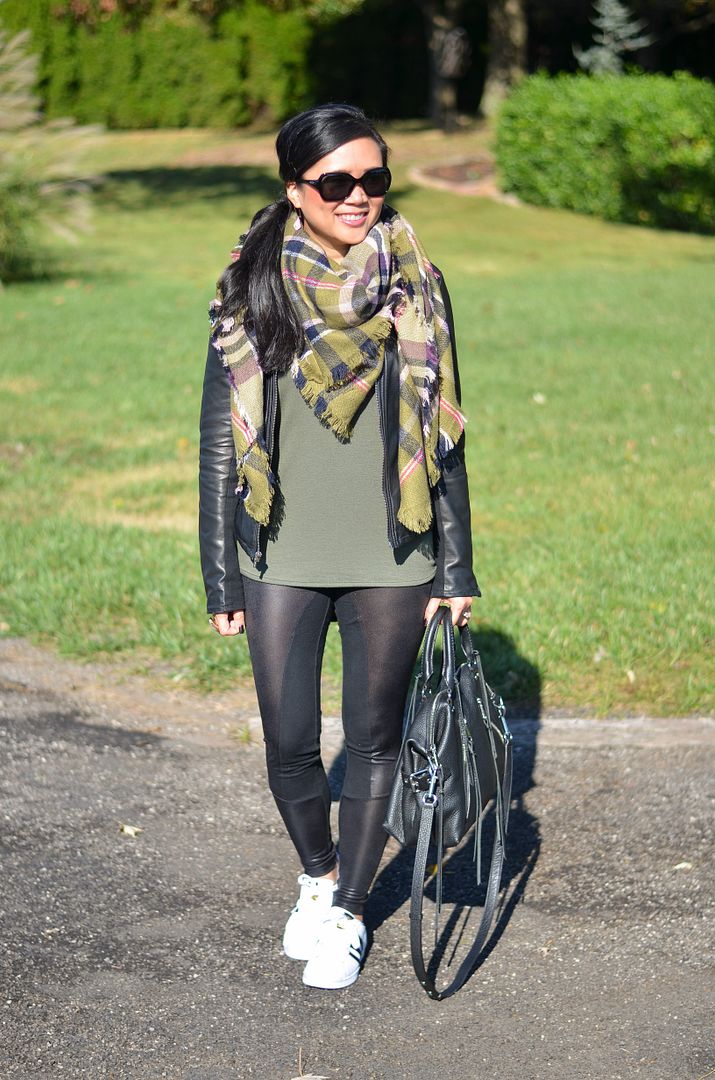 What are we eating this week:
Well, I wouldn't say we are eating it this week (yet), but we did discover a new restaurant that I'm sure will end up in our usual rotation. We've already been there three times this month, so that says a lot! It's a local restaurant called Catrinas. It's modern Mexican cuisine. Basically, fancy Mexican-inspired food. I've been obsessed with their Pico Papas tacos, which is this amazing potato and chorizo mixture stuffed in fried, homemade tortillas, and topped with lettuce and pico de gallo. I also just tried their carnitas taco and I couldn't decide which of the two I liked more! It's a perfect destination for Taco Tuesday! Or any day of the week, actually!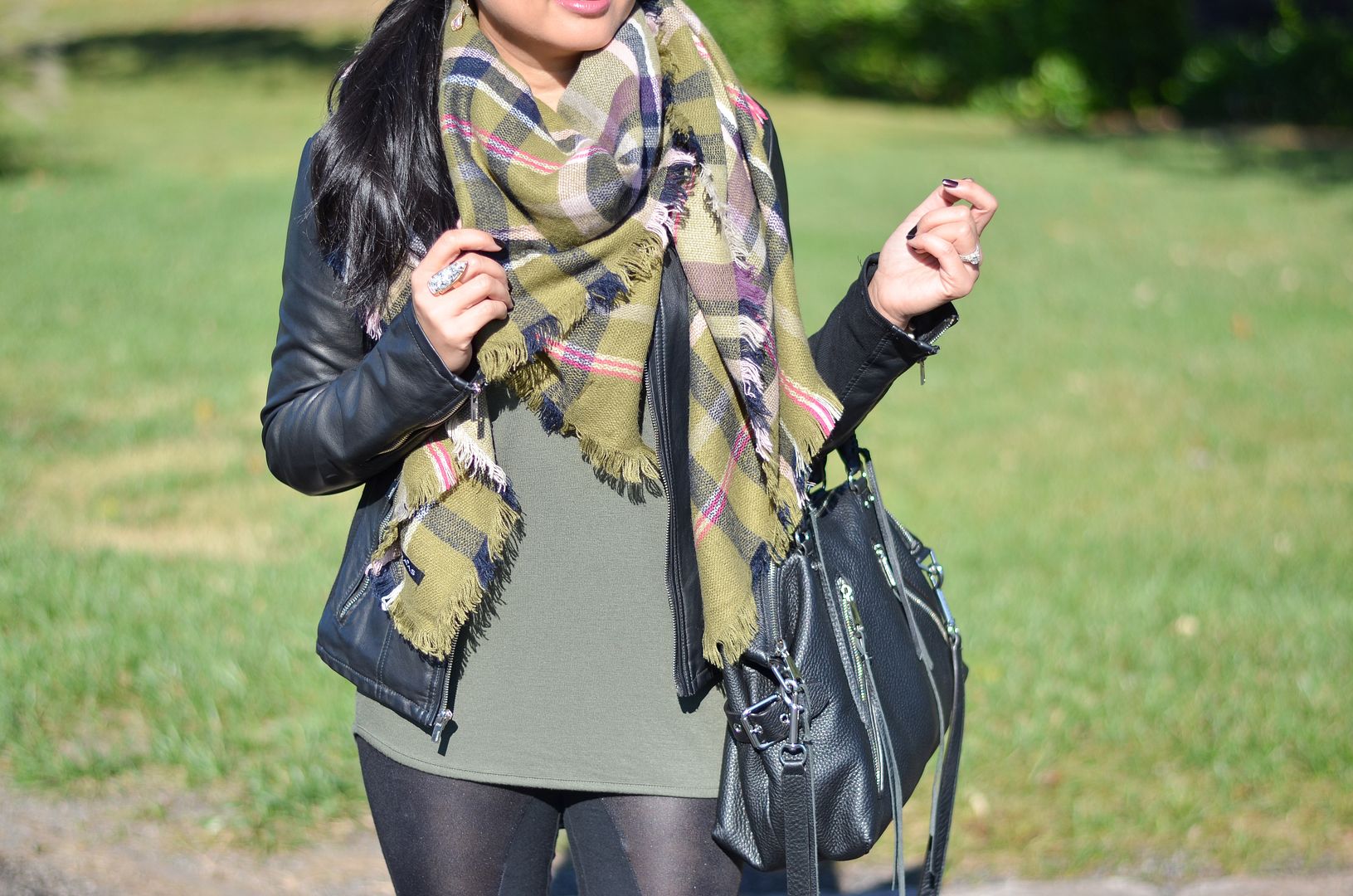 What I am loving:
This is an easy answer. I'm loving all the lace-up tops! I wrote a full post about this obsession last week here if you missed it!
What we have been up to:
Not much new to report. I shared last month that our rat terrier went through major surgery, so we have been busy with follow up appointments since. He had a scrotal mast cell tumor, plus a cyst, a splenic tumor, and another mast cell tumor on his abdomen that were all removed. All of his biopsy results were positive, except that the mast cell tumor on his abdomen was removed with incomplete margins. So, the options were to go back in for surgery, put him through radiation for 5 days a week for 3 weeks, or put him on oral chemo pills. We ended up choosing the latter, and he has had zero adverse reactions to it, which is good news! He will continue to get looked at every 2-3 weeks, and then eventually go down to checkups once every 3 months if all continues to go well. It's been quite the roller coaster, but he is the strongest pup I know! He's running around like a mad man and you'd have no idea anything was ever wrong with him! Even the day after surgery!
What I'm working on:
I have another mini collaboration series line up for you for November, so the wheels are in motion for potential topics! As far as real life, well Pilates has been all consuming, but in a good way! I've been overwhelmed with all the new information I need to absorb, but so far it's all very exciting, and I'm just now getting my feet wet into the program.
What I'm excited about:
My family is coming into town for Thanksgiving!!! Their tickets are all booked, which makes it so real, and I'm both anxious and excited for them to get here. Anxious because that means I have to put my big-girl pants on and get this house in guest-ready order for them, and excited because THE NEPHEW will be here! I get to squish him!!! I still plan to hit up the malls for Black Friday, so hopefully my brother and sister will be game to do the same!!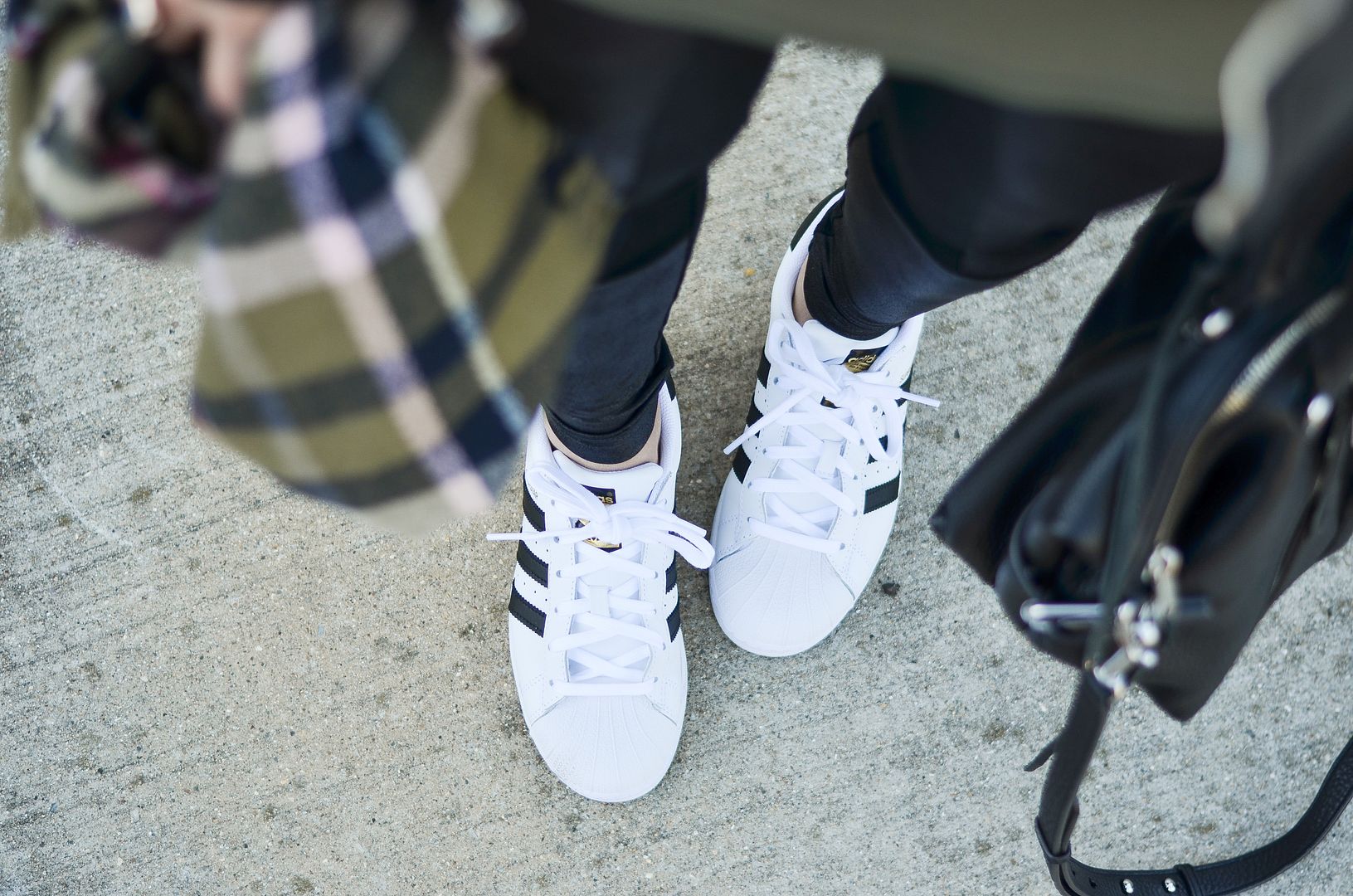 What I'm wearing:
I finally caved and bought a pair of the
Adidas "Superstar"
sneakers. I avoided them for the longest time because I have a white pair of Jack Purcells that I never wear. I always felt that they were too much of a distraction with my outfits, so they get the least wear out of all three pairs of my Converse. But then Rachelle got a couple of pairs of Golden Goose sneakers and she was making me crave this style of sneaker so much more! When these arrived on the doorstep, I told the husband that I was actually *saving* him money since this pair was tiding me over from paying more money for the designer pair! See my logic?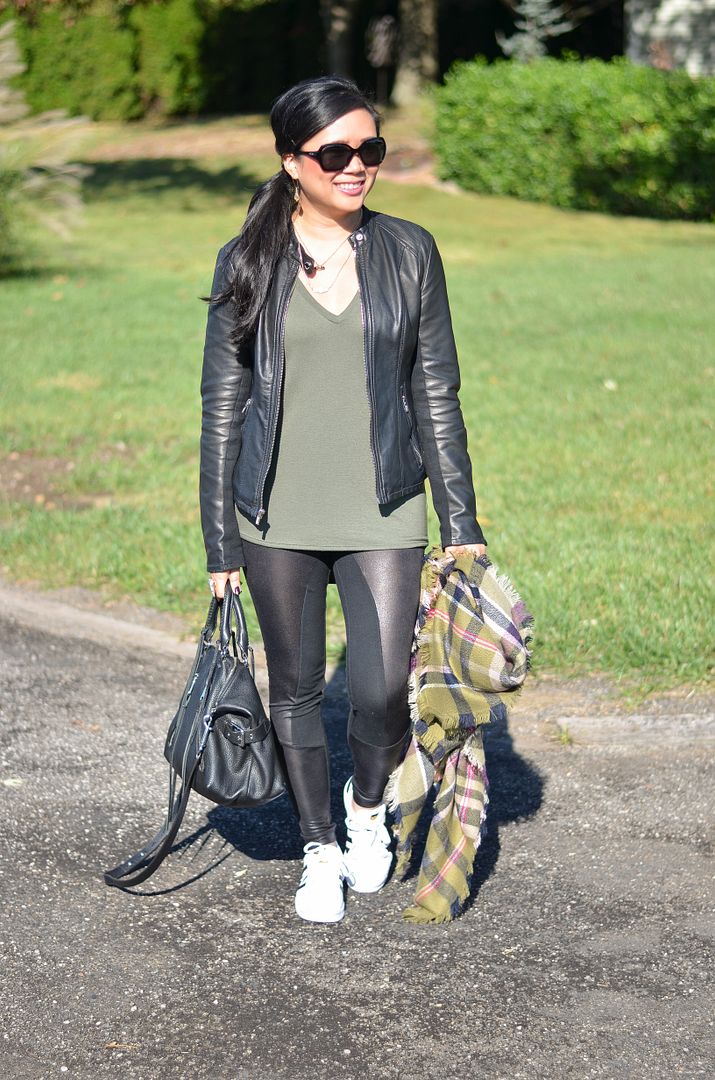 What I'm looking forward to:
November will be a fun month, and not just because the family will be in town. We have a wedding to go to, it's the husband's birthday month (which means I get to take advantage of his Kendra Scott 50% birthday month discount), and I will be 4 weeks into my Pilates certification which means I will have started my practice teaching by the next What's Up Wednesday post!!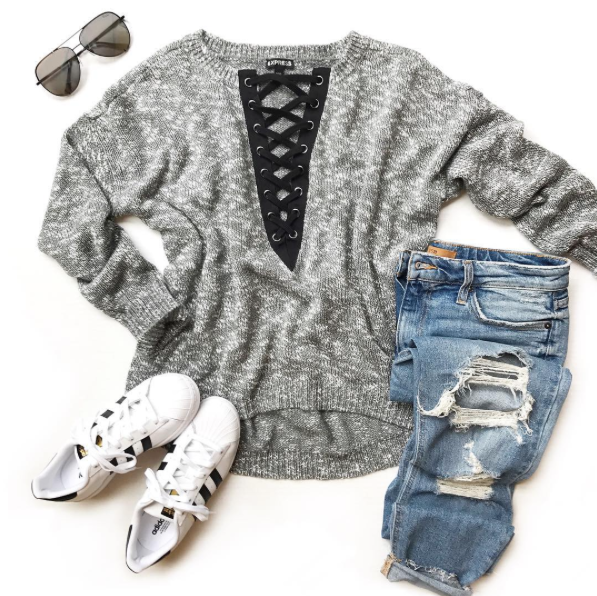 What else is new?
I thought I would end this post by a second way I have styled these sneakers. Since these sneakers are a new purchase, I always like to style them right away to keep ideas fresh! You can see the real life outfit on me in my blog post earlier this week and on Instagram here.
That's all I have for you today!! Thanks for reading along!

SHOP THE LOOK: