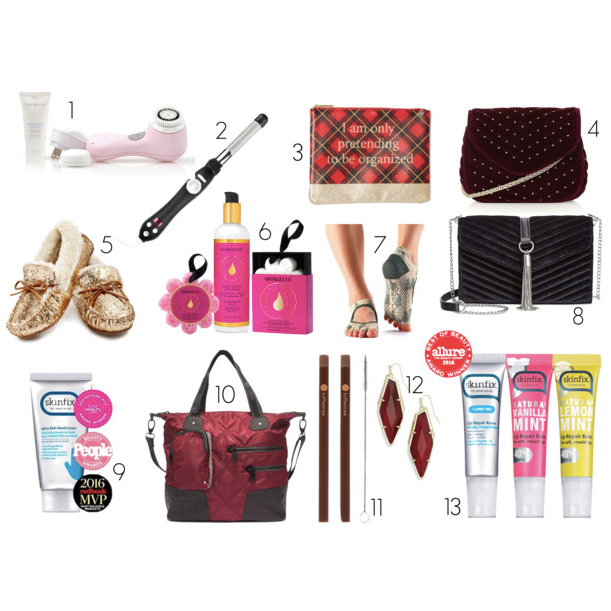 I like to think a person like me is easy to shop for. What kind of person am I, you ask? I like all things sparkly. I like clever things. I am all consumed with Pilates at the moment, so anything that I can incorporate into that lifestyle will for sure be used. I am not super adventurous when it comes to skincare, so I always welcome an opportunity to receive new products to try, especially when they come recommended. And I guess that's about it! I've rounded up some things that would for sure be hits with me in case you are privileged enough to know someone else like me with similar interests! :)
1- Clarisonic:
Way back in the day, I put together a post about my makeup regime. You can reminisce with me
here
. Things really haven't changed since then. If anything, my process is simpler now that I have my lash extensions. The Clarisonic continues to be a holy grail tool of mine, and if it ever dies, I surely will replace it stat!
2- Beachwaver:
You know I love
my Beachwaver
and I would love to gift this to all my friends. It has been such a timesaver for me when I want curls, but don't have much time (which is basically every day.) I would definitely recommend it for someone who is a hair junkie like me.
3- Pouch:
You can never have too many pouches in my opinion. I can always find something to fill it with, promise. Ones with clever sayings like this one make them even more fun!
4- Velvet bag:
I am not sure if I would buy a velvet bag myself because it seems like such a trendy piece, but if you were to buy one for me, I would for sure take it, and I would probably snuggle with it and wear it all the time. ha! Perhaps I am exaggerating, but the two I found are so good. I love the studs on this one!
5- Sparkly slippers:
I mean, who wouldn't want sparkly happiness to keep your feet warm? Enough said.
6- Infused body sponge:
I got this in my Fall FabFitFun box and I absolutely loved it! It smelled so good, got super lathery, and I loved the way it made my skin feel. Definitely recommend these as a gift for others (or yourself!)
7- Holiday Toesox:
This is where my Pilates life starts creeping into my gift list. Toesox are a nice way to accessorize your workout outfit, plus it provides function as well. I always love the holiday colors and styles that are released!
8- Velvet bag:
The tassel on this one gets me! It looks a lot more lush and expensive than it really is. I might need this for real.
9- Skinfix hand cream:
I am constantly applying hand cream and lotion. And I'm picky about the way they make my hands feel. Obviously I want them to be moisturizing, but I don't want to be left feeling greasy. This one makes my hands feel amazing and the
moisture is long lasting without that greasy feel. Two thumbs up for me!
10- Bzees sporty bag:
I have that Porter backpack I use for my more
extensive Pilates meetings with my advisor, but when I'm just running to and from a personal workout, I really only need my wallet, my pilates notebook, and my little phone tripod I use while I videotape my workouts. This bag is the perfect size to carry all of that plus a change of clothes.
11-
Koffie Straw (
reusable
straws): These things are genius, I tell you! I discovered them thanks to Emily at Style Me Tactical and I've certainly gotten my money's worth! Yes, I drink my coffee out of a straw. I don't like how coffee makes my teeth feeling gritty, and straws always help circumvent that because a girl needs her caffeine! It's also great for red wine as well - I mean, do you really want to be hosting an event at your house, drinking red wine and having your teeth purple in all your photos? I didn't think so. I love that they're flat with a slight bend, sized perfectly to fit a coffee cup or travel mug. It comes with a teeny cleaning brush too so you can scrub the innards of the straw between uses! I told you it's genius.
12- Kendra Scott earrings:
If you've followed my blog for even just one week, you should already know I'm a Kendra Scott addict. The red color of these earrings is SO GOOD. Definitely on my wish list!
13- Skinfix lip repair balm:
Similar to hand cream, I am constantly applying lip balm. Easily half a dozen times a day, if not more. I love how easy this one applies and it's a good supplement to my typical cherry Carmex. I have been leaving this on my lips overnight, and loving it!
Admittedly, I am not a super creative gift giver. I just like to give people gifts I know they will like. The easiest way for me to provide a gift guide for you guys is by speaking from the heart and letting you know what I personally would love! Happy shopping!

SHOP THE POST: