Hooray for Friday! It never gets old saying that! I have a busy Saturday ahead of me! A little Pilates in the morning and then I get to teach his cousin Beth along with her husband! It's his first time. He's been wanting to try it so I told them they should just get a sitter so I could teach them both at the same time, and so Beth could watch to see how he does. Hehe. We're then going to brunch at my favorite brunch place in our suburb then going to trivia night with them tomorrow evening. I'm worthless when it comes to trivia, unless it has anything to do with Justin Timberlake and NSYNC. The husband is really great at it, and I have no idea where he stores all of this info! So anyway, it should be a good weekend! Let's go ahead and get started with this week's looks!
Speaking of my favorite brunch place, they happen to be my favorite lunch and dinner place, too! Last Thursday, the Pilates studio had their annual holiday party at Cleveland Heath. (Seriously, I will take you there if you come visit me.) Since we are teachers in training, and will eventually be teaching at the studio when we graduate, all of the trainees were invited, too, which I thought was a really sweet gesture! I wore my outfit to work because I knew I wouldn't have much time to get ready after work. I did switch into socks and nude booties though because it was chillier as the sun went down. Also, if you couldn't tell, this is my favorite hair style for special occasions because I don't have to worry about my sideswept bangs being oily and in my face by the end of the day or my curls being droopy. Everything stays in place nicely when it's pinned to the side like this!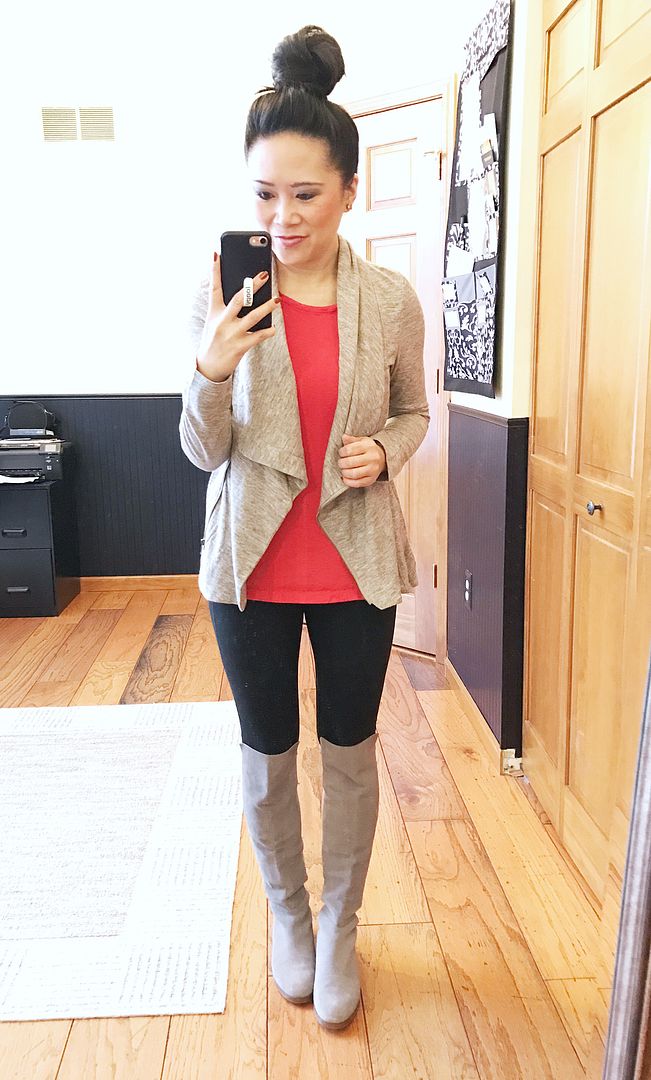 Cardigan: Modcloth | Tank: Fabletics | Bottoms: Gap | Boots: Sole Society "Calypso" (same style but limited sizes/colors here)
Here is another work to workout outfit for you. I just ditch the cardigan and boots when I'm doing Pilates. It's saves so much time when I don't have to allow time to change prior to leaving the office for my mid-day studio session. I have been taking an extra bra and tank with me though for afterwards because those sessions get really sweaty, and the first time I did it, I was miserable in my wet clothes for the rest of the day. I know, gross. The Modcloth cardi is perfect for this transition. I seriously might need every single color. I have three at the moment.
I mentioned in last week's Pilates update post that I've managed to squeeze in some cardio into schedule. My goal is 3 cardio sessions a week. This is relevant because when I'm on the elliptical, I watch Gossip Girl on Netflix. I hadn't watched it since last August, and was excited to get back into it. I'm in season 5 right now. In one of the episodes I was watching, Serena was wearing a fitted top tucked into a ball skirt with opaque tights, and well, as you can see, she clearly inspired the outfit in this photo. Every time I wear a skirt, I wonder why I don't wear them more. I loved wearing this outfit so much!!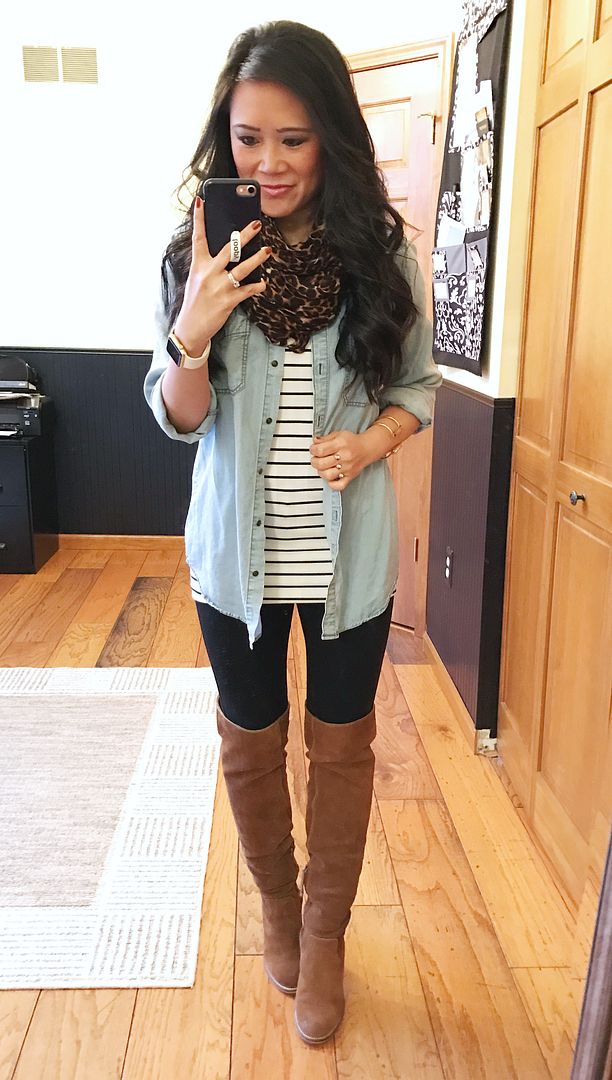 And last but not least are the basics of basics. And yes, I know what you're thinking. I do wear this Grace and Lace tank ALL the time, but it makes for the perfect base layer and it is a great length for leggings. If anything, it's crazy long and could fit me like a dress. But I will usually wear it ruched or just fold it under like I did for this photo. I highly recommend getting one if you don't have it already. it has reversible necklines (v-neck and scoop), so it's like you're getting two for the price of one!
That is all that I have for you today! Which one is your favorite this week?

SHOP THE POST: