This embroidered cold shoulder top was a recent purchase that I packed with me to the rewardStyle conference. It ended up being only one of three things I ended up not wearing while I was there. Not for any real reason other than I just ran out of days! I do love it though. It's no secret that my love for bare shoulders IS REAL! I equally love anything embroidered or handmade-looking, so this top tugged hard at my heart strings! I decided to pair it with olive skinnies with pops of turquoise to keep it springy.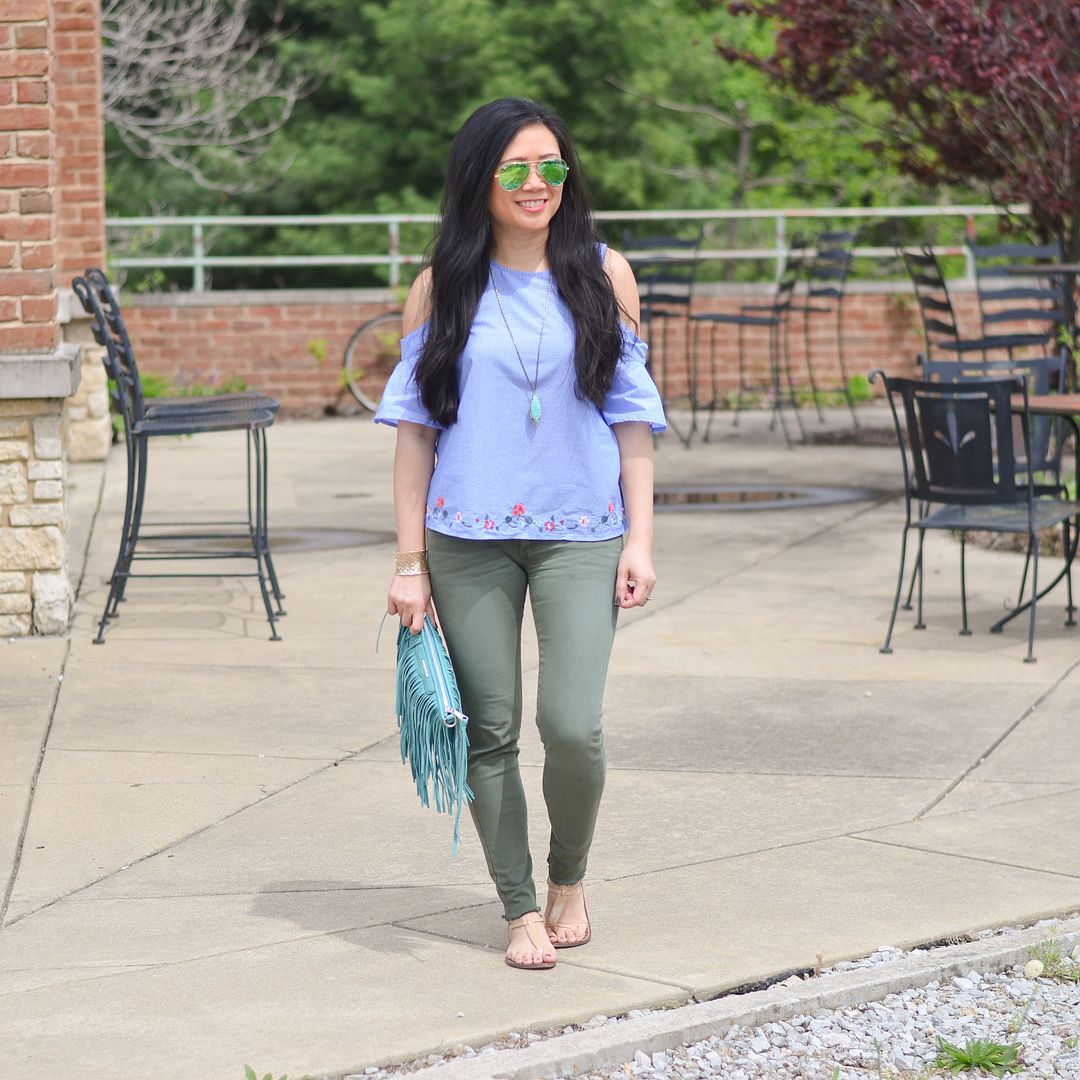 Outfit details--- Sunnies:
Ray Ban |
Necklace:
Kendra Scott "Milla"
|
Bag:
Rebecca Minkoff "Finn" (
similar
) |
Top:
Express
|
Bracelet:
Kendra Scott "Candice"
|
Bottoms:
American Eagle (
option
) |
Shoes:
Sam Edelman "Gigi"
---
It fits true to size - I ended up ordering this in a small. There is a button closure at the back of the neck, but I don't have any trouble getting it over my head without unbuttoning it. Yep, I'm lazy. I love that it has a slight flutter/ruffle sleeve. Seriously. It's such a happy top!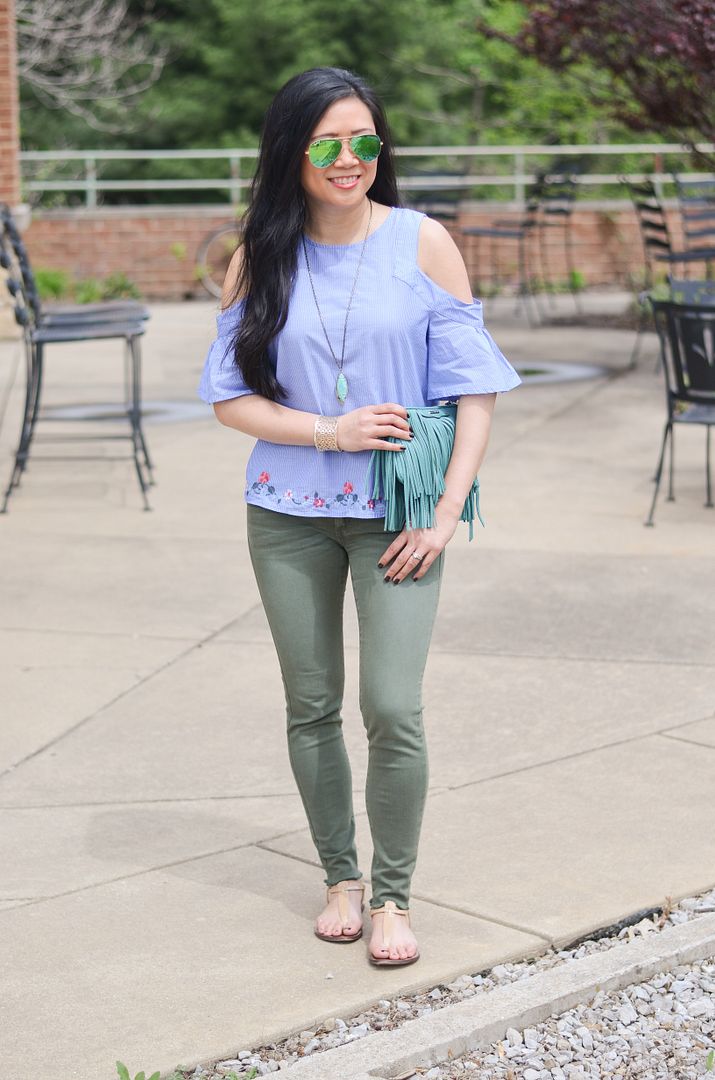 I bought this fringe bag last year and wore it non-stop then. I was happy to dust it off for the season. It's a great size - holds all of my necessities! And it comes with a crossbody strap, which makes it extra convenient.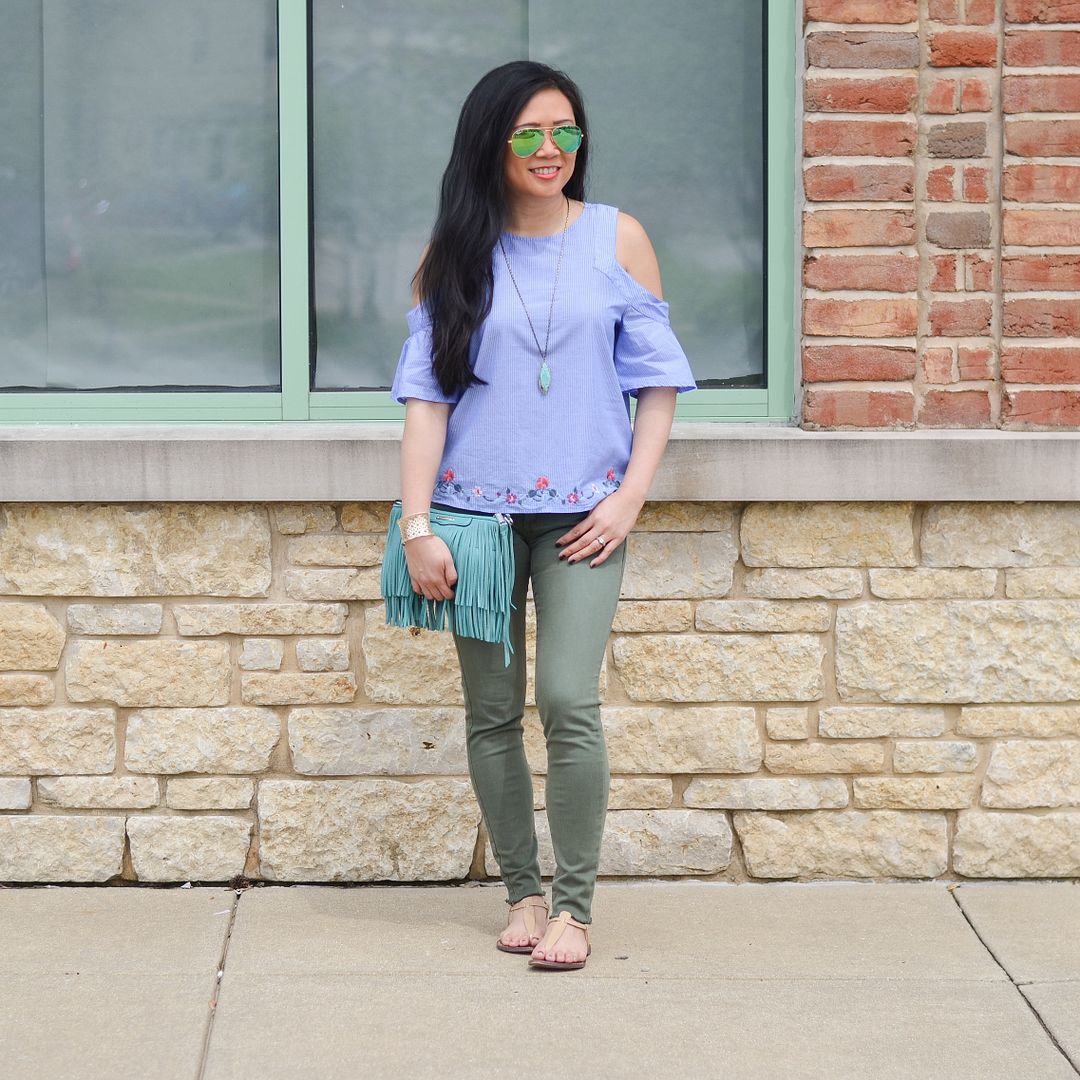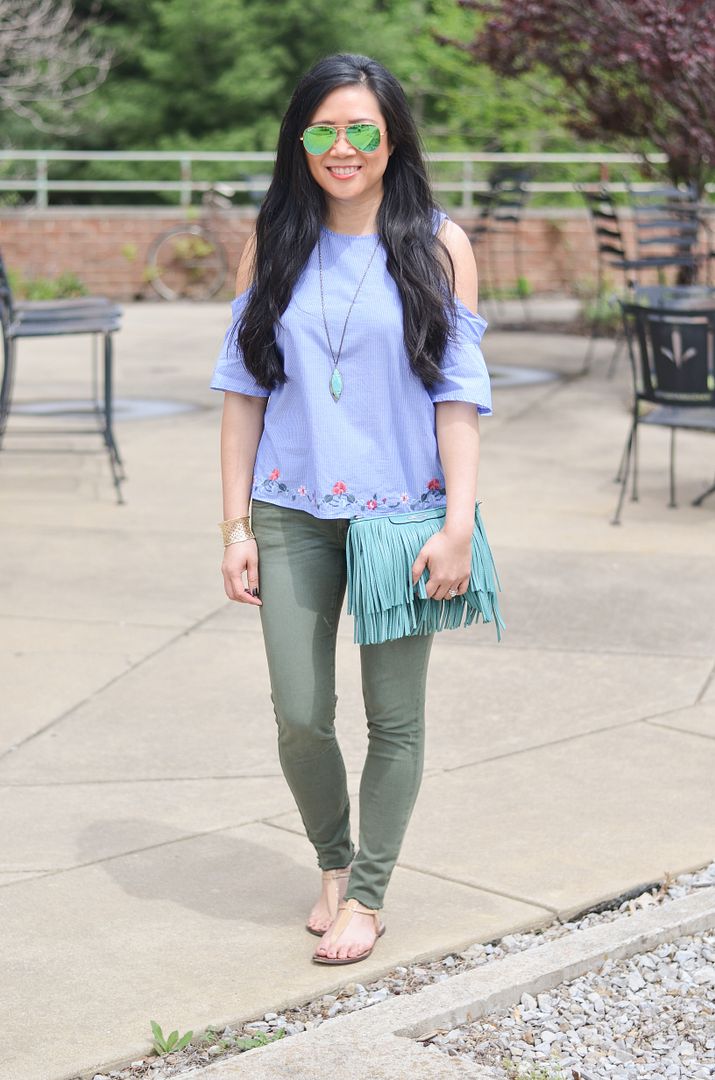 If you guys have been following along over the last year, you know that our rat terrier has been dealing with a lot! His latest battle is with cancer. He had a few cysts and tumors removed last September and one of them was removed without clean margins. He's been on an oral chemo treatment since, which seemed to be really working for him up until a couple of months ago. Although his appetite, energy level, and vitals are doing well, h
is lumps seem to be forming new lumps.
He is now on his third type of chemo - it's an injectable kind that he has to take once a week for four weeks. The heartbreaking part (as if that wasn't already) is that the vet told us that if *successful,* his life expectancy is... I can't even type it. But let's just say, it's really fast. I have been on the verge of tears over the last couple of days and the support and sweet notes I have received from friends and the Snapchat community has been overwhelming. Please continue to keep him in your thoughts. He had a great day today, which does make my heart happy. I know he can't be with us forever, but, I am not ready to let go just yet.
Hug your fur babies close today for me.

SHOP THE LOOK: