Happy hump day! We are halfway to our long weekend, and I'm not even mad about it! It's been a busy week between work and Pilates and getting the new car! The weekend could not get here soon enough. But, I hate to wish time away, so let's talk about this beautiful top to keep our minds occupied, shall we?
You guys know I am all about anything and everything blush right now, so it really shouldn't surprise you that I fell in love with this! Plus the lace trim, open sleeves, and the tassels make it that much more special! It's so super lightweight which makes it very comfortable even in the hottest of temperatures. I loved the idea of pairing it with white shorts and neutral wedges.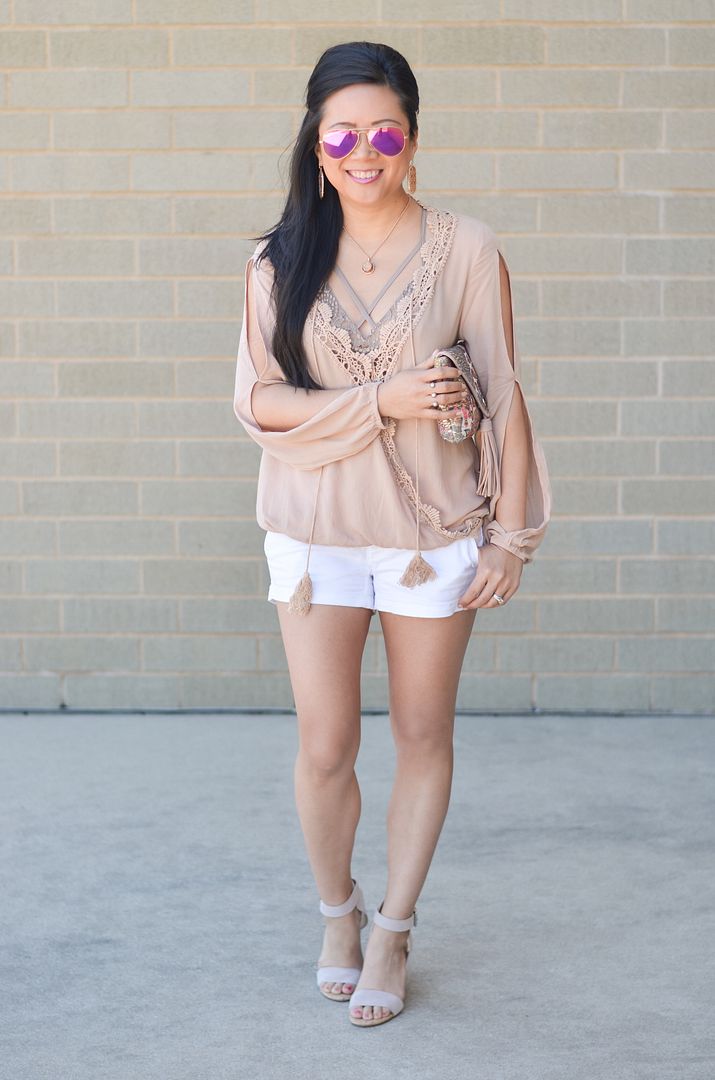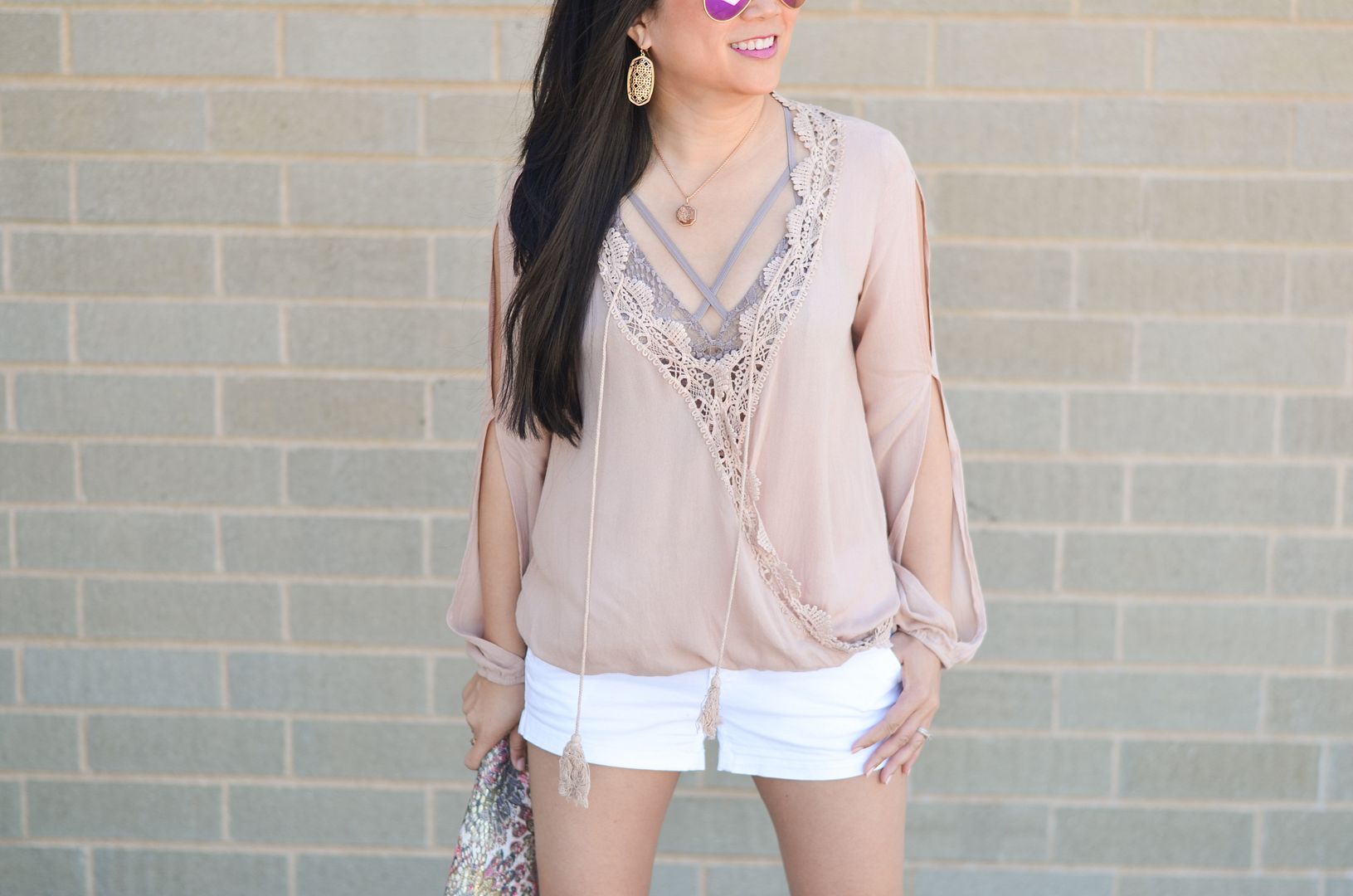 I love that bralettes are a thing right now because they are way more comfy to wear for modesty with wrap tops like this vs. a full-on tank top. I always hated tops that I had to wear over a tank, so in my past life, I would have ruled this one out immediately. Having the bralette as an option opens up so many more opportunities for me and tops! Unfortunately, my exact one is long gone and while I've linked to others the are similar, this would work just as easily with a simple solid one with more coverage like this here.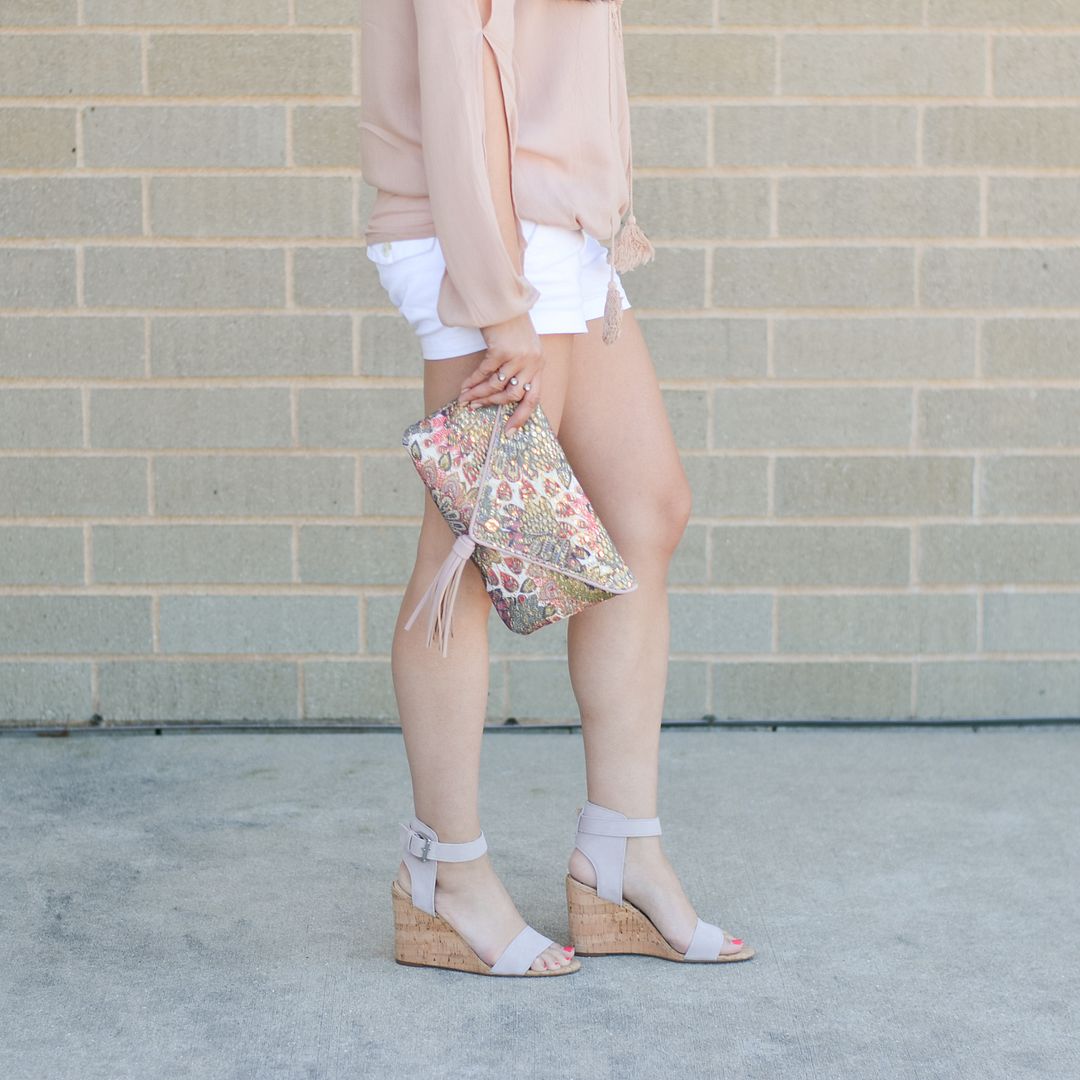 These wedges are so light and comfy, they are the one and only sandal you need for summer. I'm just saying! For this outfit, my feet just needed to disappear, so the neutral wedges were a no brainer. I love elongating my legs even more when I'm in shorts, and the wedge definitely helps with that. At the same time, they are cork which means they aren't clunky, which is ideal for shorts and not wanting to feel or look bottom heavy.
My one warning about the top is that it would be a nightmare to iron! I have a steamer so I was able to brush out the wrinkles in a jiffy. If you don't have a steamer though, I can't imagine how difficult it would be to iron. On that note, if you don't have a steamer, you need one in your life stat! I can't remember the last time I picked up an iron! Ironing is SUCH a big ordeal and steaming takes 30 seconds. I have a version of this and highly recommend. There are others at lower price points that work just as well. My first one was an older version of this and it was great! I still have it, actually. I just wanted an upgrade. Steaming my clothes has changed my life and I highly recommend any and all shopaholic own one!
Ok, now that I'm off my soapbox, I shall let you go! Enjoy the rest of your week!

SHOP THE POST: