Wowee! Not only did we make it to Friday, but I wrote FIVE posts this week and that feels like a big feat! I'm excited to have accomplished that, and hopefully it wasn't all throw away content and it resonated with you guys, too! But it's Friday, so that means it's time for another dose of Random Roundup where I share some selfies lately. These are outfits that I've worn to work recently! Yes, we have a pretty liberal dress code! Let's get started!
The husband was making fun of me because I complain when it's cold but then I complain when it's hot! I feel like mother nature is just screwing with us lately. This isn't really a spring outfit, but the off the shoulder was a nice way to keep me happy regardless. And I swear, I wear these Rockstuds all the time. Yes, they are an investment piece, but I've got to imagine their price per wear is down to nothing by now!
Necklace: Kendra Scott "Rayne" (other colors/metals here) | Top: Sun and Shadow | Bottoms: American Eagle | Shoes:
BCBG
So this is basically the same outfit that I wore in the last Random Roundup post here. I have this mock neck sleeveless sweater in beige and black and I loved it so much when I last wore the beige one that I knew the black one would make the rotation shortly after. I also didn't realize how much I like wearing black and should do it more often.
Two of my new favorite things are these earrings (which you have seen a couple of times on the blog already) as well as this kimono. CS Gems had a fun promotion where you spend $15 and they send you a mystery item. I'm all for buying myself gifts, and I trust their style judgement because they know me well, so I knew I could not lose in this! I ended up with this floral kimono and it is perfect! I love its shorter length - I don't feel like I am drowning in it! I also shared on my Instagram stories, which several people really appreciated, that when I wear kimonos, I use those teeny tiny safety pins to tack the ends of the kimono to the front of my tank top straps (just under my collarbones.) The safety pins are so small, so they're not noticeable, and they have better staying power than Hollywood Tape which I have tried in the past before for this same purpose. The pins keep the kimono from falling off my shoulder, while still letting the ends be open and flowy. When I'm not wearing the kimono, I just pin the safety pins to the clothing tag so I don't lose them and they're there the next time I need them.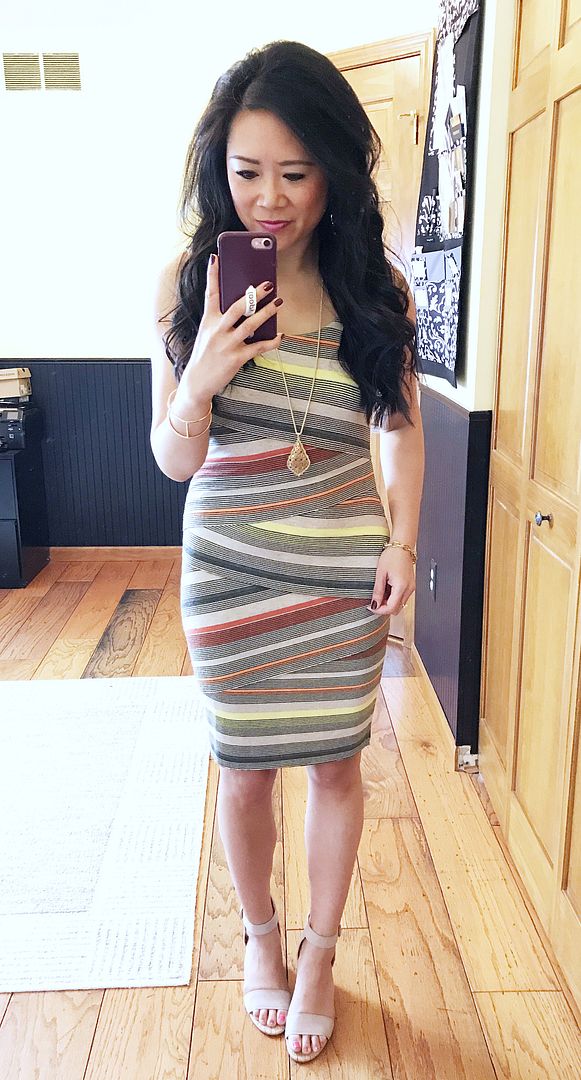 Last but not least is my Bailey 44 dress. I got so many compliments on this dress when I wore it, several people asking, "Is this new?" Nope, about 5 years old or so, but it's so good, I wish I had it in one million colors. It's figure flattering without being constricting. It feels like you're wearing a tee shirt. I've been keeping my eye out for more like it - a lot of the ones out there right now are either midi-length or they are long sleeves. I want more of this tank style!
And hooray! That's all I have for you today! I'm writing this at 5pm on Sunday, and the fact that I wrote FIVE posts this week and it's not even 6pm yet is a huge success! I think I will go to some Pilates then paint my nails! Hope you have a great weekend!

SHOP THE POST: