The single-most stressful thing about blogging is having new and exciting wardrobe pieces to style and share with you guys. It's hard because I try to only buy things I love, but those things often sell out pretty quickly, and while I still and will continue to wear those pieces regardless, as a reader it's a bummer because I'm teasing you with things you can't even purchase anymore! As bloggers, we share our own personal style, and in reality, 90% of my wardrobe is made up of old pieces compared to 10% recent purchases! Unless I'm disciplined (and I surely am NOT) about rotating out my clothes, selling past season stuff, and replacing them with current purchases, that makes it challenging to keep up with what's in stores!
And I guess that's why I love these random roundup posts so much. Because I stress less about whether or not things are available, and simply wear what's already in my closet that I love. This past week, I dusted off quite a few old favorites, so I don't have much current stuff to link to, but I'll at least pick one statement piece from each outfit and find similar items that might interest you! Let's get started!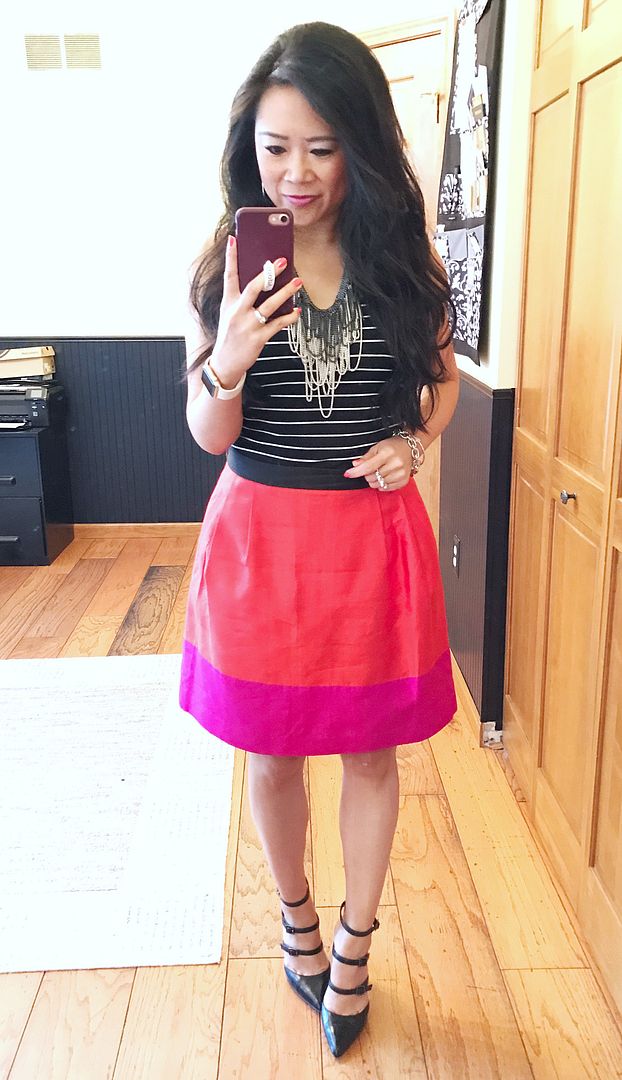 Necklace: Kendra Scott "Margot" | Tank: Express | Skirt: Kate Spade (shop other colorblock skirts here) | Shoes: from Gilt
This skirt goes WAY back. You can see a super awkward post of me wearing it 4 years ago here. Clearly some things never change and I still love pairing this colorblock with stripes. I've hung onto it so long because it's such a happy piece! I feel so girly and pretty when I wear it. I ended up getting a ton of compliments this day, too, so I guess my feelings are merited.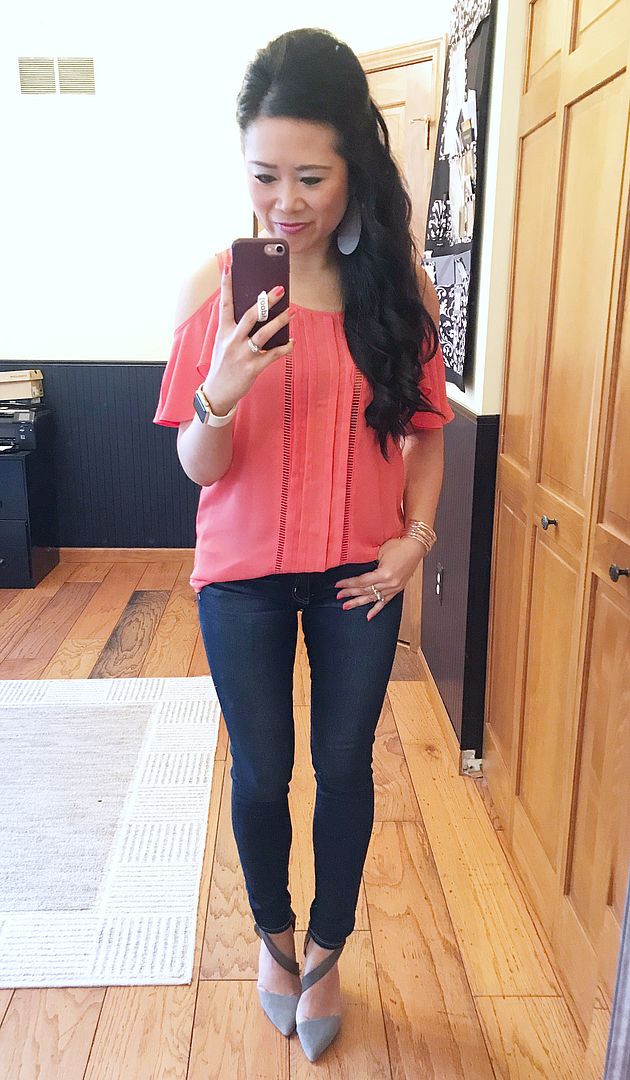 This top isn't nearly as old as the skirt from the previous outfit, but it's definitely long gone. You can see how I styled it for summer in this post here. I am honestly not quite sure if cold shoulders are acceptable at work, but, uh, I wore it anyway. Our dress code is pretty lenient and I figure if I can wear spaghetti straps, why couldn't I bare some shoulders with this top? I do love that you can wear a normal bra with this top. If you're on the fence with the cold should trend, Charming Charlie is a great place to shop them at a cheap price point. And I'm warning you that you may end up loving all of them!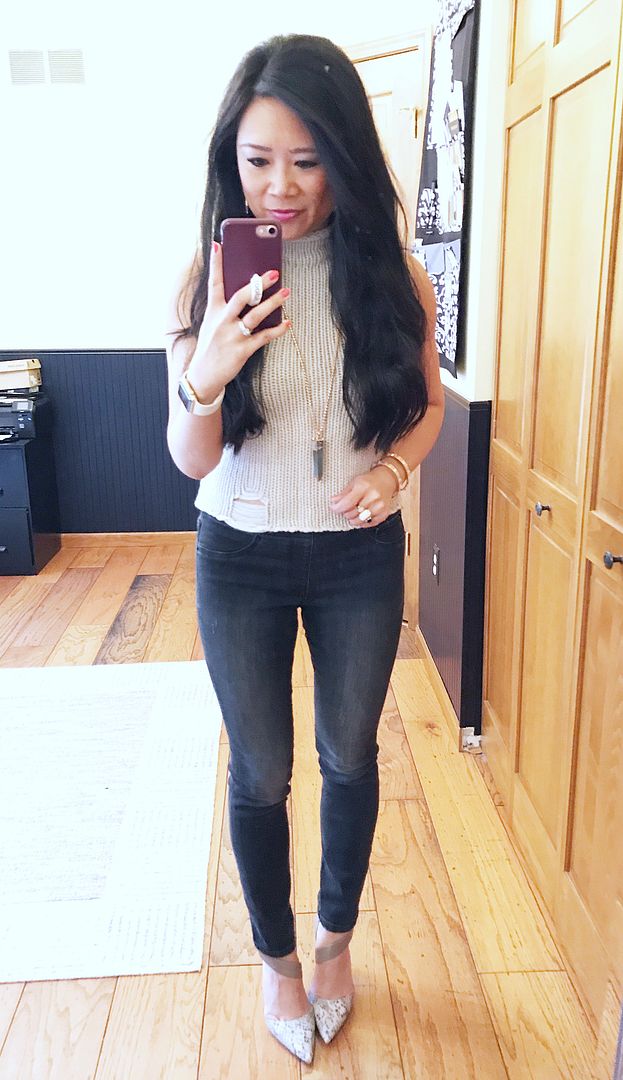 Necklace: Kendra Scott "Jayce" | Top: Sun and Shadow (option, love this crochet option!) | Bracelet: Kendra Scott
"Gavin" | Bottoms: Express | Shoes:
Vince Camuto "Carlotte" (exact here but limited sizes)
I wore this top and jeans combo to a Maurice's styling event that you can see here. The top has a really short, almost cropped length, so I like to pair it with these bottoms since they have more of a mid rise. I realized I hadn't worn this top to work yet, so I decided now was the time!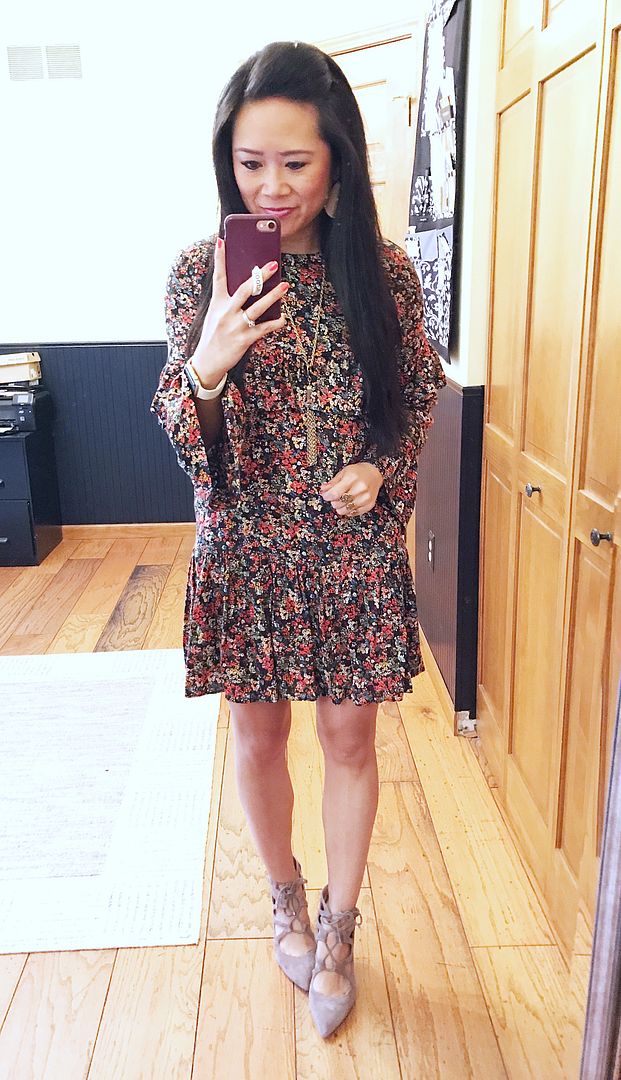 Necklace: CS Gems (c/o) | Dress: Zara (other floral dresses here, here, here, here, here) | Shoes:
Vince Camuto "Bodell" (other suede lace up pumps here and here)
And last but certainly not least is this little floral number. The last time you saw this, I was all layered up in this post here. Last Friday when I was getting ready, I really wanted to wear a dress because, well, it was my girl time and nothing usually fits me except dresses. I looked through my collection, but nothing jumped out at me until I saw this one, and I got all sorts of happy! The long sleeves were perfect, too, because it wasn't entirely warm on Friday. I tried on a few pairs of pumps and booties with this, but these lace up pumps definitely were the best option. I felt boho-chic in this!
Whew! That's it! Sorry the bulk of everything is no longer available, but again, I hope this serves as a good resource for not only seeing how I styled these same pieces before, but for jogging more ideas in your head for color and print pairings! Have a great weekend and happy Cinco de Mayo!

SHOP THE POST: