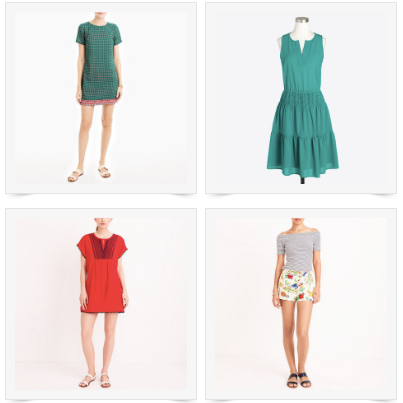 I feel like I was doing really well there for awhile by not being tempted with sales and such. I think a part of it was the fact that I have been so busy that I haven't really had the choice to shop or not shop - I simply didn't even have any time to look. But alas, it's June and we're going to a beach house with his family the week of July 4th and I've started to realize I should probably stock up on some more summery things. The widget below is everything that is on its way to me as we speak.
Click the thumbnails below for direct links to shop

For the most part I've been trying to up my dress game again. I go through phases where I always wear dresses and then I never wear dresses. I'm at the point where I'm craving more dresses in my closet again and the ones that I do have seem to be a bit too big on me, so I'm feeling like I'm extra slacking in the dress department.
The other thing I've noticed is that I have a ton of flowy, tunic-type tops, but I'm lacking just regular, more fitted (but not body conscious) tops that hit me right at my hip. I'm trying to fill that gap in my wardrobe as well.
Once everything has arrived, I will have to report back and let you know how everything has worked out!