Dear 2017: How about you slow your roll just a little bit?!
The last Wednesday of the month means it's time to link up with
Mel
,
Shay
, and
Sheaffer
for What's up Wednesday.
Every time I write one of these posts, I am reminded how fast time passes. It's amazing and scary, and I seriously do wish time would stand still for two weeks so I could catch up on life! I can't complain. All the things that are happening at the moment are all good things! While I catch you up, I will sprinkle in some outfits selfies along the way. Let's get started!
What we're eating this week:
Cinnamon glazed pecans!!! When I was in Boulder last week, I picked up some snacks at Target to keep me from getting hangry during the lectures so I could stay focused. I decided to try these cinnamon glazed pecans and quickly became obsessed. I almost ate half a bag during one sitting. #sorrynotsorry I brought the leftovers home with me and made the husband try them and he was equally impressed.
Me with my co-workers volunteering at St. Louis Pridefest
What I'm reminiscing about:
Clearly, it's my Boulder trip. I have Boulder on the brain and all things Pilates on my to-do list. But one thing I haven't mentioned on the blog was a little work event last weekend. Our company was a sponsor for the 2017 St. Louis Pridefest and the 4 of us in the department volunteered to work our booth. We ended up being in charge of the photo booth. Hello! I'm a fashion blogger and social media addict - working the photo booth was basically the best. Job. Everrrr. And my co-workers are so fun. The fact that my boss was there and she is director level speaks to how awesome she is. I mentioned the "4" of us, and I realize there are only 3 of us in the photo. Our 4th and most important team member wasn't able to volunteer the same time slot the rest of us were, but h
ere's a photo of all 4 of us the day before testing out the booth.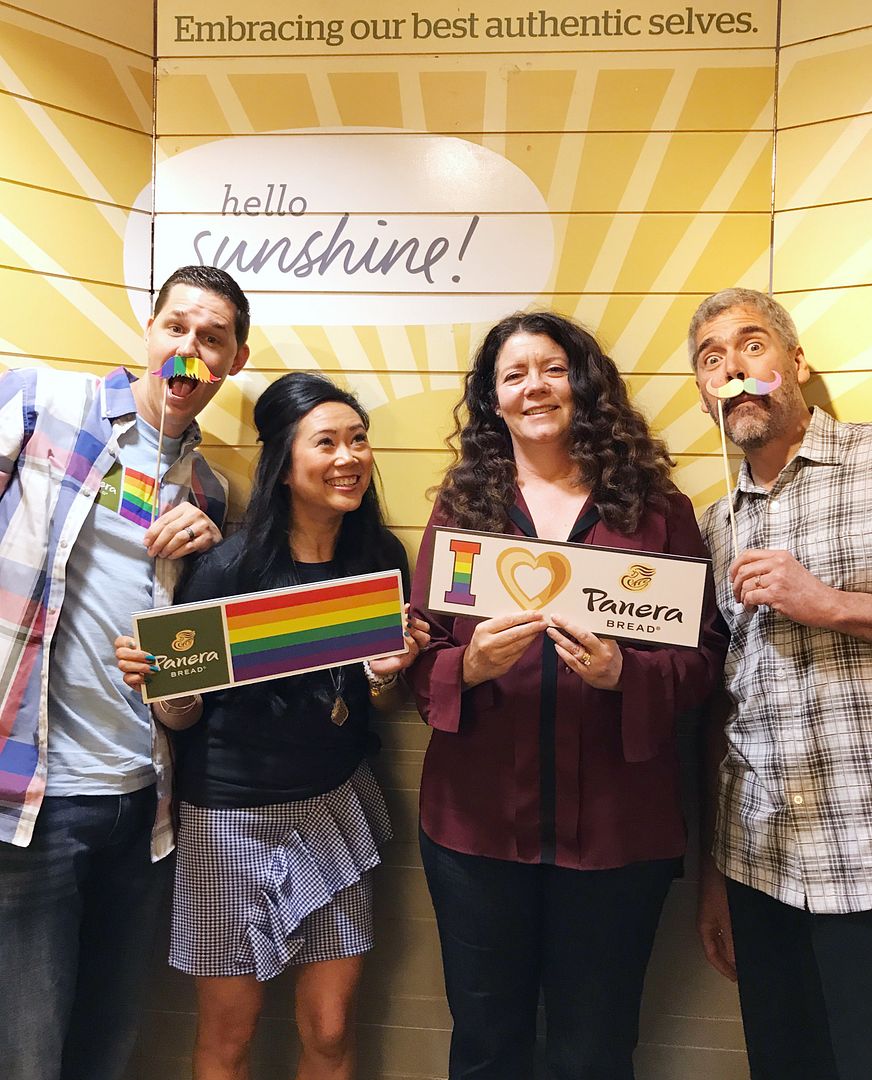 These really are the best co-workers ever. We have a "Team Awesome" text thread with the 4 of us, which is filled with Bitmojis, Gifs, and Urban Dictionary references. They're hard working but they know how to have fun and most importantly LAUGH. I laugh so hard with them, which definitely helps take the edge off work!
Floral dress and espadrilles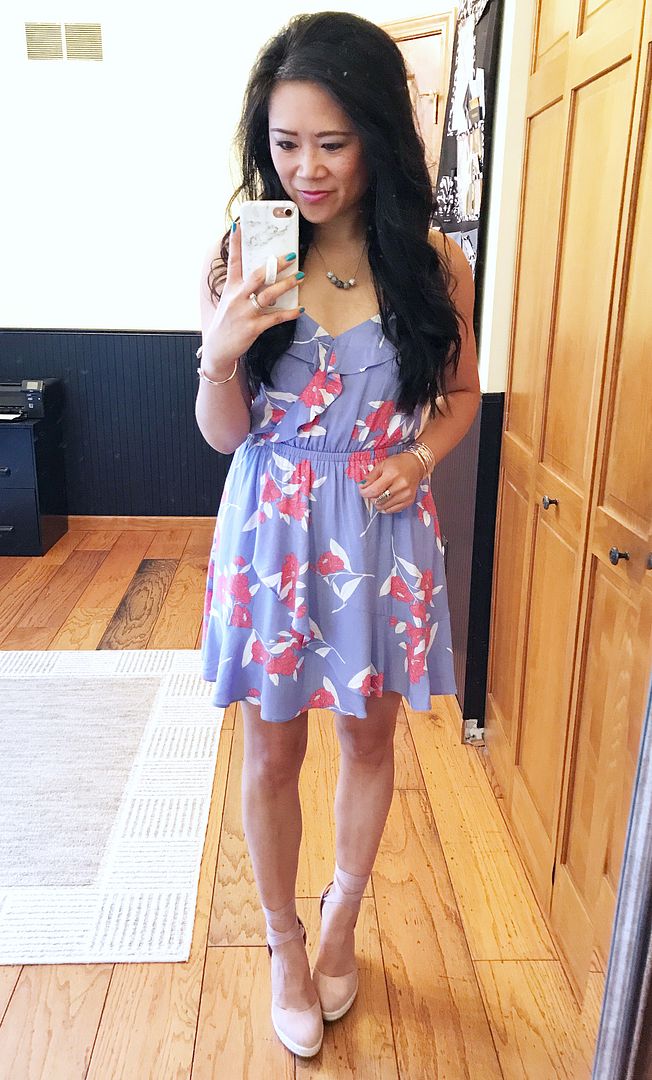 What I'm loving:
These dresses! I have somehow accumulated 3 of them. You can see the red one here and the olive version just showed up on my doorstep this week. It's so perfect for the warm weather. The fit is great - it runs true to size; I'm wearing a small. The shape is flirty and everything about it makes me happy. It's no wonder that Express has made it in different colors and prints - it's a great summer staple, I promise!!!
What I'm been up to:
Geez, what haven't I been up to??! I feel like I've been going non-stop for at least 3 weeks now. Let's see, this month, I got a new car. I spent an entire Friday taking Pilates classes and observing lessons while an instructor from Boulder was in town for a workshop. I worked a charity car show for the husband's Camaro Club benefiting the MDA. I've had to travel to Chicago, San Diego, and San Francisco for work. Throw in those few days in Boulder, along with my regular work schedule, Pilates, blogging, and going to Cardinals games, and I seriously have not had any downtime since, uh, Christmas break it feels like! My sister and I are throwing my dad a 70th birthday party the weekend after July 4th, so we've been strategizing behind the scenes for that as well. You know. In my spare time and all!
Stripe tank and colorblock skirt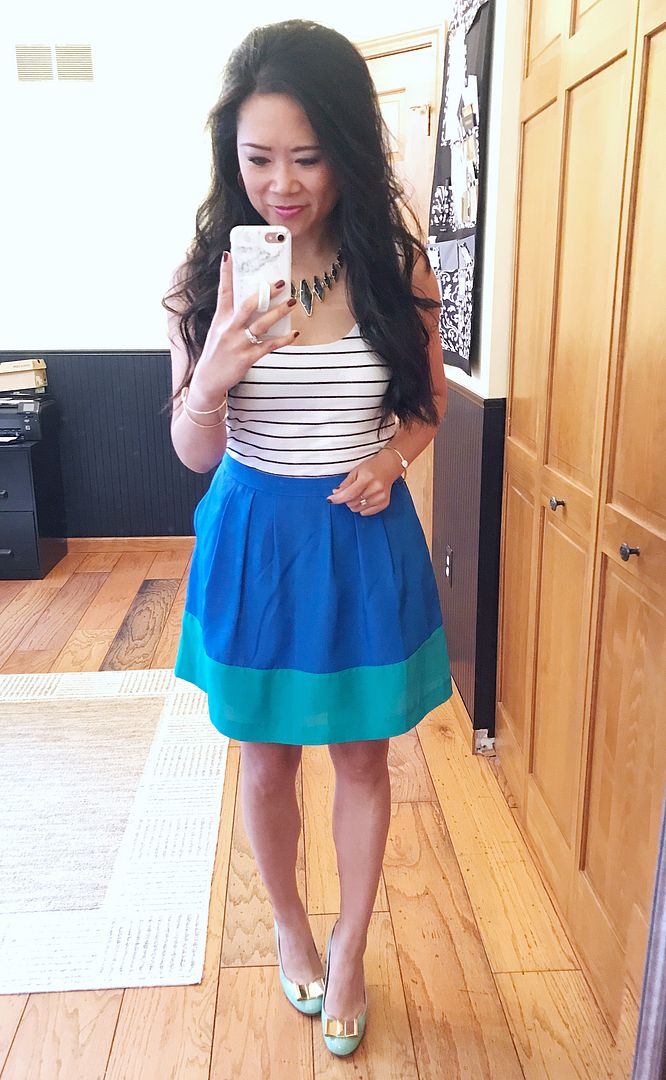 Necklace: Kendra Scott "Berniece" (other color here) | Top: Express | Skirt: J.Crew Factory | Shoes:
Kate Spade
What I'm excited about:
Vacation! We are taking the entire 4th of July week off and spending it in the Orange County area! I've never really traveled for the 4th, but I hear fireworks on the beach is pretty amazing! His parents rented a beach house for the entire family - it will be us, his parents, his oldest sister with her husband and their two boys, and his younger sister. His brother already lives in SoCal with his girlfriend, so while they won't be physically staying with us, they will be keeping us company! AND, my family is in the area as well, so I will get some face time with my own family, too! It should be a fun week!!
Blue cami and stripe wrap skirt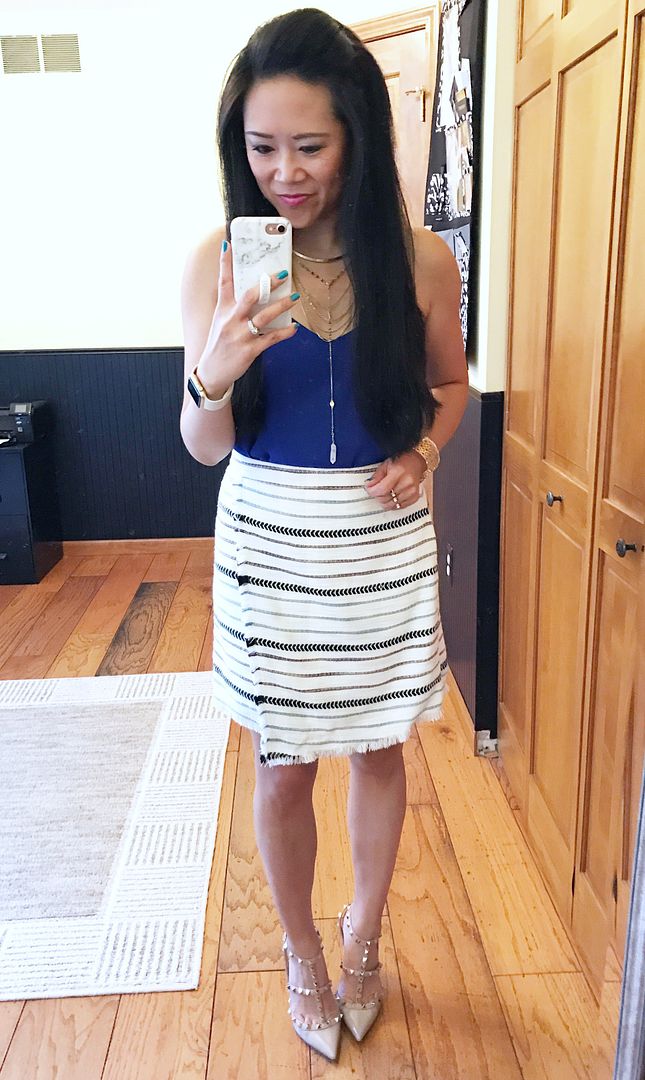 What I'm listening to:
One of my favorite songs at the moment is "Say You Won't Leg Go" by James Arthur. I'm a sucker for sappy love songs, and this one is so good and so, so sweet. The melody almost makes me want to happy cry. If I weren't already married, I'd want this played at my wedding! Oh gosh, and I just watched the video and now I'm crying! Ha! Whoops.
What I'm wearing:
Well, if you didn't notice, I'm wearing all my skirts and dresses lately! It's been deathly humid in these parts, so pants really are not an option. I've been slowly working on building my skirt and dress collection back up this season!
Gingham skirt and chambray espadrilles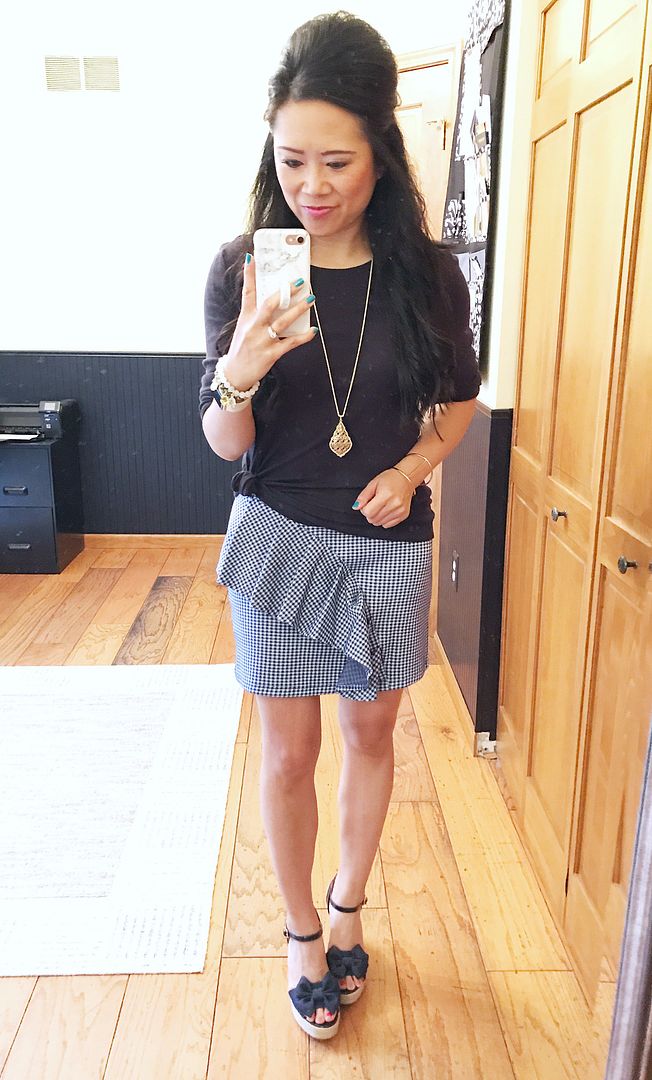 What I'm doing this weekend:
Well, we have a Cardinals game on Friday night, and thankfully we don't leave for California until Sunday morning. That gives me Saturday to get my life together, pack, and hopefully get a good night's sleep. It's always crazy hectic before and after a vacation, and I dread that stress! It will all be worth it though. I'm looking forward to working on my tan!
I think that basically covers everything for June! I can't think of anything else new that I haven't already mentioned on the blog or in this post. Halfway through the week! Hope yours is going well!!

SHOP THE POST: