Before I get into this post, I know I picked an odd week to get my blogging schedule back on track! Thanksgiving is a crazy week in and of itself, after all, and my normal outfit posts don't seem super relevant with Black Friday and holiday shopping, etc. So, just to give you a heads up on my schedule this week - I have my Pilates recap today (#sorrynotsorry but I can't put off writing about this ginormous milestone in my life), I have an extensive gift guide post + giveaway coming at you for tomorrow (Tuesday), I will share my random roundup post with you on Wednesday, and then sometime over Friday/Saturday, I will share everything I got for Black Friday, because I do plan to do my normal 6am shopping on Friday! Ok! Not for Pilates.
Sweatshirt: Pilates Nerd (in gold letters here)
When I was flying to Boulder for my practice practical, I ran into one of my co-workers who was on the same flight for a separate reason. When I told him the purpose of my trip and that I was a little anxious, he said, "Well, can you really even teach Pilates bad?" Implying that it should be easy and why would I even be worried. This is the time when I have to toot my own horn. It's time to stop being humble and say that finishing this certification program is a BIG EFFING DEAL.
Teaching outfit on day 1-
Teaching a group class is way different than teaching a private lesson one-on-one with a client. When you're in a group class setting, yes, you give cues to try and facilitate better body movement and balance, but you can't give each client the attention you could in a private class, so your cues tend to be more generic, speaking to choreography, set up, and breathing. This Pilates certification program that I just completed focuses on how you teach clients one-on-one. They want you to be able to spot an imbalance or a deficient movement skill and then speak to that one skill in every exercise in a way that helps your client improve by the end of class. These cues aren't meant to just help them in class though. They also help build awareness in your client's everyday life so they can continue to improve themselves even when they're not practicing Pilates.
Admittedly, I taught many of my one-on-one practice teaching classes as if they were group classes. You kind of have to because that's the only way you will be able to learn the basics like equipment set up, repetitions, choreography, and transitions - not only learn them yourself, but learn how to teach them! When I say "teach" I mean using your words efficiently to get your clients to do what you want. We are not demonstrating when we teach, so it's not like they can just mimic what you are doing. You have to be able to articulate your words and cues in a way that is concise and efficient.
That said, it took me almost the entire program to realize what the true point of Pilates is. You're not teaching exercises, you're teaching movement skills. You're not teaching a spine how to be a spine. You're training the surrounding muscles how to better support the spine and all of its movements.
My final exams were split up into two days. The first day was from 12pm to 2pm. I had to teach the same client one full intermediate reformer class and one intermediate mat class. I knew who my client was going to be, but aside from that, I really had no experience with her body at all. It's not something I could "study" ahead of time because bodies can move differently anyway on a day to day basis. When I asked her if there was anything I needed to know about her body, she mentioned her feet - her metatarsals tend to be scrunchy and tight. When she started the first exercise with me (footwork), the parts of her I was most drawn to were her hips!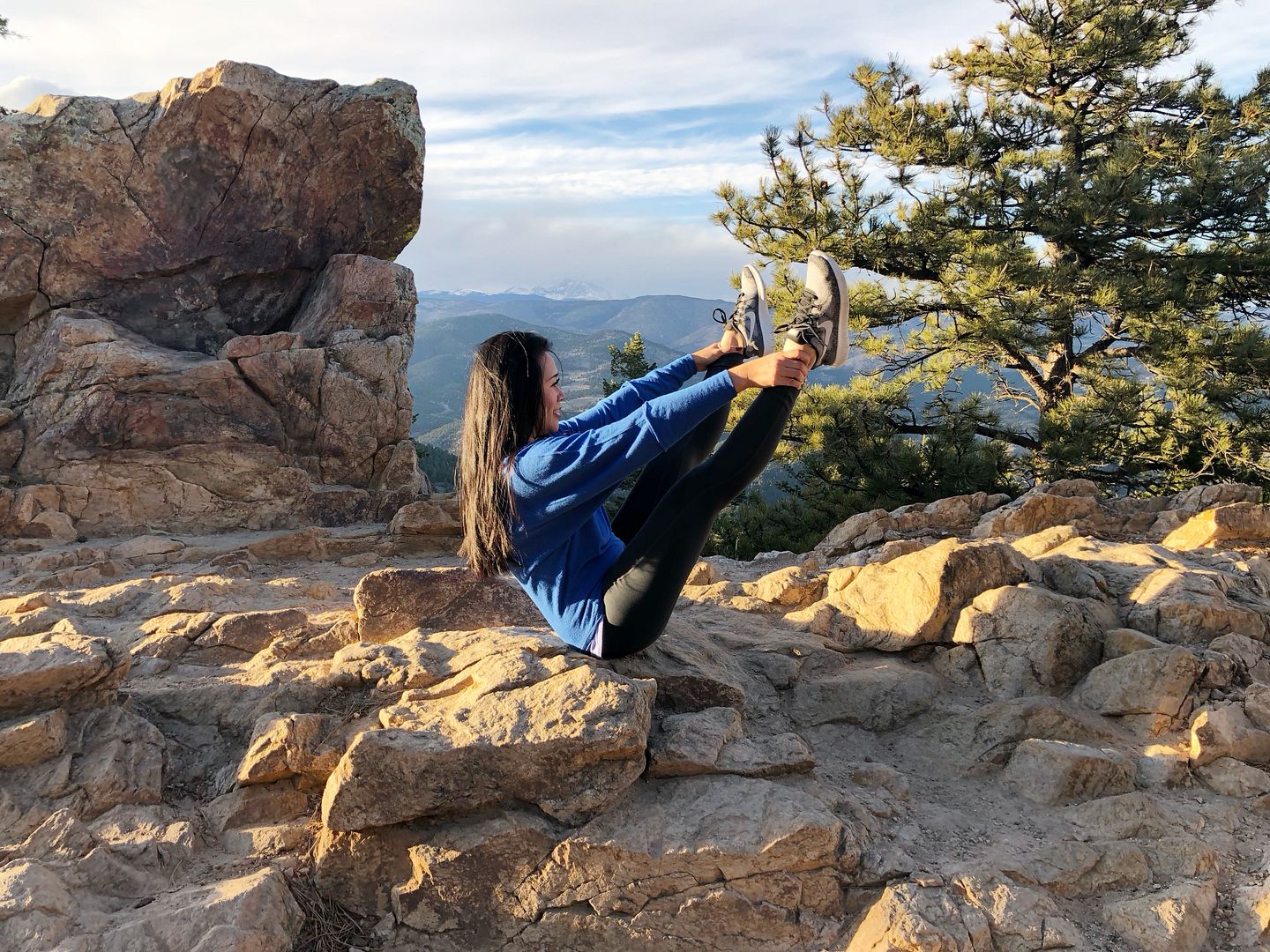 Footwork is basically lying on your back on the reformer. Your feet are on the footbar and you're straightening and bending your knees to open and close the springs, almost like you were doing squats except you're laying down. I noticed that as she bent and straightened her legs, her knees had a tendency to rotate towards each other. I asked her to pretend her knees were like headlights pointing straight up to the ceiling so that when she bent her knees, her knees would stay aligned with her second toes rather than rotate in. I also didn't want her knees to touch, so I kept asking her to keep a sliver of daylight between them at all times. She did what I asked, which forced her to use her hips more! She said to me, "My legs are burning! They never burn!" And then I got goosebumps!
I stuck with the hips theme for the duration of class. Remember how she said she had tight feet? Well guess whose feet were so open by the end of class?! She pointed at them amazed and said "They have never looked that open before!"
And then I got goosebumps again!
With these positive breakthroughs, I was feeling pretty good about the exam, but I was floored talking afterwards with the Licensed Teacher that observed me teach. She told me that she didn't think the intermediate program was going to satisfy me and that I would end up taking the advanced program because she felt I was that good of a teacher. !!!!!!! What a freaking huge compliment! I stifled back happy tears.
Workout outfit day #2-
I'm not sure if I was more worried about teaching or my final performance. On one hand, I felt like there were more variables in the teaching - variables I couldn't control like how would the client be moving? Would I be able to spot a change needing to be made in their body? Would they be receptive to my corrections? For my final performance, I was in control. It was all on my body and on my mind. I've done these exercises over and over. I knew the order, I knew the choreography. I just needed to do it. Sounds simple enough, but I was still freaked out about it.
As I was mentally preparing for my performance, I was feeling like my body wasn't where I had hoped it would be in a year's time. Life got in the way, work got busier, and I know there were times in there when I couldn't work out as religiously as I would have liked. To a certain degree, I was feeling like my body was better at the beginning of the program than it is today. I decided to look back at my videos from a year ago and compare them to today as a way to reassure me that progress is progress and there isn't a reason why I should not be confident.
Me doing "Overhead"
Top photo one year ago, bottom photo two weeks ago
Overhead has been one of those nemesis exercises for me. It took me over 2 years before I could even do it - getting my legs over my head. There are obvious differences in these two screenshots above that are taken at the same point of the exercise as my legs are lifting. The videos of these two are fun to watch side by side! In the top, my legs are not together because they were flopping around like a fish tail as I tried to get my legs up. You can even see that my wrists are lifted as I am physically trying to keep my bottom up by using my fingers to push myself up. Using my fingers to push down and support me means I am not using my belly nor am I using my triceps to support my shoulder girdle. It's funny because as I'm working out just two weeks ago, I'm still feeling like I look like the top photo, when that clearly is not the case. I am glad I have these videos to keep myself in check.
So how did my final performance go? It was work, I'm not going to lie. My first attempt at Overhead was not pretty either, but the 2nd, 3rd, and 4th reps were better. It took me a few exercises to settle my nervous system. And the Licensed Teacher who was observing me was amazing, which also helped settled my nerves. She cued me from the sidelines and helped talk me through the workout. It ended up feeling more rewarding than I expected because I learned SO MUCH from her feedback that it felt more like a class than a performance. My scores were way better than I anticipated, and I truly can't speak enough about how valuable those two hours were to me.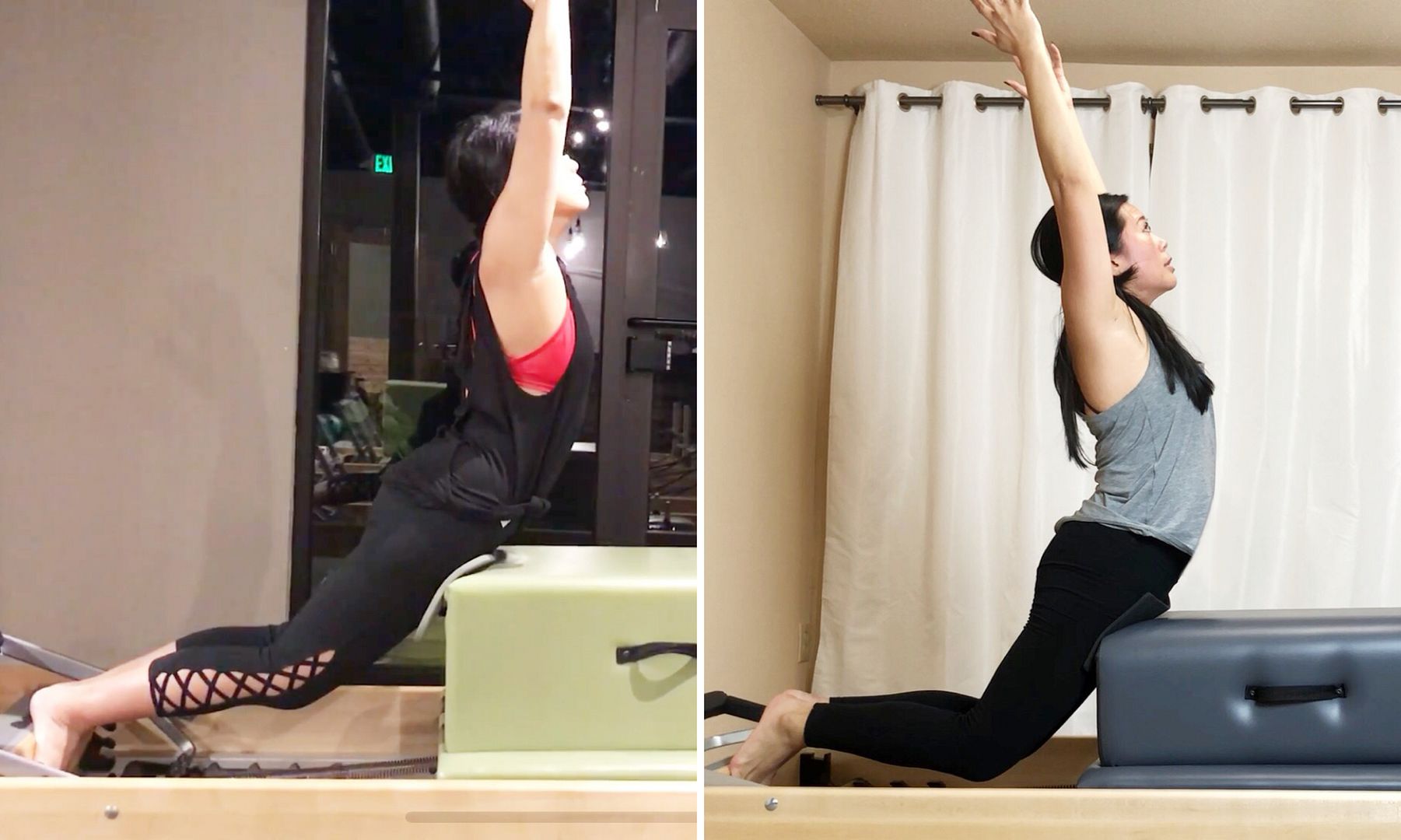 Top photo one year ago, bottom photo two weeks ago
I got back late Wednesday night, so first thing Thursday, I logged into the system, entered my scores for both days, then completed an exit interview and my graduation form! The rest is history! Last night, I was reading this post I wrote last year when I first decided to take the program. It gives me chills reading it knowing what I know today. As we were driving to the airport, I randomly started happy crying. Yes, part of that comes from the relief of that big load off my shoulders, but it was also the disbelief that I actually DID IT! 450 hours of Pilates in the last year. If you do the math, that comes out to average 9 hours each week for a year, on top of the 40+ hours I work in my full time job, the 10 hours I spend in my car commuting to and from work, and the 8-12 hours spent on this blog. How I found the strength for all of that amazes me. BUT I DID IT!
These views in Boulder were just what I needed after the exams. Beauty as far as the eye can see! I left feeling super pensive and reflective and most of all thankful. Peace out, Boulder! But it's not goodbye for good, it's only the beginning! I will be back.