Everyone seemed to enjoy me sharing my random roundup outfits last week in chronological order Monday through Friday, so I thought I would do the same this week - explaining outfits as well as hair styles along the way! Let's get started!
Monday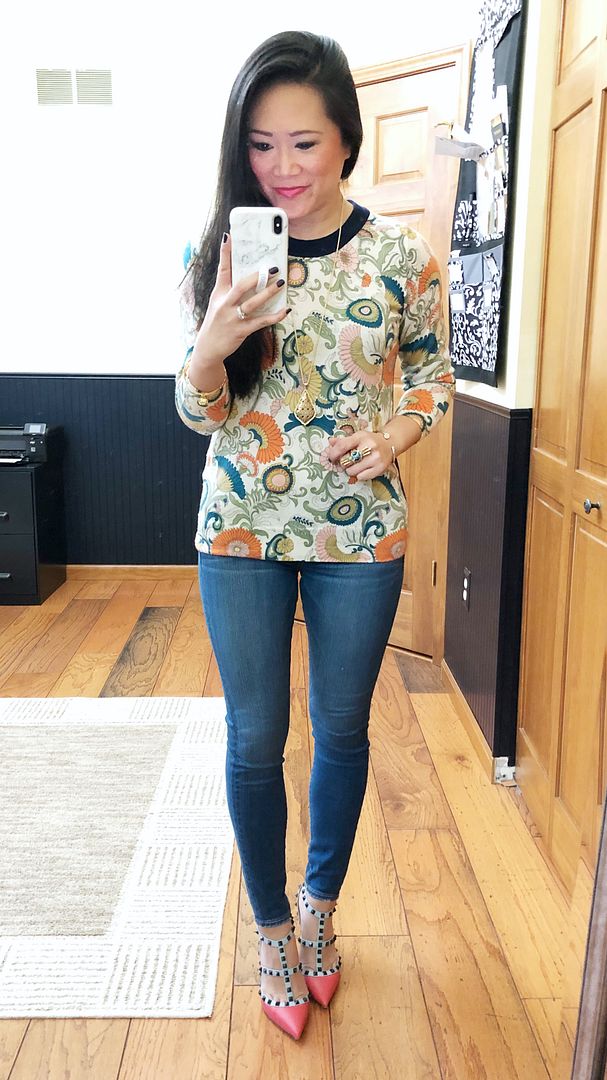 This sweater is one of those easy pieces that I can throw on pretty effortlessly like it is a tee shirt. Unfortunately, it's about a year old, so it's long gone now, but I need more things like this in my wardrobe. It's a statement in and of itself, but that didn't stop me from pulling out these shoes, which subsequently got quite a few compliments this day even though I've worn them several times to the office before!
My hair is typical first day hair. Wash and go with a quick 5 minute blow dry with my Dyson blowdryer. Yes, it's quite an investment piece, but it will change the way you look at blow dryers again! After using this - using a hotel blow dryer feels like it sucks years off your life because it's SO SLOW. My time is valuable and even if that means gaining 10-15 minutes of more sleep because I don't have to use that time drying my hair, I will take it!!
Tuesday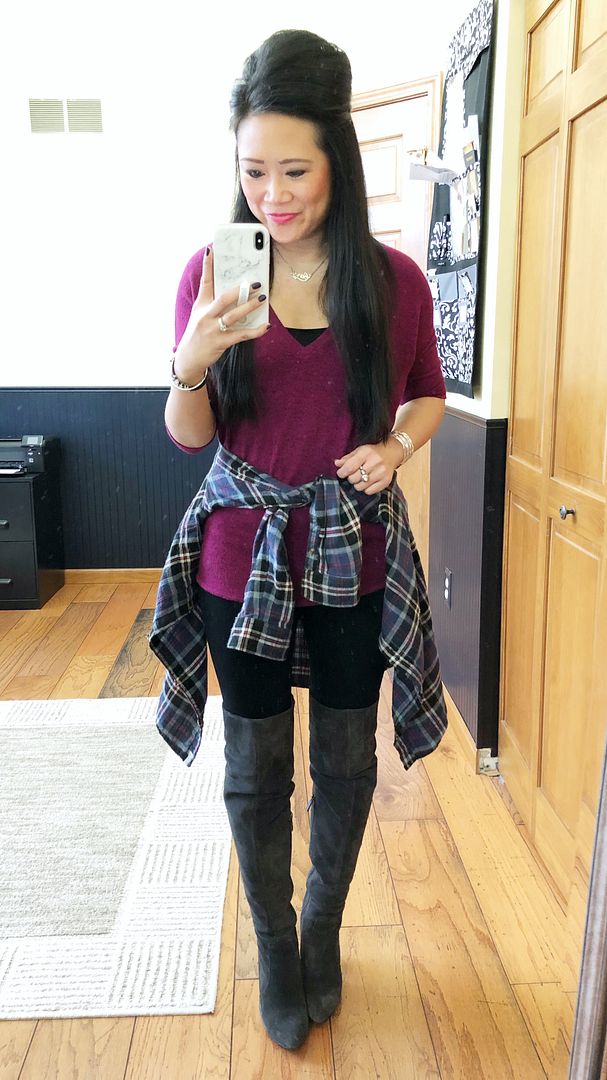 Tuesday is my teaching day after work, so this is also the outfit I taught in (after ditching the over the knee boots for some sneakers.) I usually like to curl my second day hair, but I was running late this morning and didn't have the time to do so and ended up pinning it half up instead. I prefer the way this style looks with leftover curls, but I had to make do and get myself out the door!
Wednesday
Wednesday, I had to promote my "red" styling blog collaboration by dressing to the theme! If you didn't catch that post, you're missing out and should get yourself caught up here. I stole this outfit combination from Rachelle's interpretation of adding red to her outfit. I love wearing a good blazer and I love this outfit combination!
I can't go three days in a row with straight hair because it starts to look super flat and sad. I had to pump up the volume a bit and add all over curls.
Thursday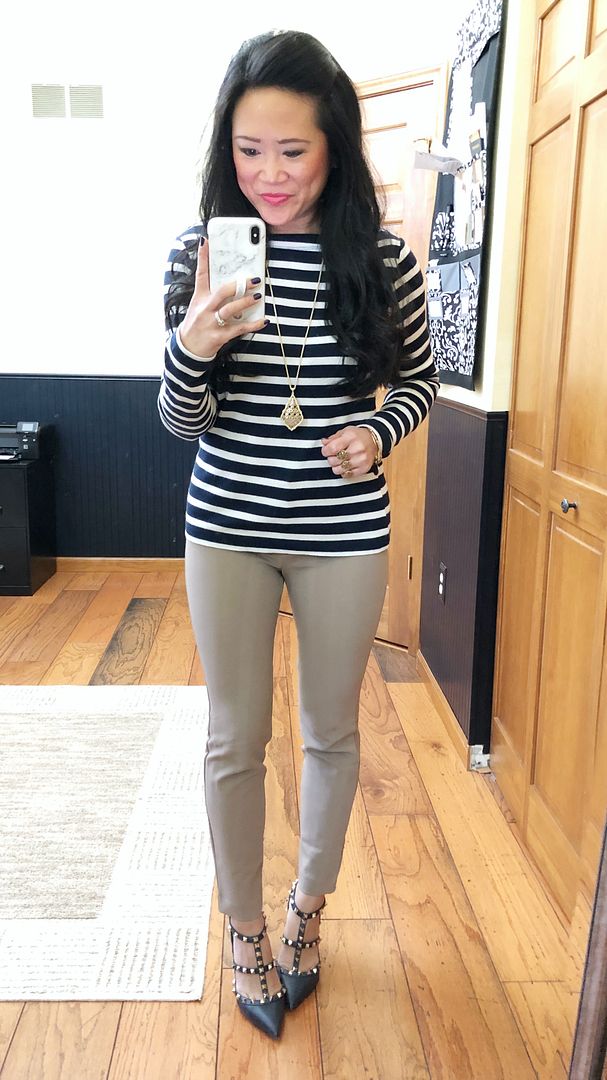 These pants are a rarity in my closet in that they are not jeans and they are not leggings. They're the closest thing to dress pants that I have! While I do wish they were low rise vs. mid rise, I do really love how crisp they stay morning until evening. I have them in black and burgundy as well. I see they now come in navy. I might have to pull the trigger on that sometime.... The pants pair perfectly with this stripe bateau neck top that I have in other solids and stripes from Gap. Such an easy outfit when you add a long pendant and statement heels!
As far as hair - nothing is faster than a quick tease and side pin of my bangs. I do have to tease my crown as well - that's actually the most important part of styling dirty hair as it camouflages the bed head.
[Flannel] Friday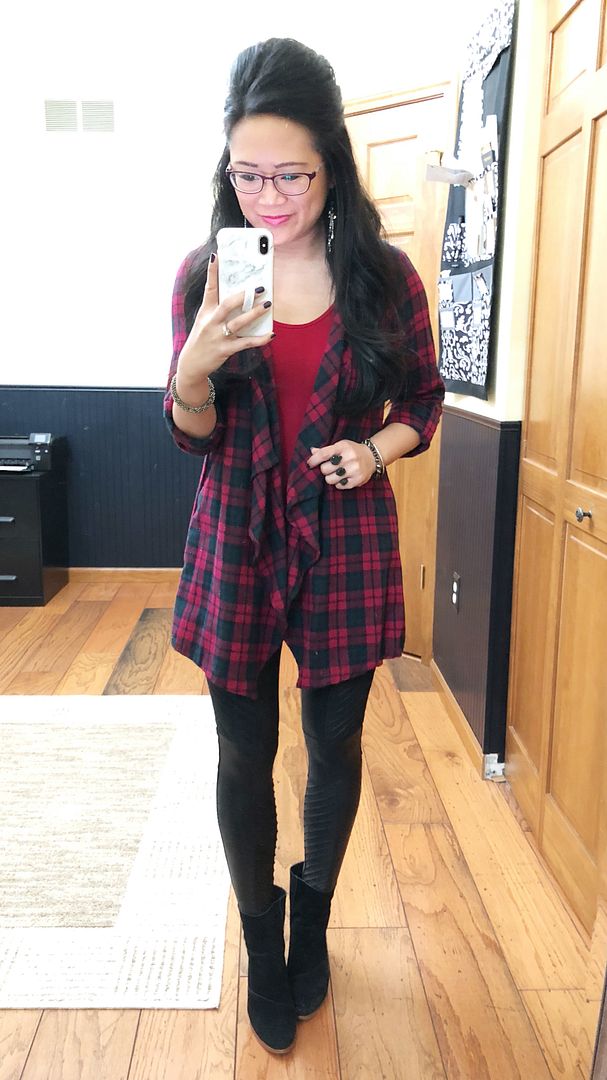 Cascade cardigan: Grace and Lace (current color here) (c/o) | Tank: Grace and Lace Perfect Fit | Leggings: Spanx faux leather moto leggings | Booties: Matt Bernson "Brooklyn"
Fridays have been deemed "Flannel Friday" at the office and it's quite contagious. It started with the design department, but now the husband (who is in real estate) and other friends in purchasing and facilities have started to participate as well! This cardigan is a fun take on the flannel. There is a big lace detail at the back that I call my doily.
My eyes had been bothering me Wednesday and Thursday, so I opted to wear my glasses on Friday and avoid the headache. For some reason, I *HATE* wearing my hair up when I wear my glasses because I feel like I've given up on life at that point. So, even though this is 5th day hair and it would normally be well up and out of my face, I dealt with the dirt since I had my glasses on. I know that sounds like I'm a freak, but I just can't deal!
Ok then! That's another week of my outfits of the day!! Hope you all had a great week and I'll see you back here on Monday!

SHOP THE POST: