Trying to get back into the swing of things and my normal routine. So just like every Friday (mostly every Friday anyway...) here are some outfits lately. Let's get to it!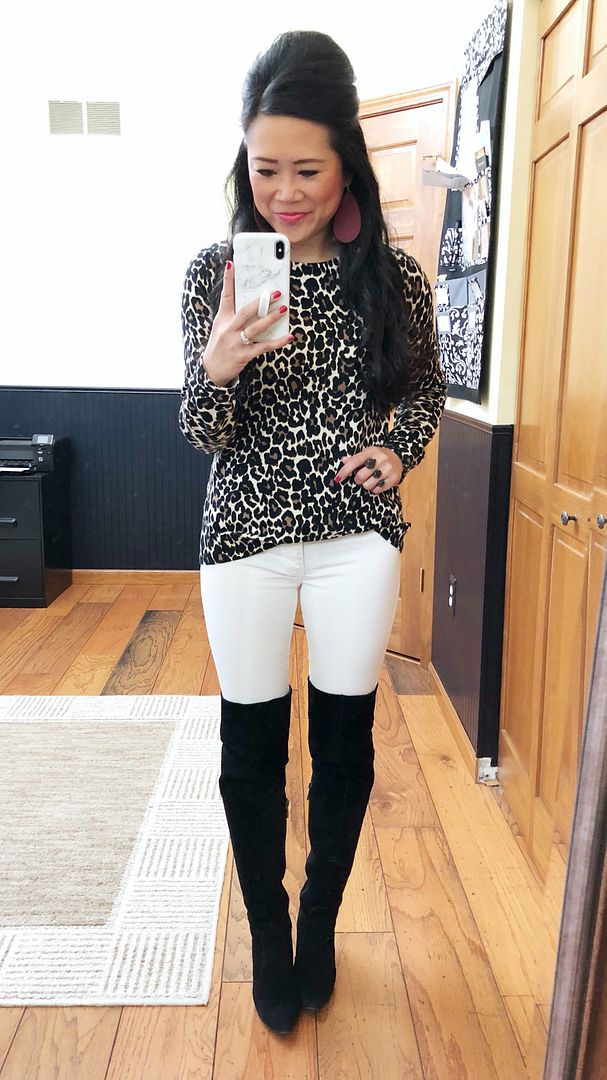 Earrings: Nickel and Suede | Sweater: JCrew Factory "leopard teddie sweater" | Jeans: American Eagle | Boots: Vince Camuto "Hollie"
This is the same outfit combo I was wearing in this post here, except I was wearing it in St. Louis in February instead of Florida in February. Big difference! I opted for over-the-knee boots instead of the peep toe booties, and I'm still very happy with the combo. It makes me happy how well these earrings go with this sweater!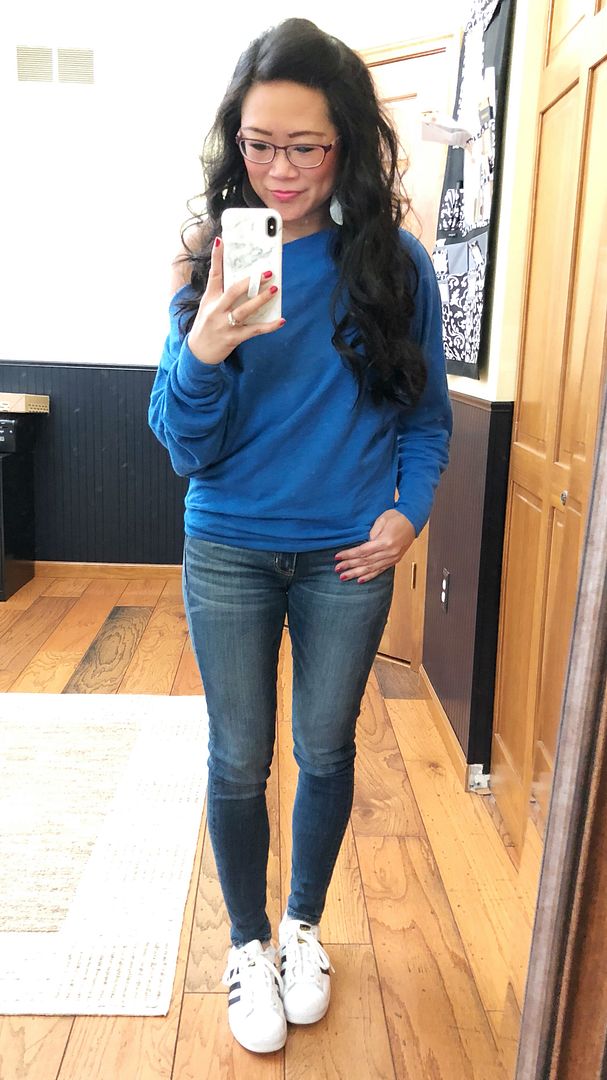 Not to keep dwelling on the topic, but this is what I wore the next day after crying my eyes out the night before. Have you ever looked at your clothes thinking, "What the hell do I have strength to put on today?" And this was that for me. The comfort food of outfits. My favorite pullover sweater, skinnies, and easy sneakers.
If I don't wear a flannel on Friday, I tend to get a lot of crap from my co-workers! I guess that's what happens when you yourself promote the day so heavily! Of all the flannels I own, this one is my favorite. I know that means nothing to you guys since it's no longer available, but it's true. And I loved how it looked with the neutral peep toes.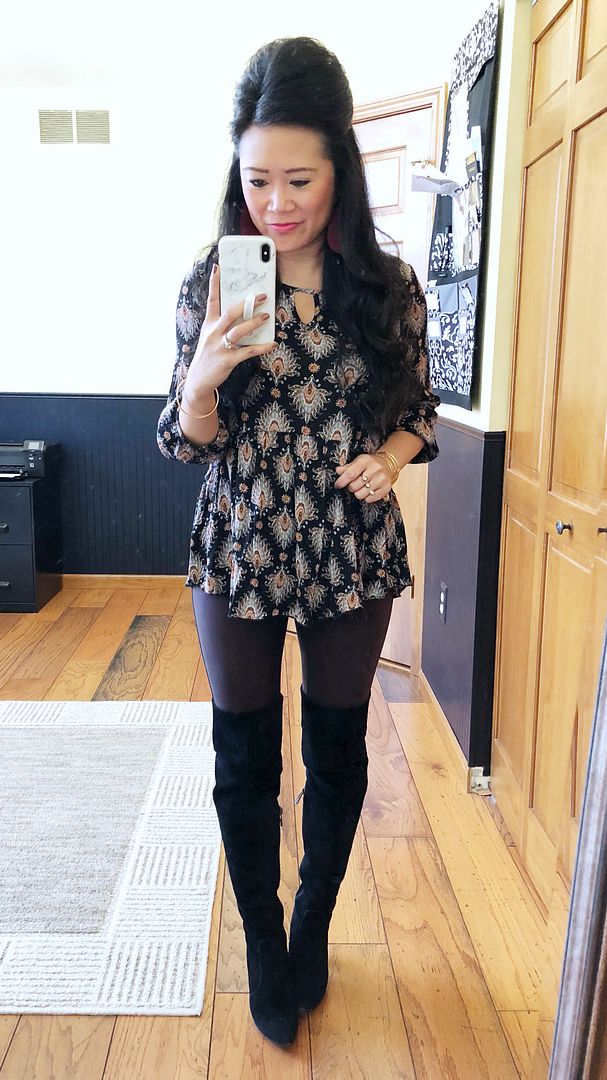 One thing that I love about Grace and Lace is that their products stick around on their website forever. Which I appreciate as a blogger because I hate wearing things, you guys liking them, and them not even being available! That said, I got this top last summer, and it is still available and currently on sale for about $30 and change. I'm wearing this in a small. I love the print, and my torso is short enough to wear it with leggings, which is a plus for me!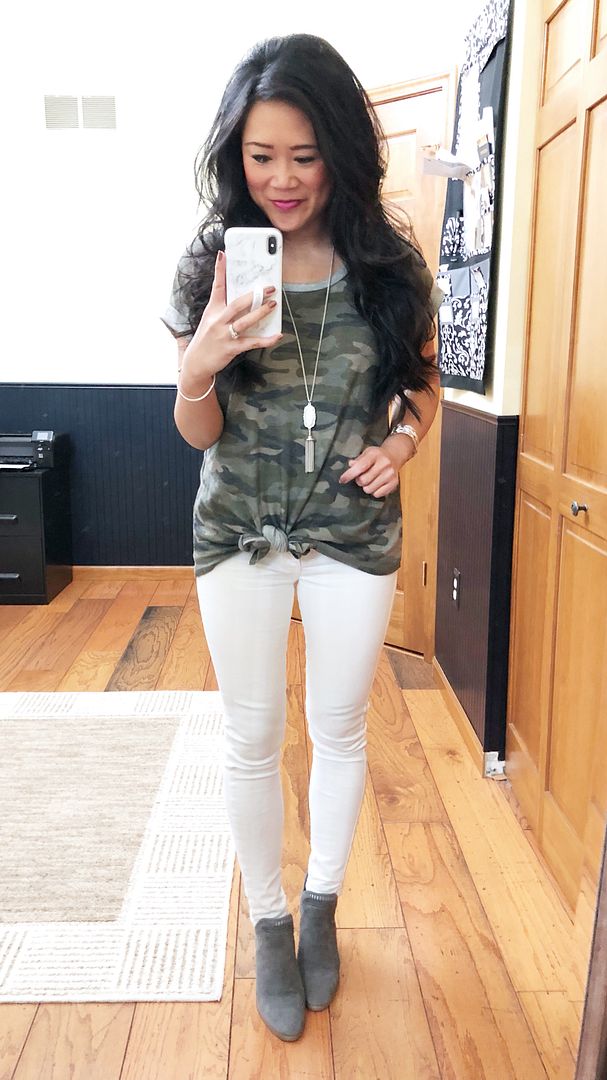 I'm linking to these booties even though they are sold out because I found them in black over the weekend in store on the clearance rack for $65, which is a hella good price! So, maybe you can call your Nordstrom sales associate to stalk them for you? Or maybe you will get lucky and run into them in person. Regarding the rest of the outfit - I'm quite certain I wear my white skinnies at least once a week so it's not a surprise that I'm bookending this post with them. This top has been stocked twice now and it's about to sell out a second time. Crazy, I know. I will tell you if/when it gets restocked, because you do probably need it. You can't wear it untied because it's shaped to be tied like this, but, the material is thicker than normal tee-shirt material but still super soft! I can certainly see why it's been so popular! If you happen to see it in your size, you can
use code CARYLEE15 for 15% off!
I feel like it's been forever since I've done one of these posts! It's nice to get another one under my belt. Have a great weekend!

SHOP THE POST: