Another Friday means another roundup of my outfits worn throughout the week. I had to travel all day last Monday, but these are the outfits I wore in chronological order Tuesday through Friday. It's nice to post them this way so you can see how my hair transitions throughout the week as well! Let's get started!
Tuesday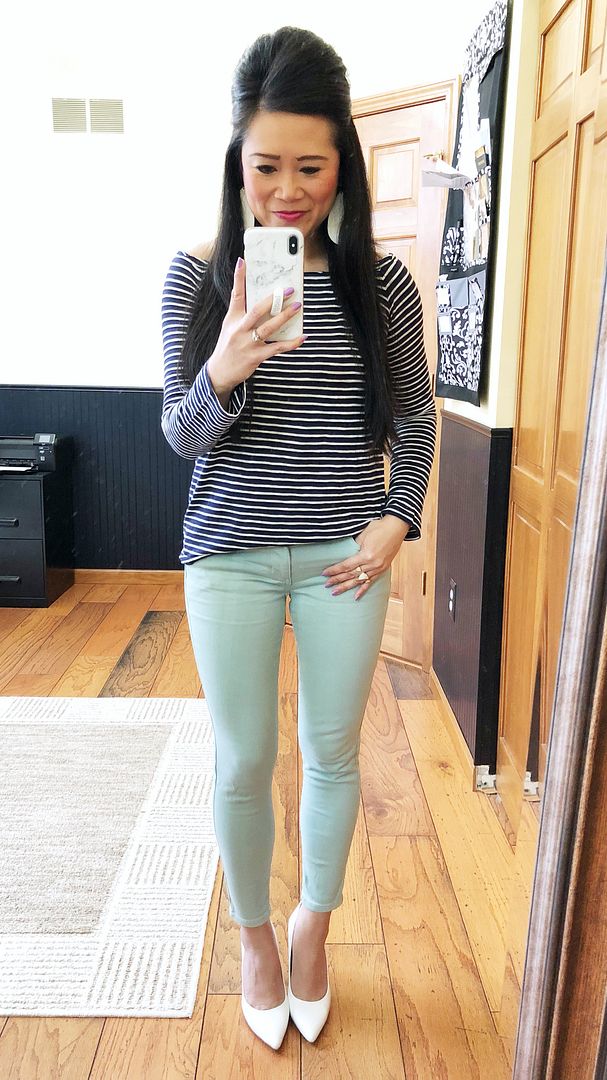 Monday was my first day hair, which lately I have just been blow-drying and then not even styling. Just letting it do its thang. For Tuesday, I didn't straighten it at all, just teased it at the crown and opted for this half-up do. I knew I wanted to wear the top from Wednesday's blog post, except I went for mint skinnies since I obviously couldn't do the shorts to work. I decided on white pumps because sometimes white pumps are just what an outfit needs!
This off-the-shoulder top from Express is new and I already ordered two more colors. I know, I know. I've said before that I need to stop ordering multiples in things, but I just really loved it and it is buy 1 get 1 at a discount so it's silly to just order one! Is what I tell myself. And now I have three. I definitely recommend it though. It's crazy soft and falls effortlessly off your shoulder without you having to fuss with it. The model shows it off both shoulders, but I preferred it off of just one.
Since my crown was nice and teased from the day before, that always makes for the best base for curling my hair. So, I curled my hair all over for my third day hair. I figured the big hair went well with this 80's inspired outfit. At least that's how I felt - off the shoulder, neon pumps, big hair. Totally 80's.
Thursday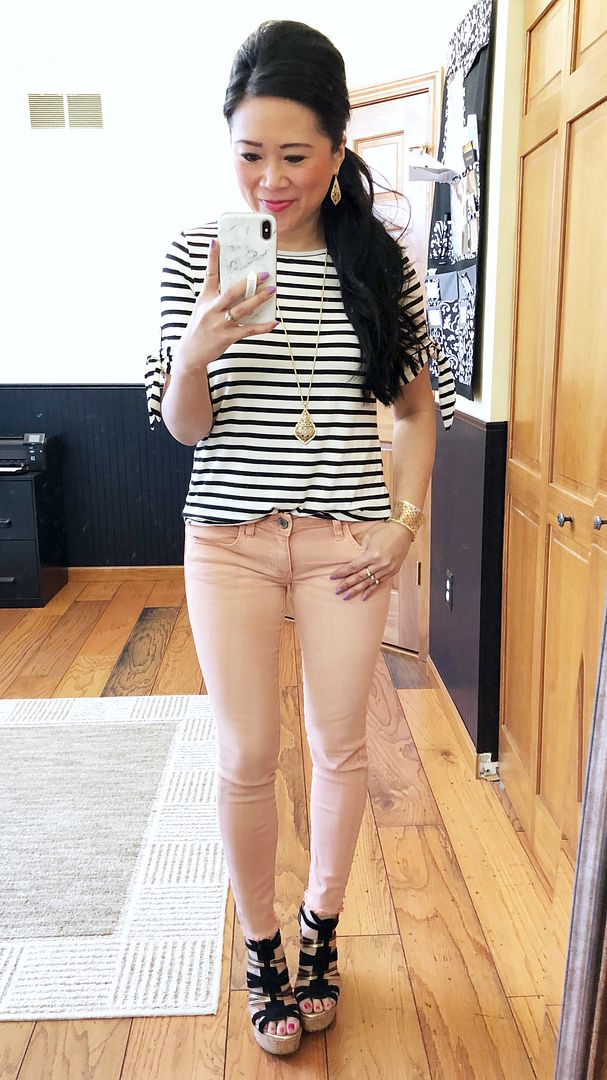 Admittedly, I woke up pretty late on Thursday and didn't have much time to think about my hair, so I pulled it back in my low, offset pony. Nothing super special about the outfit except for these wedges of course! I got them for half off a few years ago and at the time, I worried I was wearing sale goggles and I almost didn't buy them. But, I love them more and more every time I wear them, and they're pretty irreplaceable. They're super comfy too, which is just an added bonus to their beauty!
Friday
For Friday's hair, I just let it do it's thing again. I had some residual curls from earlier in the week, so there was a little wave to it. Not super curly, but not straight either. Sometimes I like it the best like this because it's low effort but has a lot more body than my normally stick-straight hair.
Now that spring is here(ish), I'm trying to steer the ship at the office from Flannel Friday to Floral Friday! The guys could wear their Hawaiian shirts or other "cabana" type shirt, and girls can bust out their florals. We will see if it sticks! I've gotten rid of the bulk of my portofino shirts. Not quite sure why, just realized I had a ton and didn't wear them all too often. This one is definitely one of my favorite all time prints, and every time I wear it, I get a ton of compliments, too. It really is a great, timeless, floral print!
And that is all for this week's roundup! See you back here on Monday!

SHOP THE POST: