Happy Cinco de Mayo Eve! I'm always down for some chips and guac + a good margarita! But let's be real, we do that any day of the year! It's fun to be festive though, so I thought it would be appropriate to open today's post with this flat lay!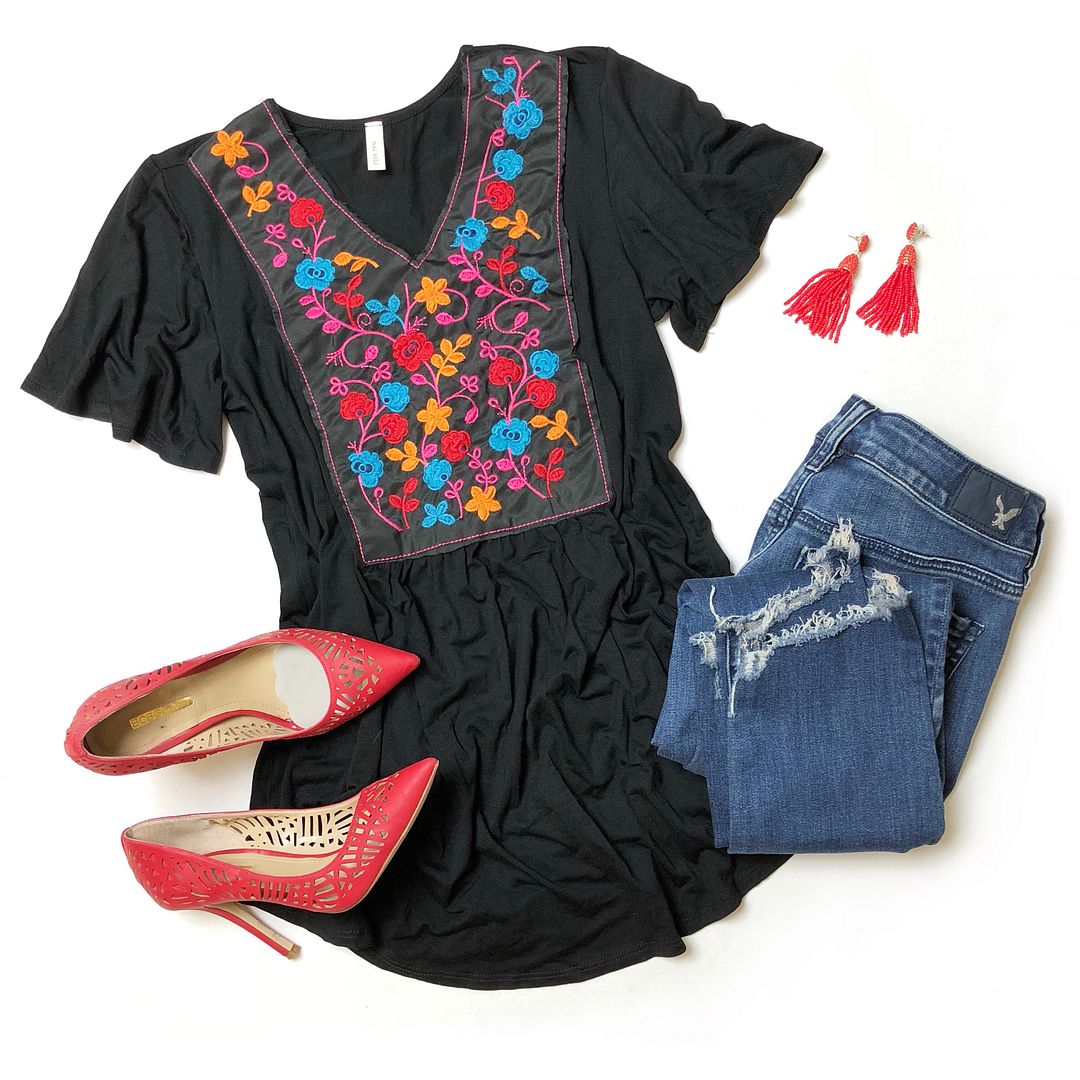 I did actually wear this tunic last week. Unfortunately, it was the day I was doing my wellness homage first thing that morning and I was wearing workout clothes instead of my "real" outfit, which meant I didn't actually get a photo of me in it. Sorry about that. I definitely recommend it though. I'm kind of excited to wear it as a swimsuit cover up over the summer, too!
Earrings: Nickel & Suede in large Merlot | Necklace: Kendra Scott "Rayne" (gifted) (similar here) | Top: Express | Bottoms: Express mid rise skinny pant (other colors here) | Shoes:
Sole Society "Katarina" (other colors here, leopard flat option here)
Since Express was having a 40% off sale last weekend, I went ahead and bought another color of these pants. They hold their shape well, and they provide a good alternative to jeans at the office. They're the only type of dress pant I own and the fit, skinny leg, and length are pretty perfect. I wear them in a 4 short.
I had this skirt in my "donate" pile forever, and then one day, I saw it, and missed it, and hung it back in my closet room. That was about two years ago, and I still hadn't worn it again, and I was THISCLOSE to donating it once and for all. But after wearing it again this week, I fell in love with it all over again. Especially when paired with these shoes!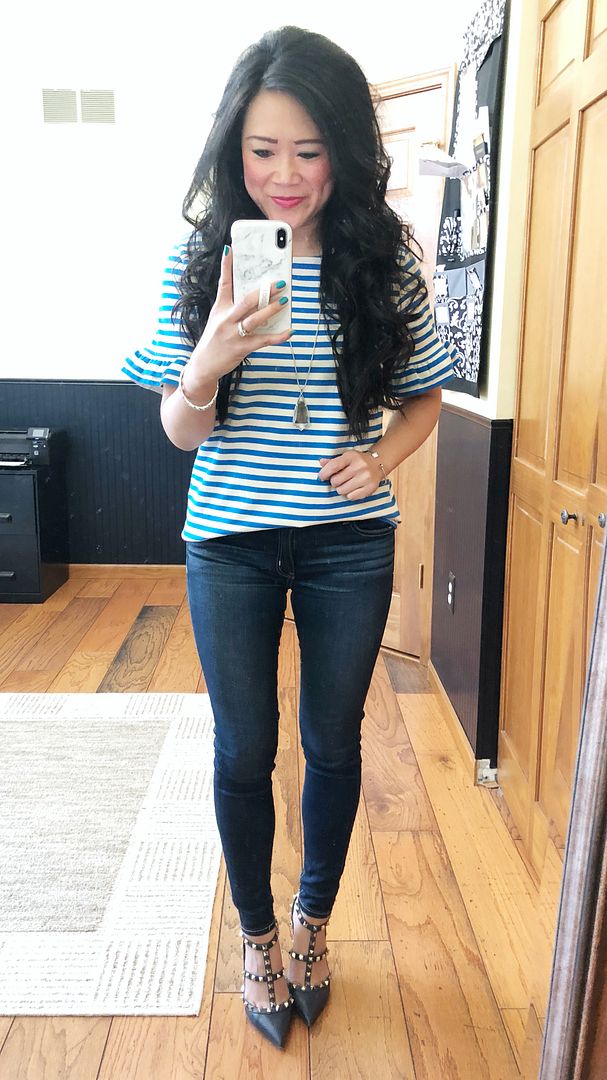 Tuesday night, I went to the baseball game. One of our vendors got a box for our department. It was a lot of fun, but it made for a super late night, especially since it went to extra innings and then we got a couple of drinks after the game. I ended up getting home at about 1 in the morning. I tell you all of this because this was my outfit the next morning. I hope you appreciate how much effort it was to get my hair curled and look put together! It was a long, tiresome day! I needed foolproof pieces like this top and my fave jeans (that I have in two pairs in the same exact wash because I wear them all the time.)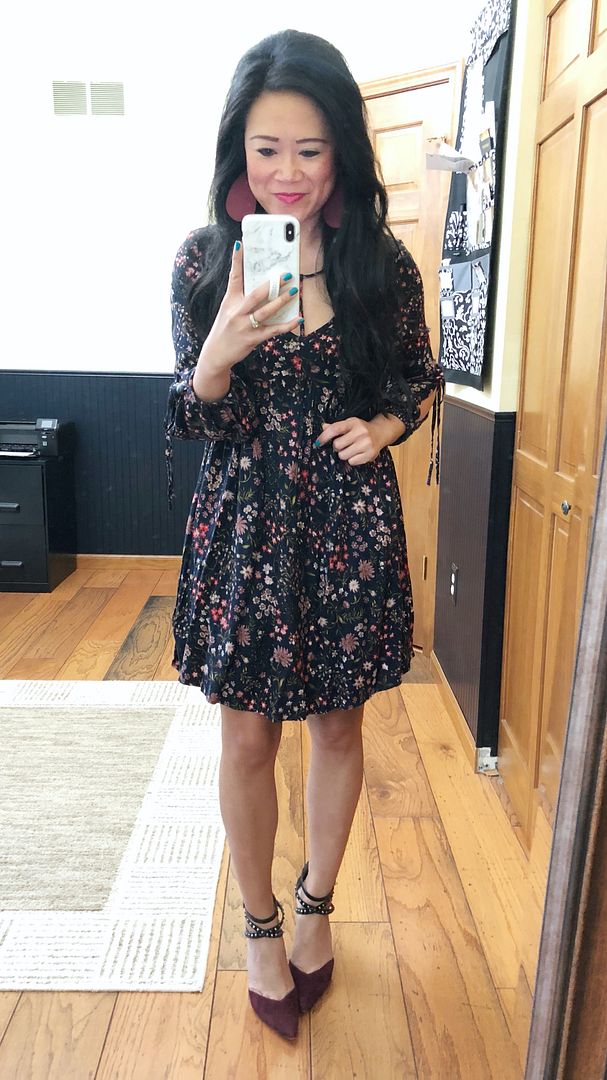 I told you I'm trying to make "Floral Friday" happen! It's not quite a thing yet, but I'm working on it! Regardless, there is nothing easier than throwing on a flowy dress. I always tend to go with neutral booties or pumps with my floral dresses, but I decided to pair a little sass with it instead this day with the studded strap pumps. These pumps are a Nordstrom Anniversary sale purchase from FIVE years ago! They're still one of my most favorite pairs of shoes to date. Doesn't that just make you happy?