Good morning (or afternoon or evening depending on when you read this....) and happy Monday! Hope everyone enjoyed their Cinco de Mayo or Derby Day, or whatever you had planned this weekend! We had some tacos and margaritas with friends Saturday evening and then went to the baseball game last night. The weather was perfect for both, so I definitely cannot complain! So nice to feel warmth on my skin again!! Let's get started with today's post.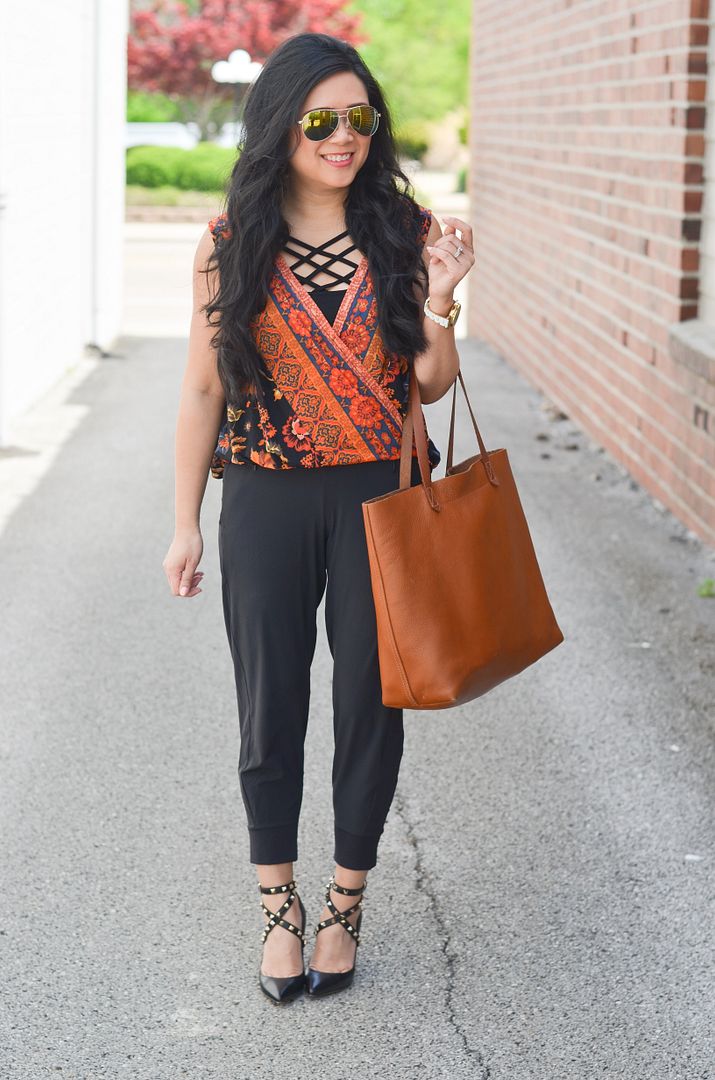 Outfit details--- Sunnies:
Vince Camuto |
Top:
Free People |
Cami:
CS Gems (similar) |
Bag:
Madewell "The Transport" tote |
Bottoms:
Athleta cropped "Soho" joggers |
Shoes:
Valentino "wraparound Rockstud" pump (budget options here and here)
---
A couple of weeks ago, I shared this jumpsuit with you here. I love the jumpsuit a lot and have been wanting to find a pair of black pants with the same shape, but just pants, not another jumpsuit. It's been quite a feat trying to find something so simple like this to fit my 5'-2" self!
I've owned two other pairs of joggers in the past as seen in the outfits/posts above. I liked them, but what you can't see in those photos is that I had the waistband folded over. Definitely not ideal, but if I didn't, the crotch would hang way too low in both pairs. And I wasn't a big fan of the length. I had been wanting them to have a little bit of a cropped length so that they didn't gather so much at the ankle and also make them a little bit more versatile with any kind of shoe. With the pairs above, I found it difficult to dress down with sneakers because there was so much fabric, sneakers made outfits look too bottom heavy.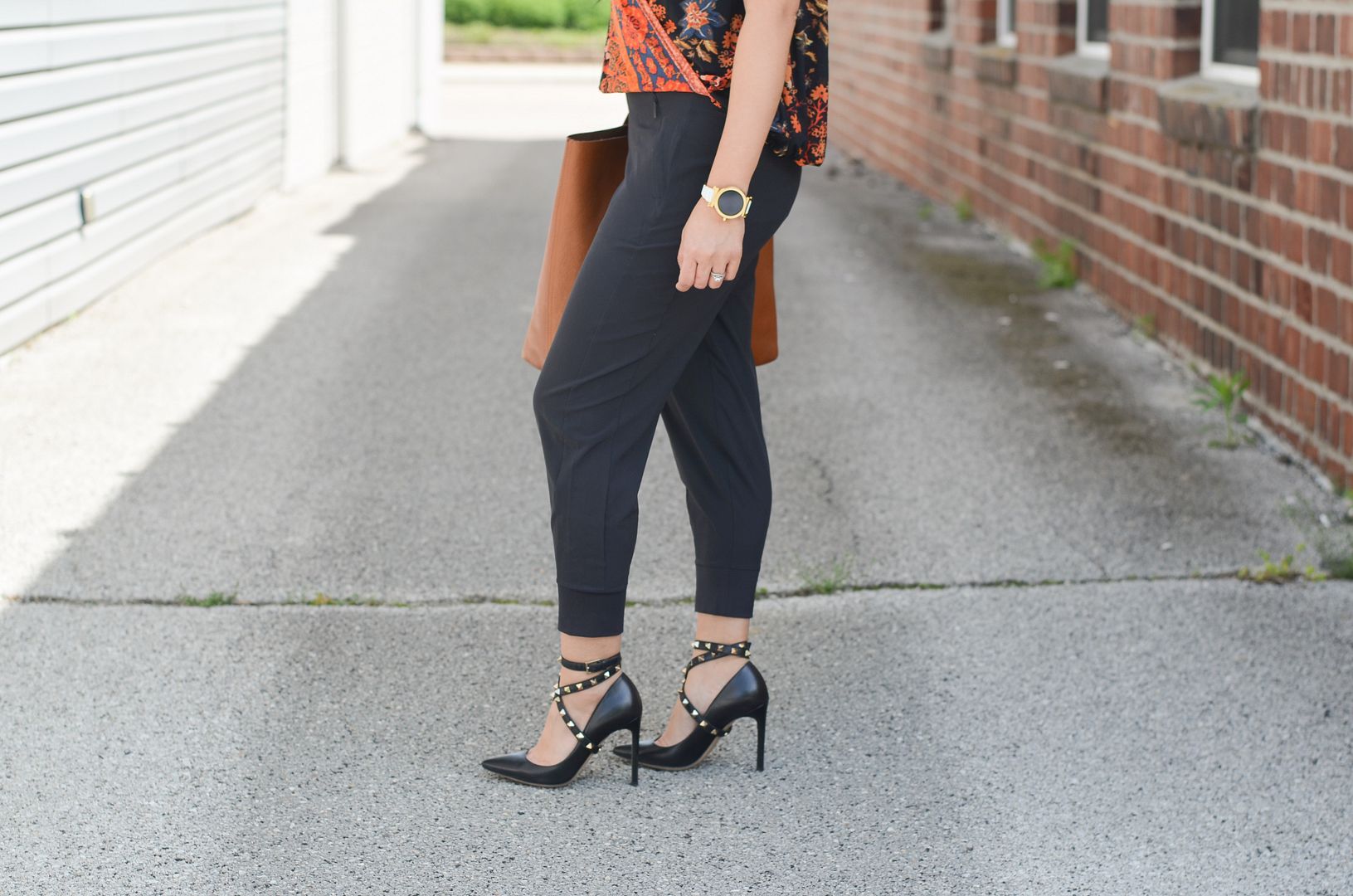 I found this pair at Athleta and they really are everything I was looking for. I sized down to a 2 vs. my normal size 4 based on the reviews. I debated on whether to get petite or regular length, but since they didn't have any petite sizes in solid black, that made my decision for me! So, I'm wearing a 2 in the regular length and they still hit me just above my ankle where I had wanted. I am very happy with the length.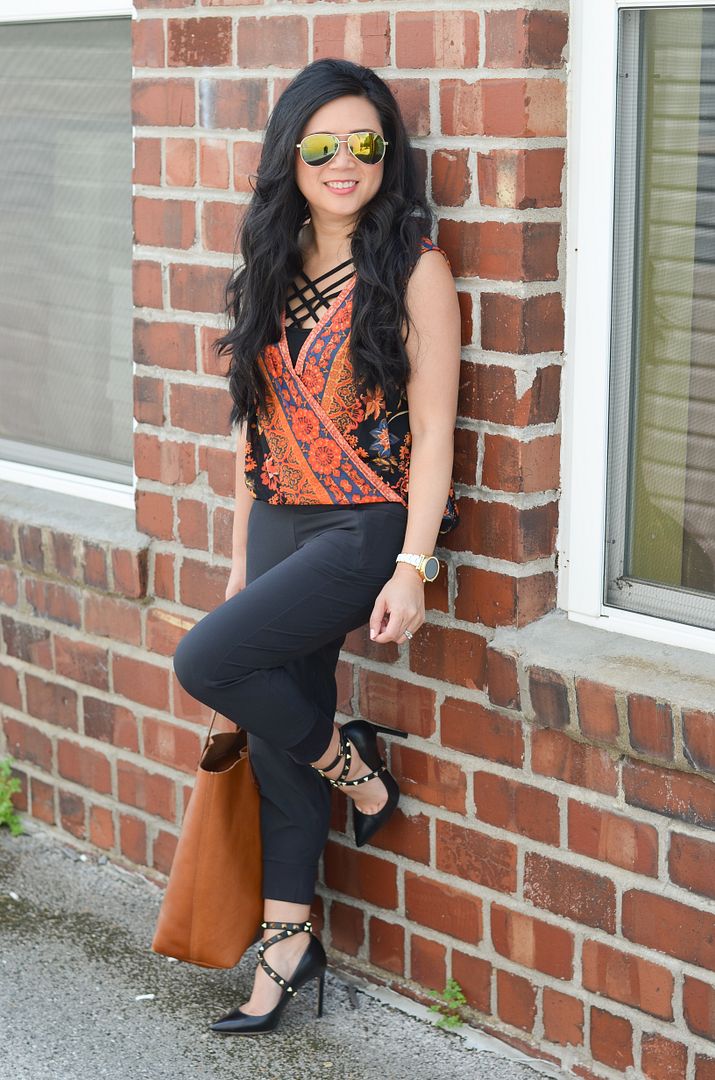 The material is great, too! Super lightweight, almost silky feeling except they don't wrinkle, which is an added bonus! I worried about getting a thinner/dressier material for joggers because I hate worrying about wrinkles when I sit. These wear very well even with tons of sitting. Admittedly, they are a little pricier than I would have wanted to pay for a pair of joggers, but since they've been SO hard to find and they meet all of my criteria otherwise, I opted to bite the bullet and pay a bit more. These will be a great alternative to leggings in the warmer months - they style very similar to leggings, except even easier because you don't have to worry about having a top long enough to cover your bits. You can dress them up, dress them down, dress them wayyyy down. And did I mention how lightweight they are? You will love them, I promise.
Outfit #1: Print top and heels
With the original two pairs of joggers I owned, I only styled them with pointy toe pumps as a way to elongate my legs and offset all of the flowy material in the pants. This pair though pairs pretty seamlessly with any kind of shoe, again making them extra versatile. They're universally flattering regardless of the shoe. I thought I would take some photos with my Chucks and also with flat sandals so you can see that neither the silhouette nor outfit proportions are affected. So happy I was able to find exactly what I was looking for!!!