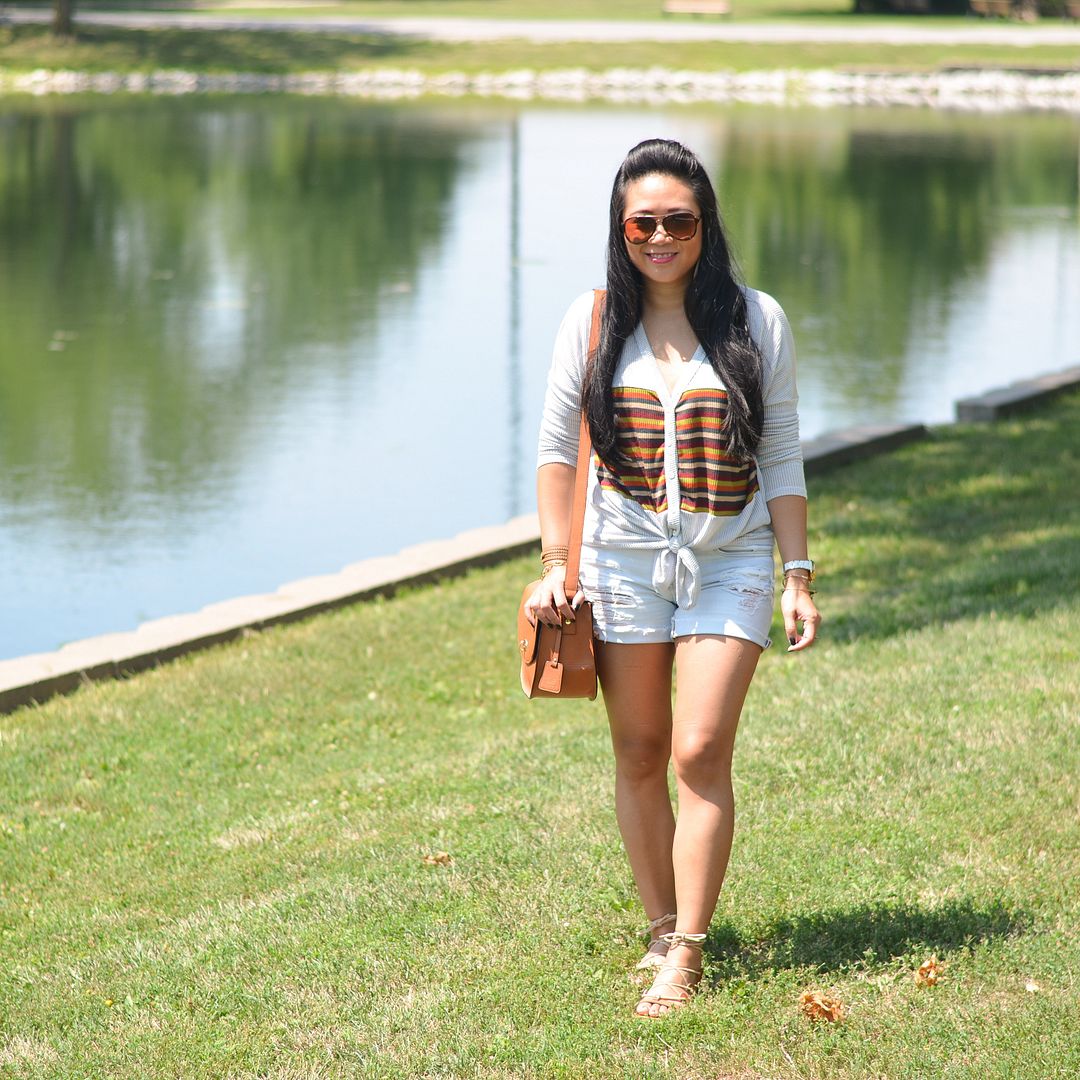 Hello!! Long time, no see! Two weeks seems long to be away from the blog anyway. Life has been a little bit crazy, a little bit sad, a little bit hectic, and a lot bit busy. But, enough about that. Right now I'm here to help my friends at CS Gems promote their fall releases! They've been posting teasers throughout the last couple of weeks and I can feeeeel the anticipation! And for good reason! So much good stuff, it was hard to pick what I wanted to feature! It's still summer temps here, so I wanted to pick something I could still wear now, and obviously later for fall. Cue this heather grey stripe tie-front top!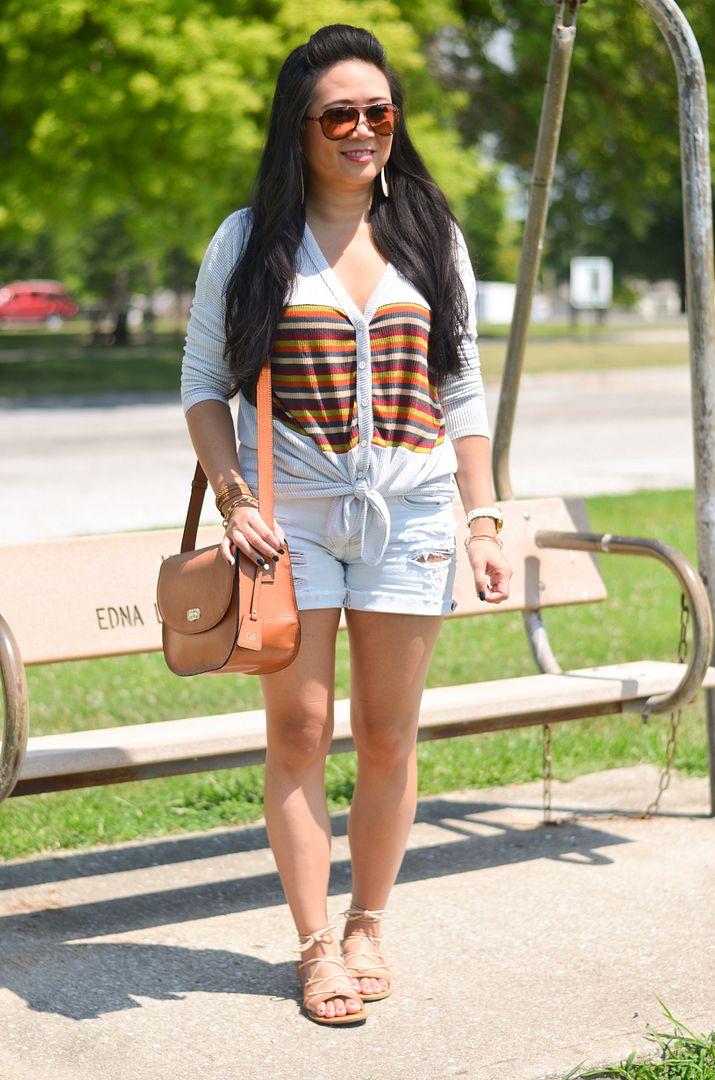 I'm not sure why I was drawn to this top, but it caught my eye for some reason. The colors are very 70's retro to me, and that made me happy for fall. It's very lightweight, so I was still able to roll up the sleeves and wear it last weekend! It has a festival vibe to me because of its retro colors, so I went with my destroyed shorts and lace up sandals. It fits true to size, maybe a touch on the big side. If you're in between sizes, I would size down.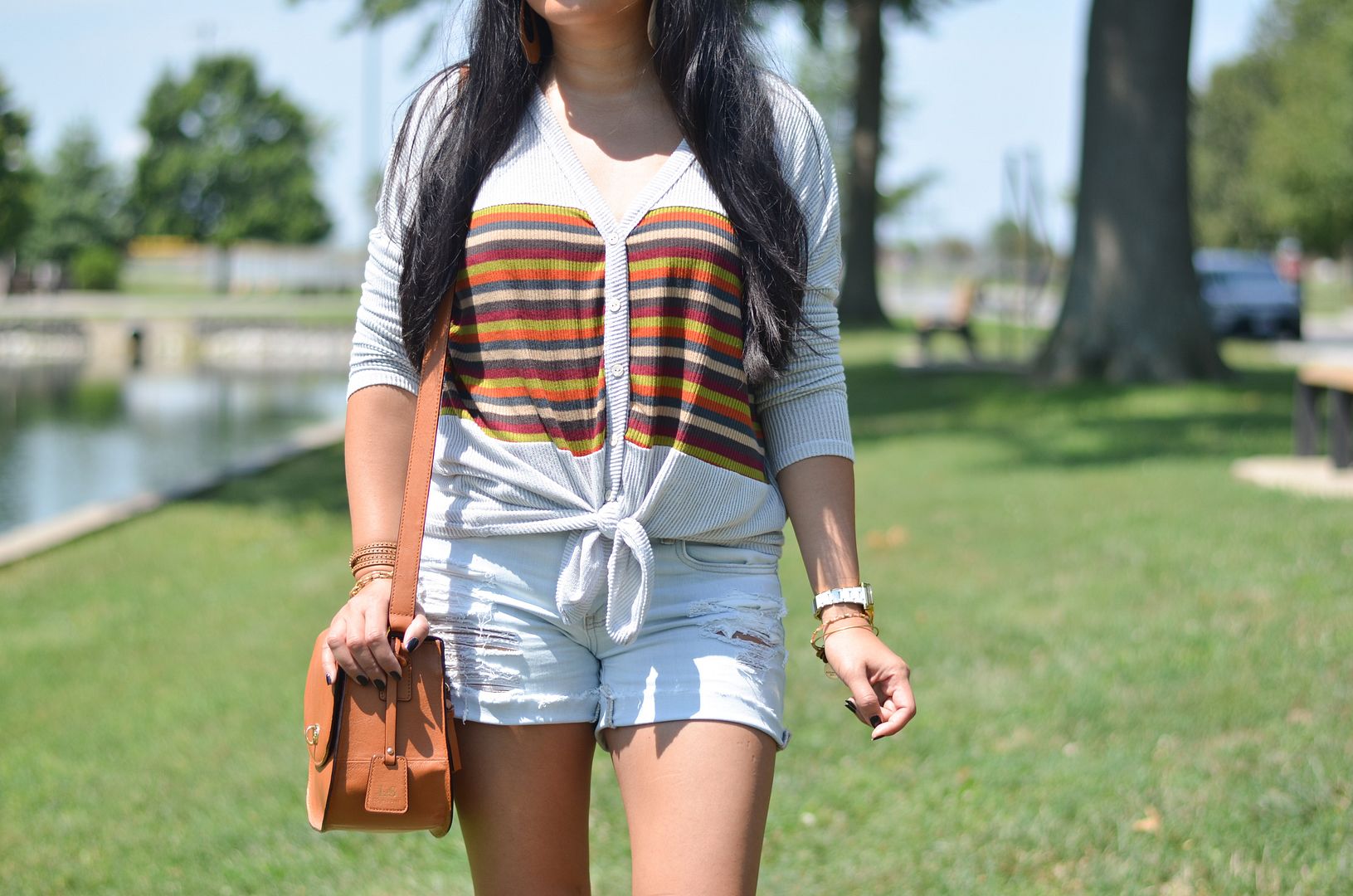 I was hoping I could also wear it as a cardigan as a way to remix it... but the buttons are not operable. Just a heads up in case you had your heart set on a cardigan! It's still great regardless!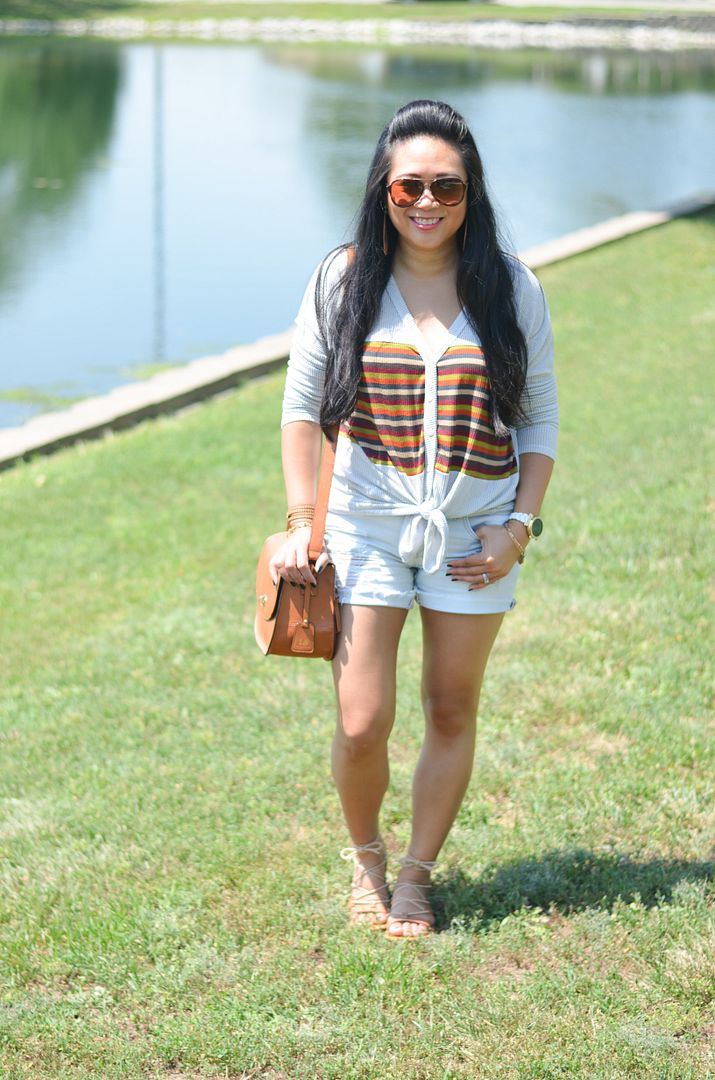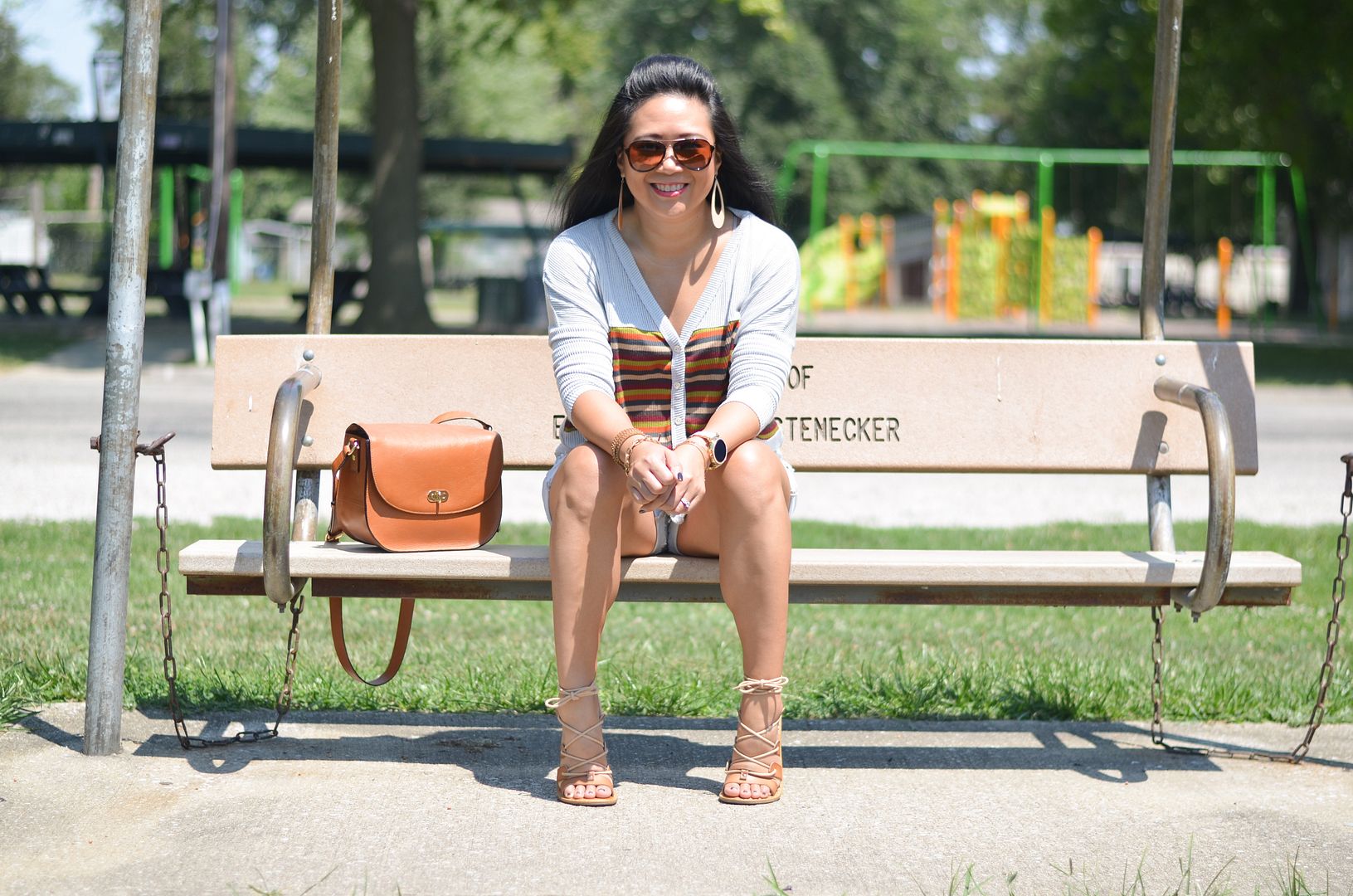 I wore this to a photography workshop over the weekend, which is why I'm carrying my camera bag. I forgot how much I loved this bag, btw! The top is great in the cold air-conditioned indoors, but again, very lightweight enough to still wear in the summer heat. I was perfectly comfortable in this.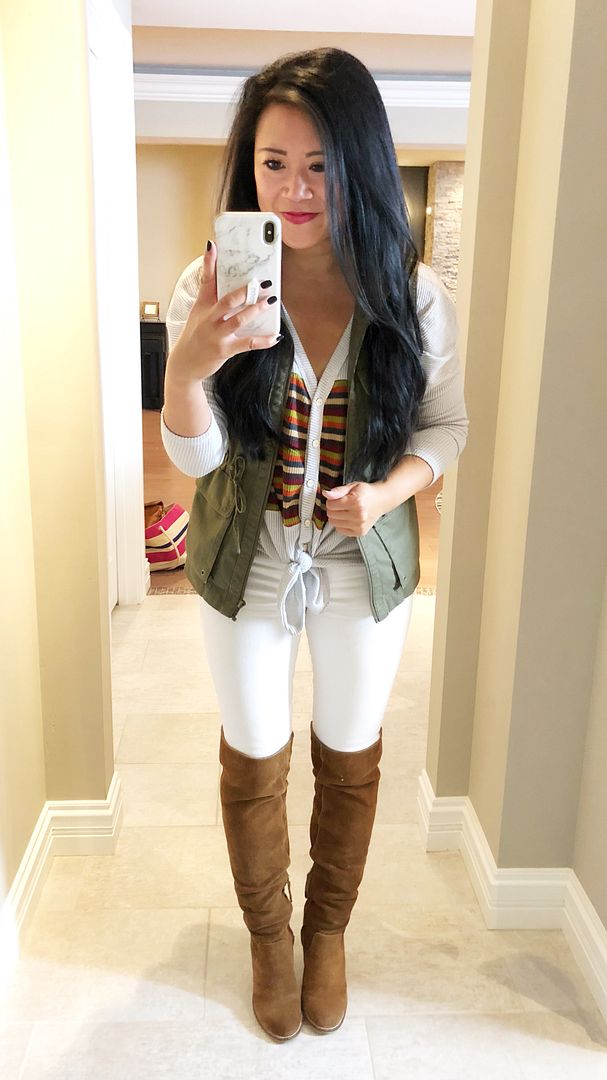 If you're part of the CS Gems VIP Facebook group, then you saw me style it this way in our try-on video session Tuesday evening. I always love showing you different ways to wear the same pieces. Obviously if it goes with one color of jeans, it will go with all your basic colors - black, grey, white, and traditional blue denim. I chose white jeans for this outfit because I knew I wanted to pair my cognac over-the-knee boots with this outfit and I really love the way OTK boots look with white skinnies! The utility vest is a great way to bring the green stripe out of the top, while also adding a bit of warmth as the weather cools!
Definitely check out their fall releases - you will not regret it! And whether you buy this top or not, you can
use code CARYLEE15 for 15% off any purchase! Happy shopping!!