Happy new year!!! The holidays got the best of me and I didn't get to blog as much as I wanted to.... at all really. I have so much to share with you, I don't even know where to begin! I thought I would start with the bachelorette party in Nashville that just happened this past weekend while it is still super fresh in my head! My sister in law gets married the first weekend of February, so her last bash was in Nash! Let's get started!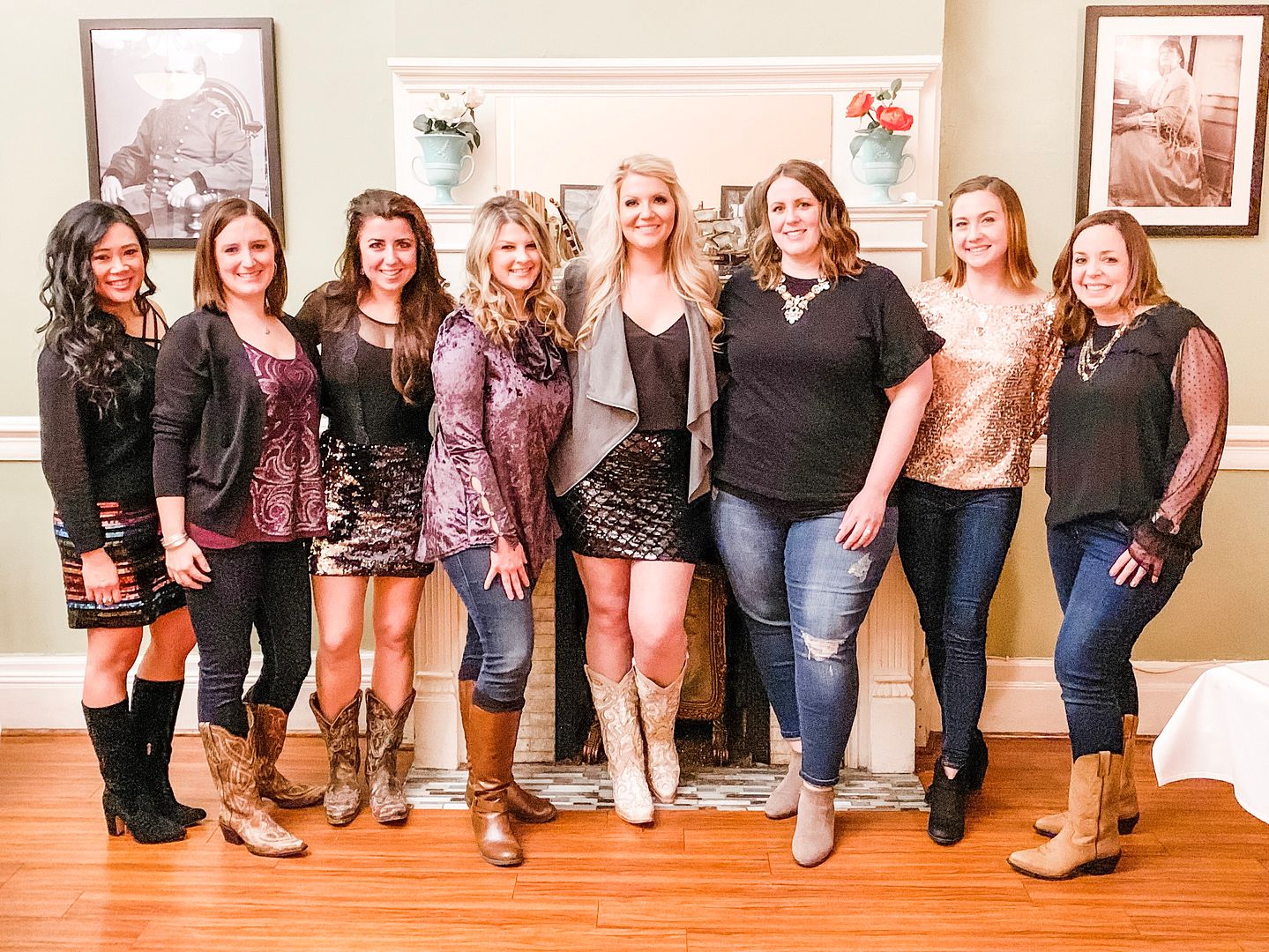 We realized all our group shots involved a few of us crouching in the front so you could never get full body views of our outfits! At dinner, we made sure to take a side by side photo. The bride requested that we all wear sparkles of some kind!
Dinner ended up being at 417 Union. I found them on the Open Table app. I wanted to find some place that was casual but with a good menu, great cocktails, medium price range, and could accommodate reservations for a group of 10. What I didn't realize when booking with them is that they are only open until 8:30pm, but our reservation was at 7:45pm! I was concerned that it would be awful, but it was great. Even though we were legit the only table in there by the end of the meal, the food was good and the manager did a great job making us feel welcome and the bride feel special. And we were able to take that group shot above without people in the way! Extra bonus!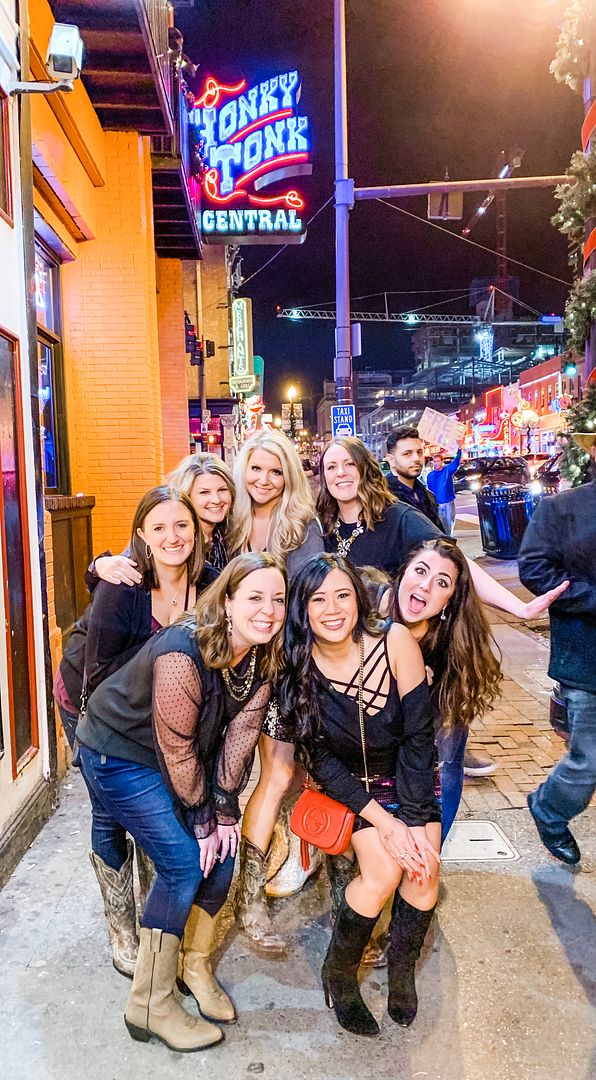 We had 3 bars on our agenda to hit after dinner. The first stop was The Stage. I figured we needed to see some live music while we were here, and this place delivered! The band played a mix of country, rock, and pop - anything and everything that would get you to sing and dance. We figured if the other two places sucked, we could always come back here.
That's one great thing about the bars on Broadway. They are all within walking distance and there is no cover! So you can really come and go as you please. We stayed there for about an hour or so and then we were off to Honky Tonk Central. It was a one-stop shop with multiple bars on different floors (again with the stairs!!) We found a not-so crowded floor and had a couple of rounds of drinks and a lot of dancing to the band!
Our last stop starts to get a bit fuzzy for me, not going to lie. But we ended the night at Crazy Town. This was the most nightclub-y feeling to me than the others - dark, DJ, lightshow. From what I remember.....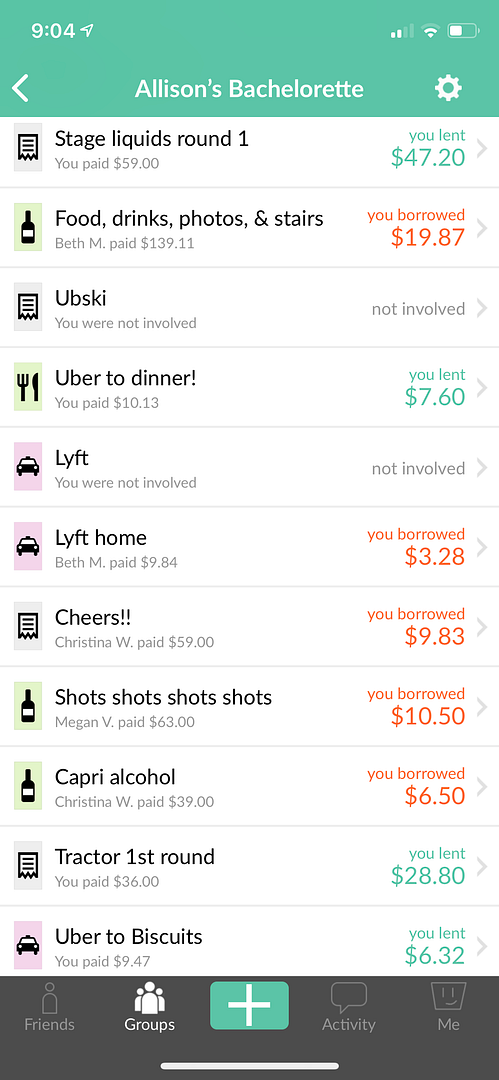 All in all, it was a super fun night! We took an Uber to dinner (2 sets of Ubers) and then walked from bar to bar before cabbing it back home for the night. The one super useful app was Splitwise! When you go out with a group of people, you all end up paying for each other sometimes. This app keeps track of everything so you know how much people are paying for you and how much you are paying for others. It does all the math for you and at the end of the trip, you can settle up with them directly through the app with Venmo or Paypal. It was so super helpful to see running totals, and it also made our servers' lives easier since often times we didn't have to split the tabs!
WHEW!! I typed so fast to get all that out, I'm sure I'm forgetting something, but there you have it! The bride was very happy with how the weekend turned out, and it was so much fun for me and I wasn't even the bride! It was a great group of girls in such a fun city and all the locals were friendly and food delicious! You need to make a stop there at some point in life! There's a reason why people call it Nash-vegas!