Admittedly, not blogging as much does also mean that I'm not shopping as much and vice versa. But, during this time of year when there are crazy sales, it's hard to resist pulling the trigger on some things! I thought I would share some recent purchases and how I've styled them.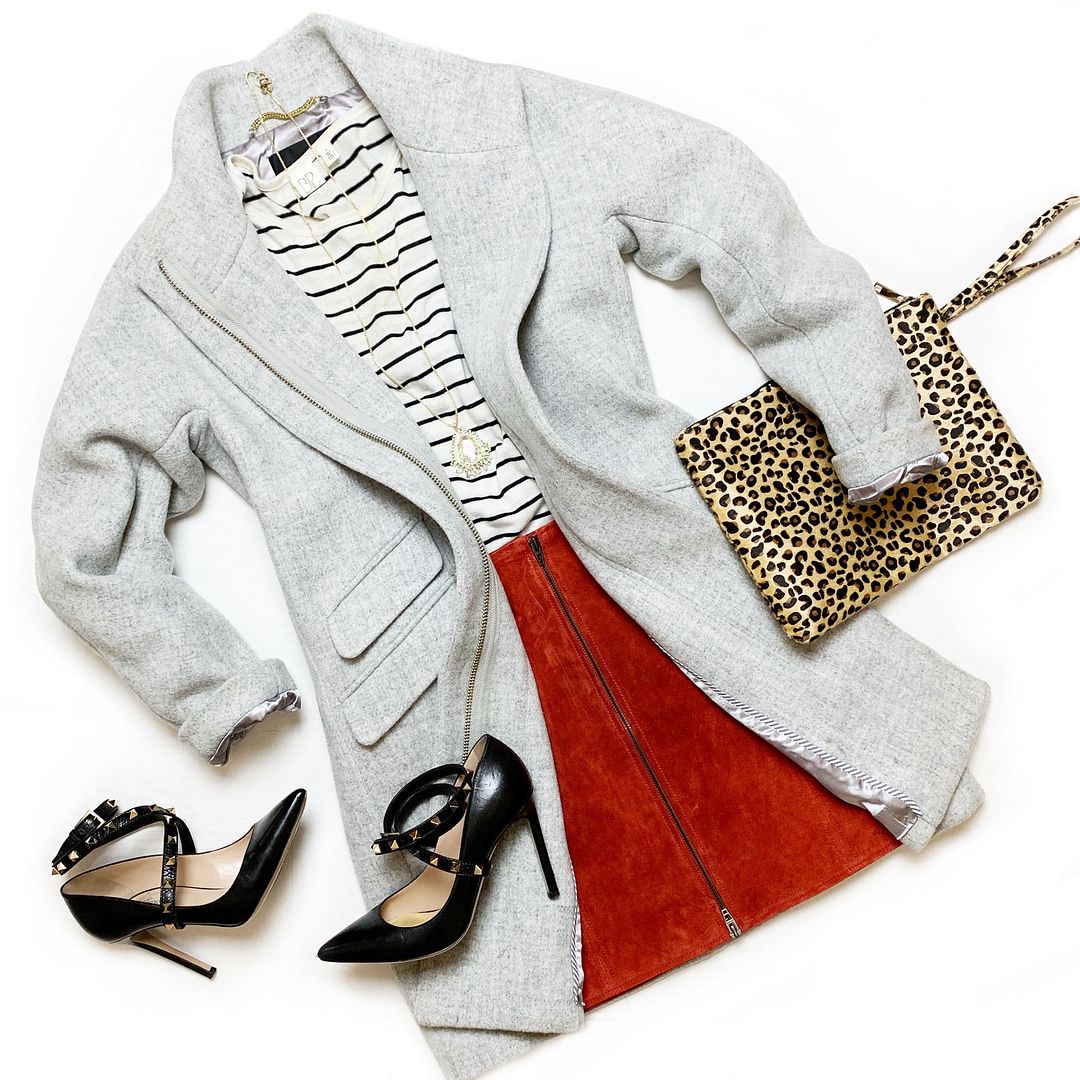 I can't speak more highly of this coat! I feel like it's one of the only truly dressier coats that I own and it is extremely warm! It does run big, so size down. It's 50% off as I'm writing this post, and it really is such a great investment! I got it on Black Friday, but I've worn it several times since then so I can speak confidently about how warm and well made it is!
I've also been wanting a suede skirt. I'm not usually a fan of the zipper down the front - I saw this one at Express and the zipper was a huge turn off. But it didn't bother me so much on this skirt because at least the zipper is black and not shiny silver. You know BlankNYC kills the suede game with their infamous moto jacket - the suede in this skirt does not disappoint! It's more of an orangey-rust color than it is bright red. It runs a bit small - I sized up.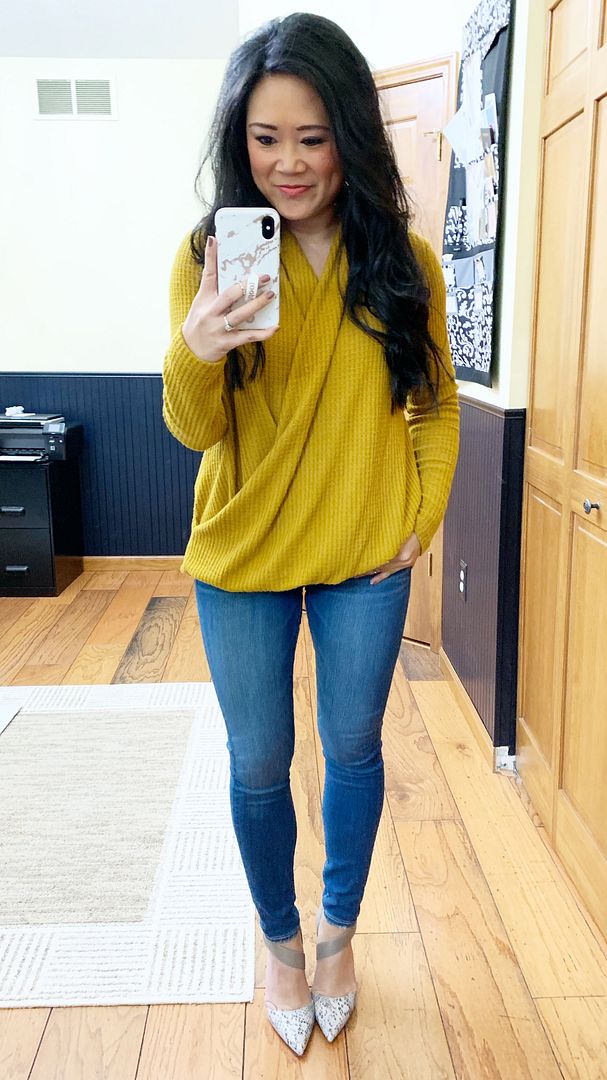 This top was also a Black Friday purchase that I finally got around to wearing with a simple pair of jeans and snakeskin pumps. The top is pretty dramatic in and of itself, so I opted to go without any necklaces this day.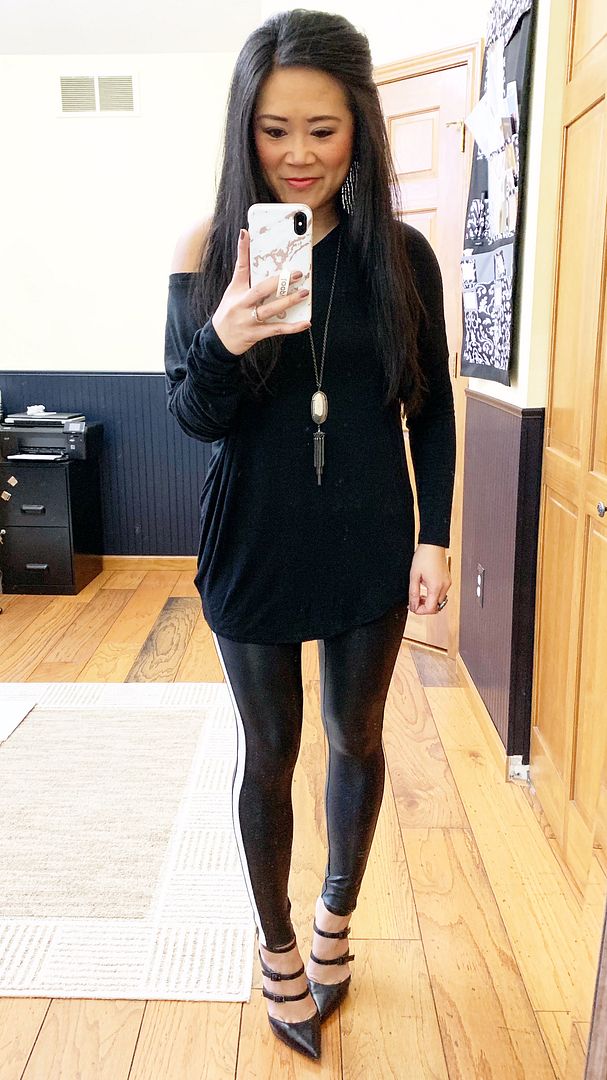 I seem to be buying a new pair of Spanx leggings every season, and this year was no exception. The second I saw this side stripe pair, I knew I had to have them! Admittedly, it's hard for me to think of ways to style these outside of just black and white. I need some inspiration. But in the interim, I kept things monochromatic with all black and let the stripe speak for itself. They run true to size - I take all my Spanx leggings in a small.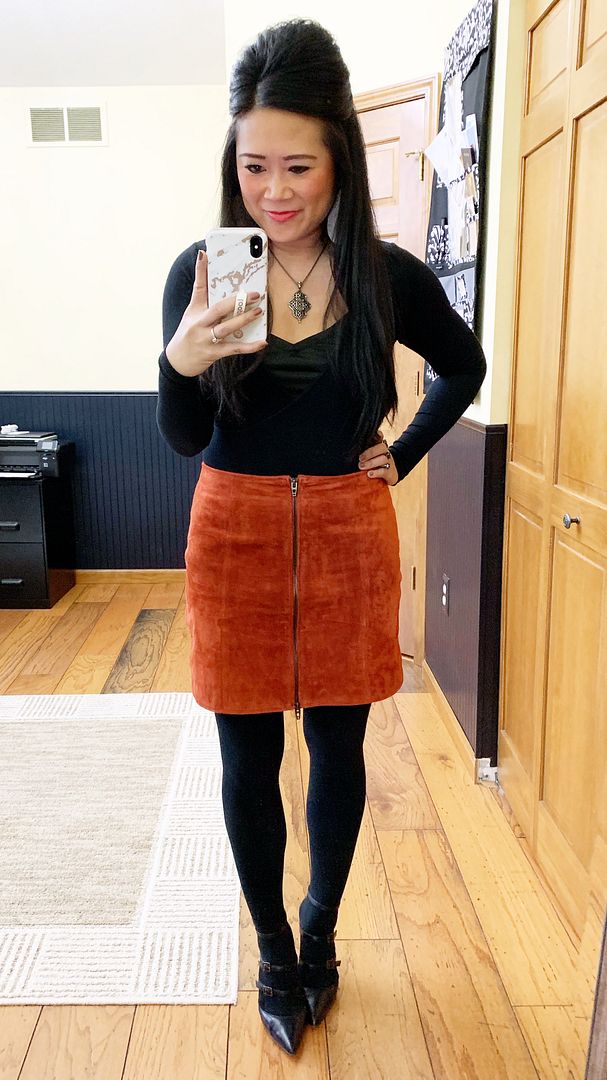 And here's a photo of how the skirt looks on me. I decided to go with black for my top vs. the stripe because... well, when I was putting that stripe top on, I realized it was all yellow around the neck! I ended up throwing it away. I do have two others just like it - that one just reached the end of its life and I knew no amounts of washing would save it. I do like the way the skirt looks with all black. I wore this to (yet another) going away party for a co-worker last week.
And that's it! Short and sweet! What are you guys buying lately?